The unofficial start of summer has arrived and I couldn't be more excited! It's amazing how happy leaves on trees can make me! One of the many things I love about this home is that when all the trees are in bloom it feels like we are surrounded by a forest and are completely secluded from the rest of the world especially when you're laying out on the deck in the back of the house.  Last summer I thought about how I could make the deck a more inviting space.  It spans the entire width of the house so it's quite long.  There are three areas: The dining table, the lounge chairs, and two patio chairs with ottomans.  I decided to make better use of the patio chairs. Here is what the space looked like.
The chairs are good chairs and work well with the space.  The problem with having all of these trees around us is that there is always fallout from them.  From this angle the chairs look fine but if you step a little closer you'll see that the cushions have seen better days!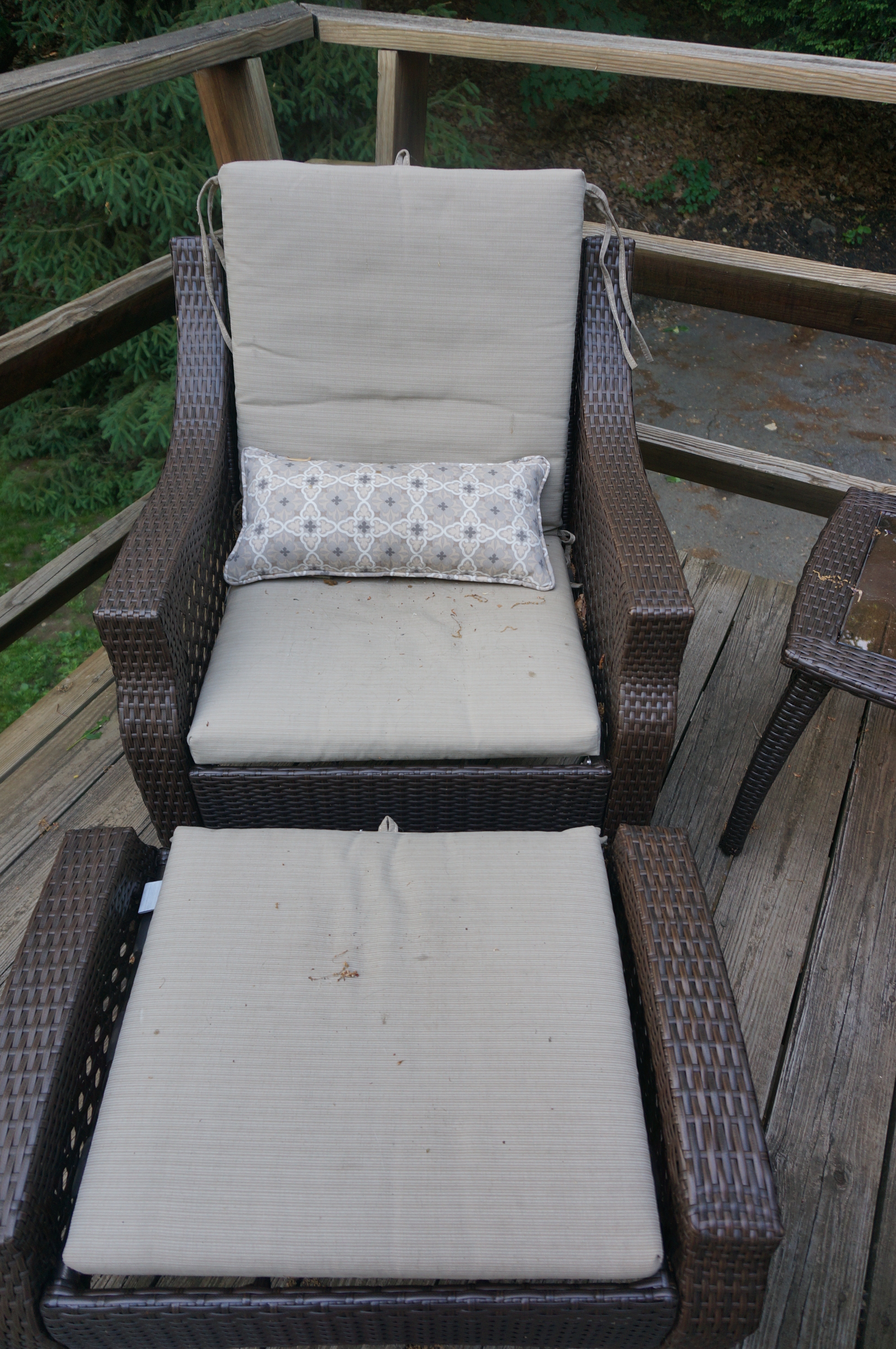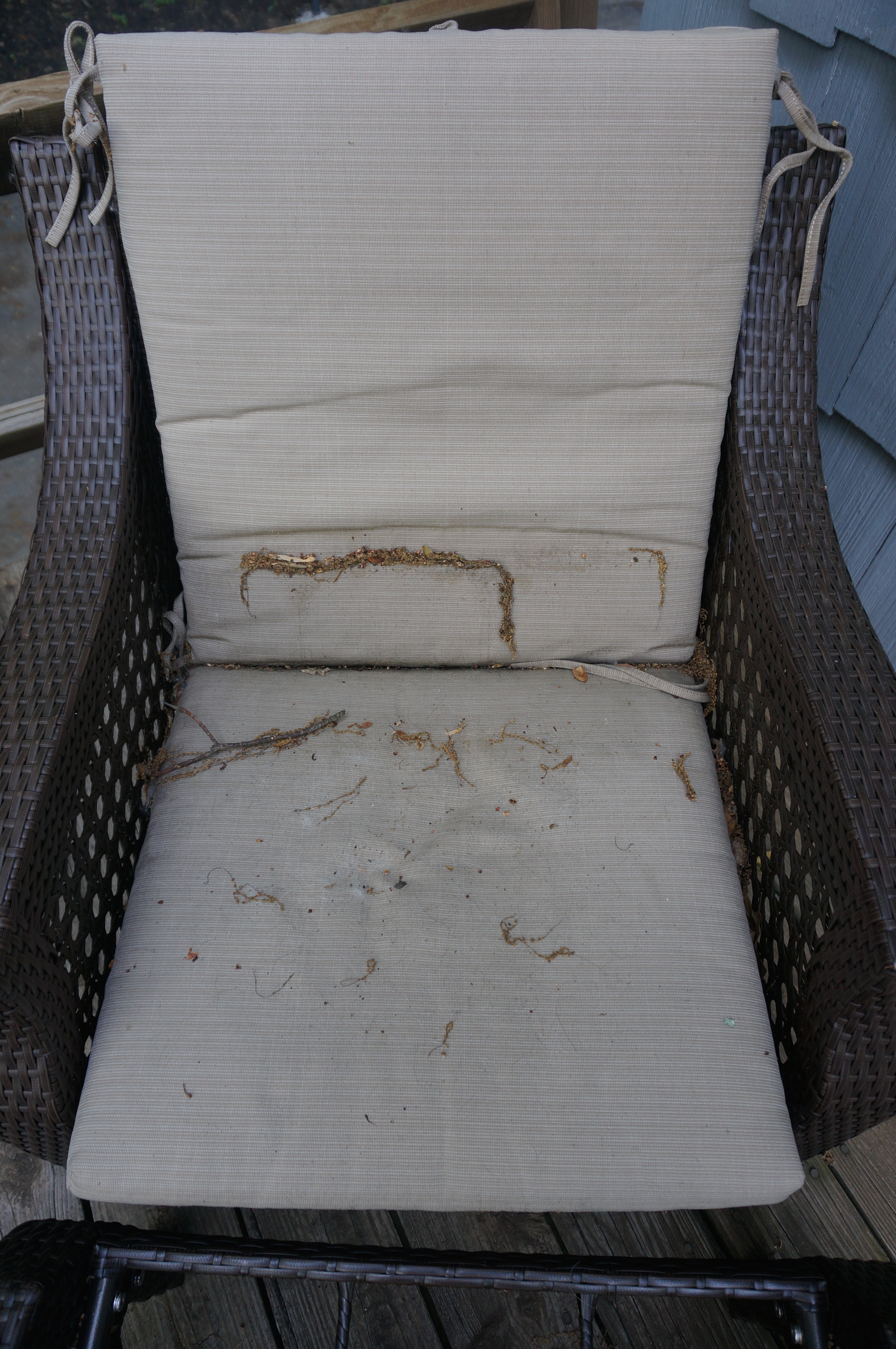 The first order of business was ordering some new and also thicker cushions. Something else that is all over these cushions is cat hair.  We have an outdoor cat that loves to sit in these chairs and so my plan was to keep the old cushions and place them on the chairs when we weren't using them so that she won't ruin the new ones. First, I had to clean these guys up! Nothing that a little soap and elbow grease can't fix! I hosed them down, put a little Dawn on them and with a scrubbing brush went up and down and rinsed them off.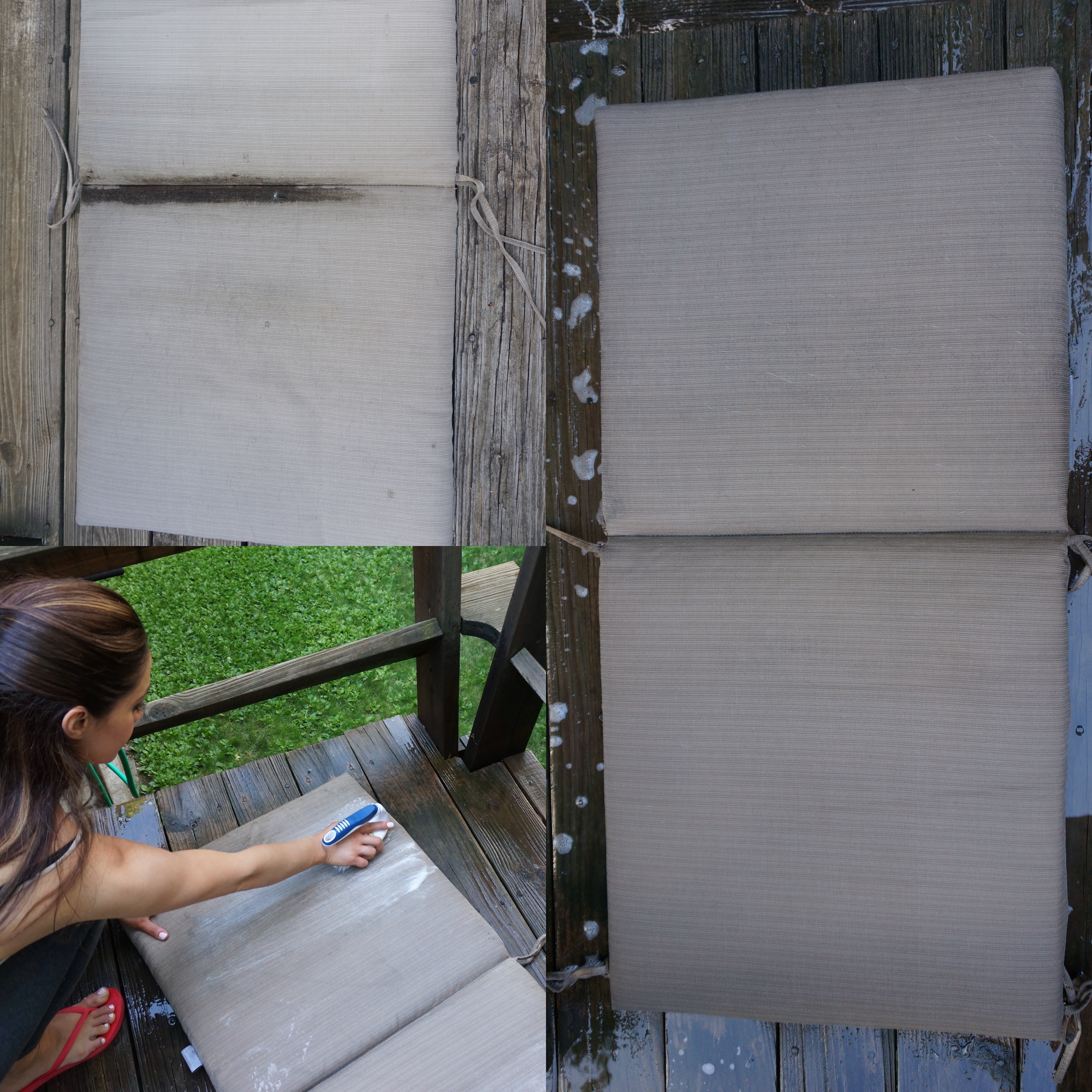 Voila! Like new again! 
The next step was making the space esthetically pleasing so I ordered this Moroccan Trellis outdoor rug from my favorite place to buy rugs- RugsUSA. After clearing out the space I laid the rug down.
I used some of the planters that we made to hold the edges down.  By the way, I am obsessed with the planter on the right.  We had a bunch of flowers left over from the other planters we did and just put them all in one pot and it is by far my favorite one!
The next thing I wanted to tackle was finding a gazebo that would fit in the space.  Not only would it create this separate space but it would help to keep all of the fallout from the trees from landing all over the deck/furniture! I looked all over and found a few but they were all either too flimsy or not what I was looking for.  I ended up finding an amazing one from Hayneedle. Not only was it so incredibly easy to put up and will be just as easy to take down in the fall/winter but when I called to get some more info on the height of the piece their customer service rep was so helpful and sweet I probably would have bought it even if it didn't fit! 
So here is what the space looks like now.  A little before/after!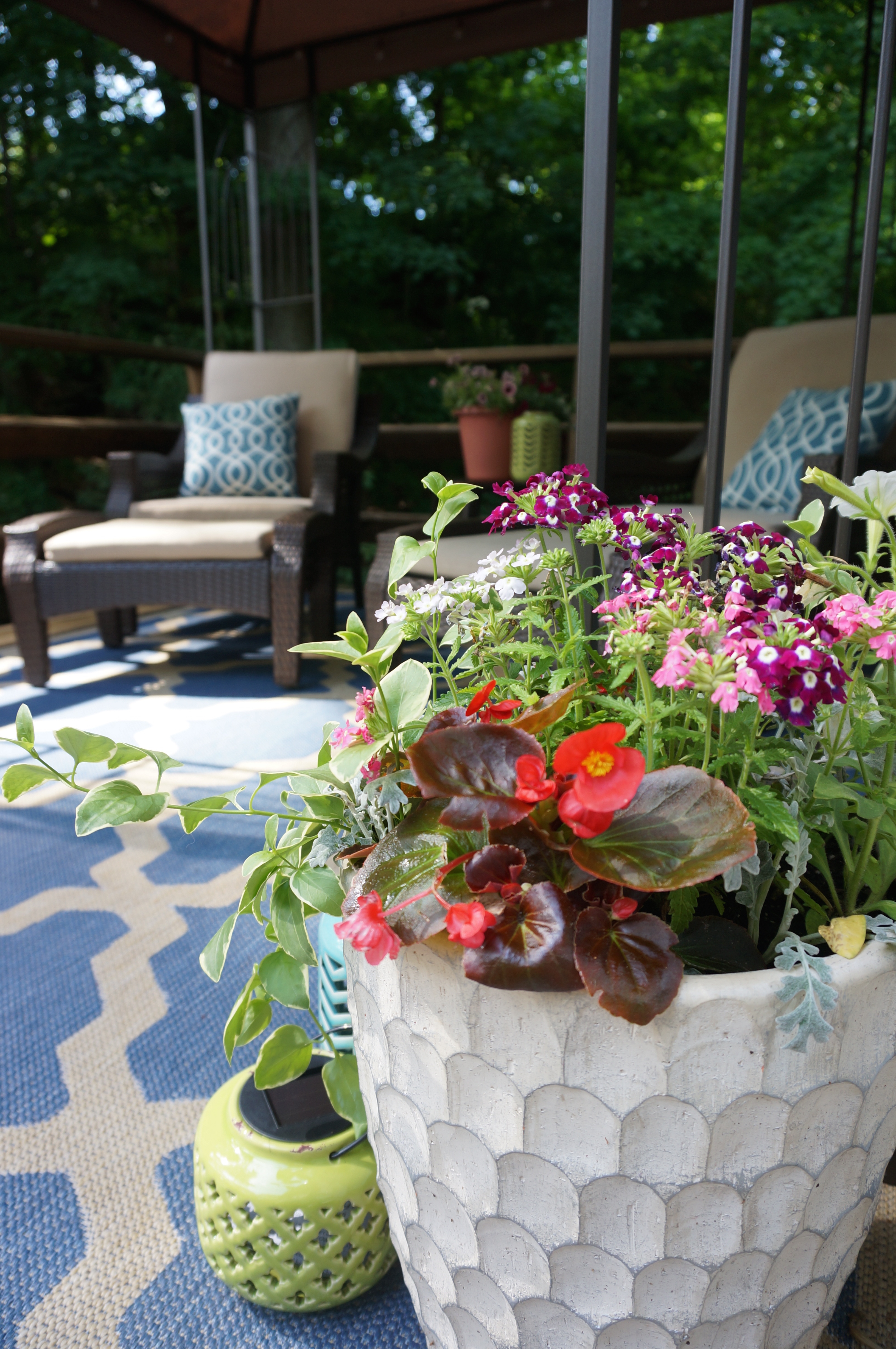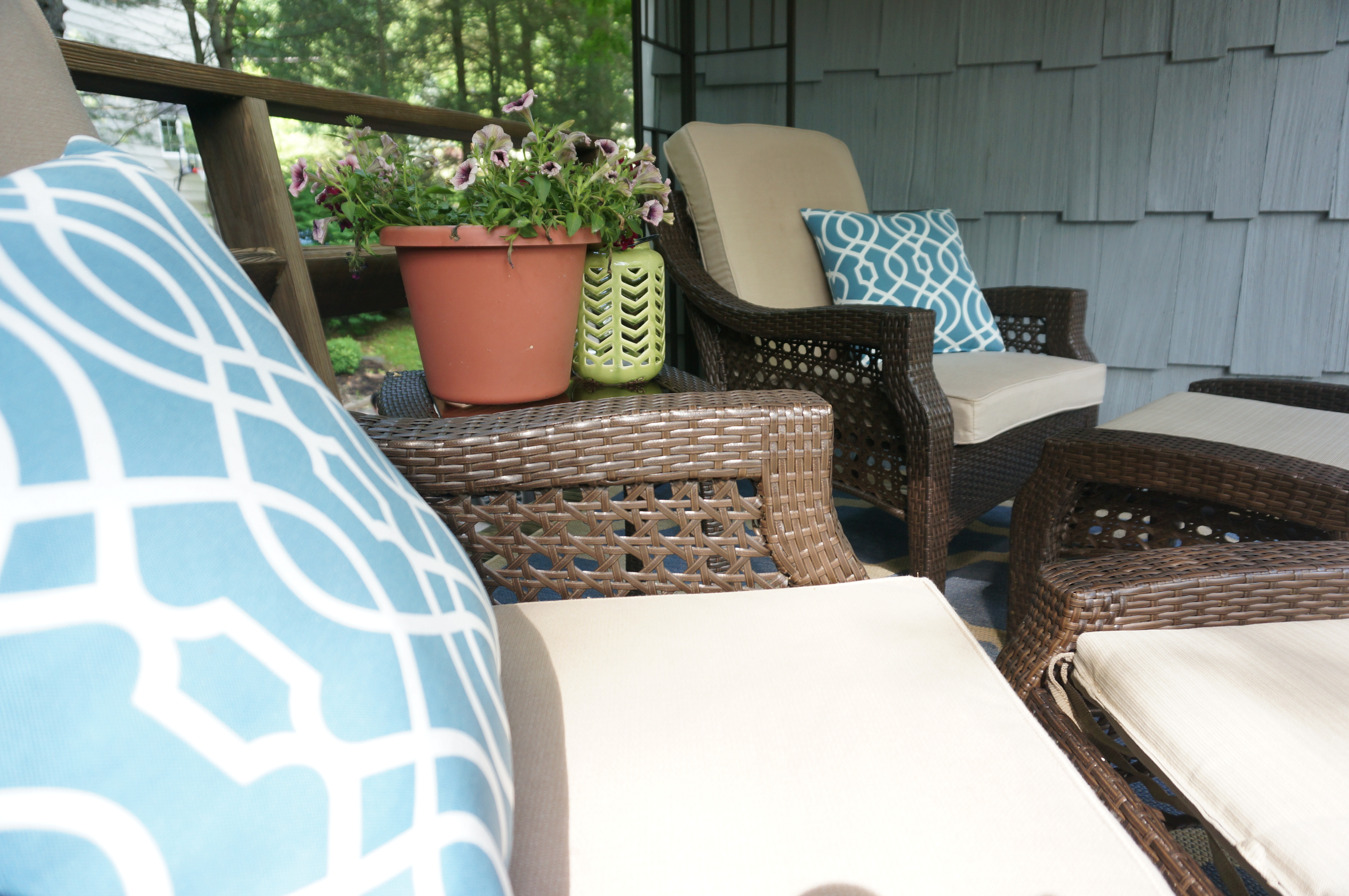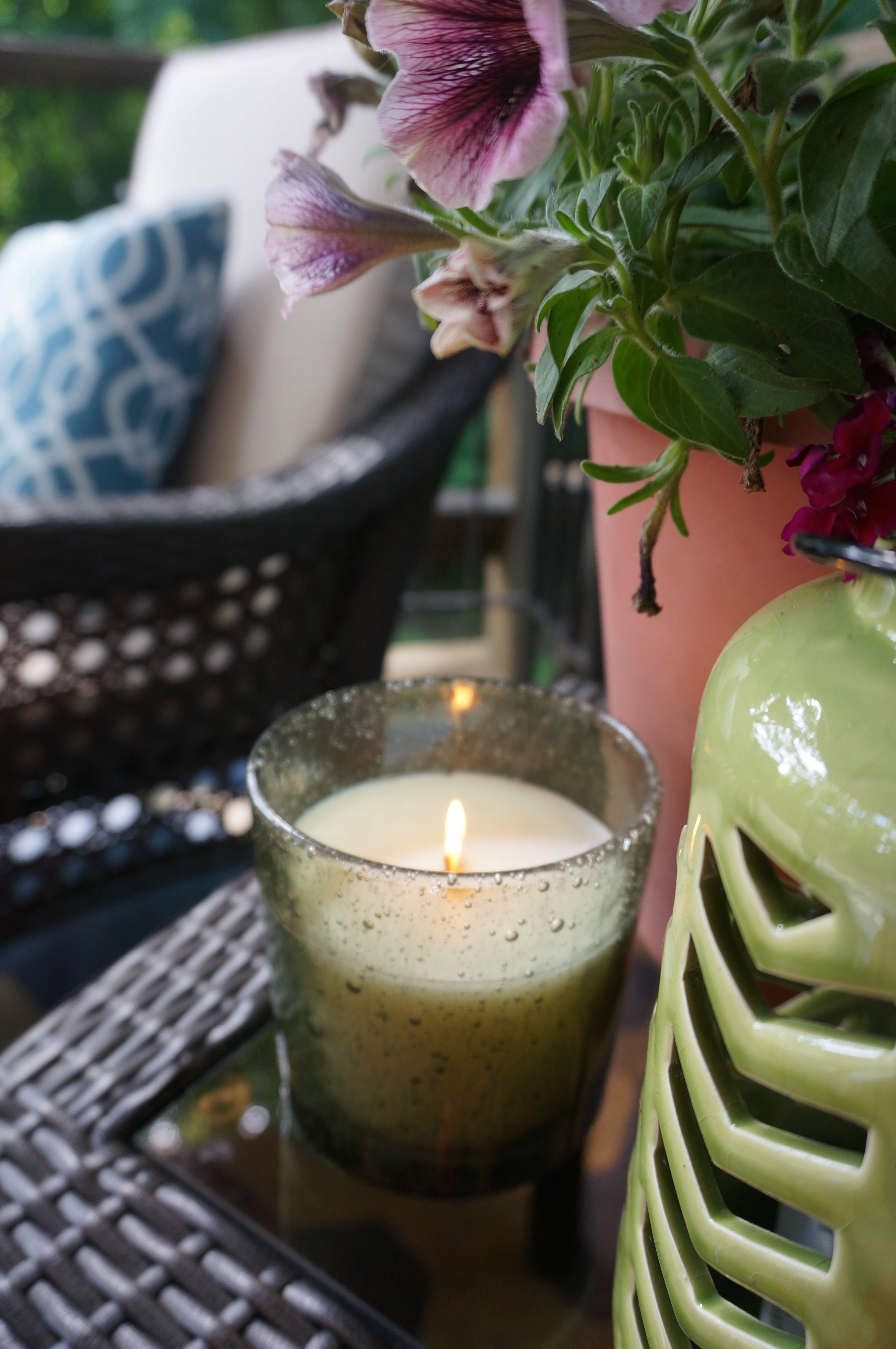 I even added some string lights around the top so we can hang out at night!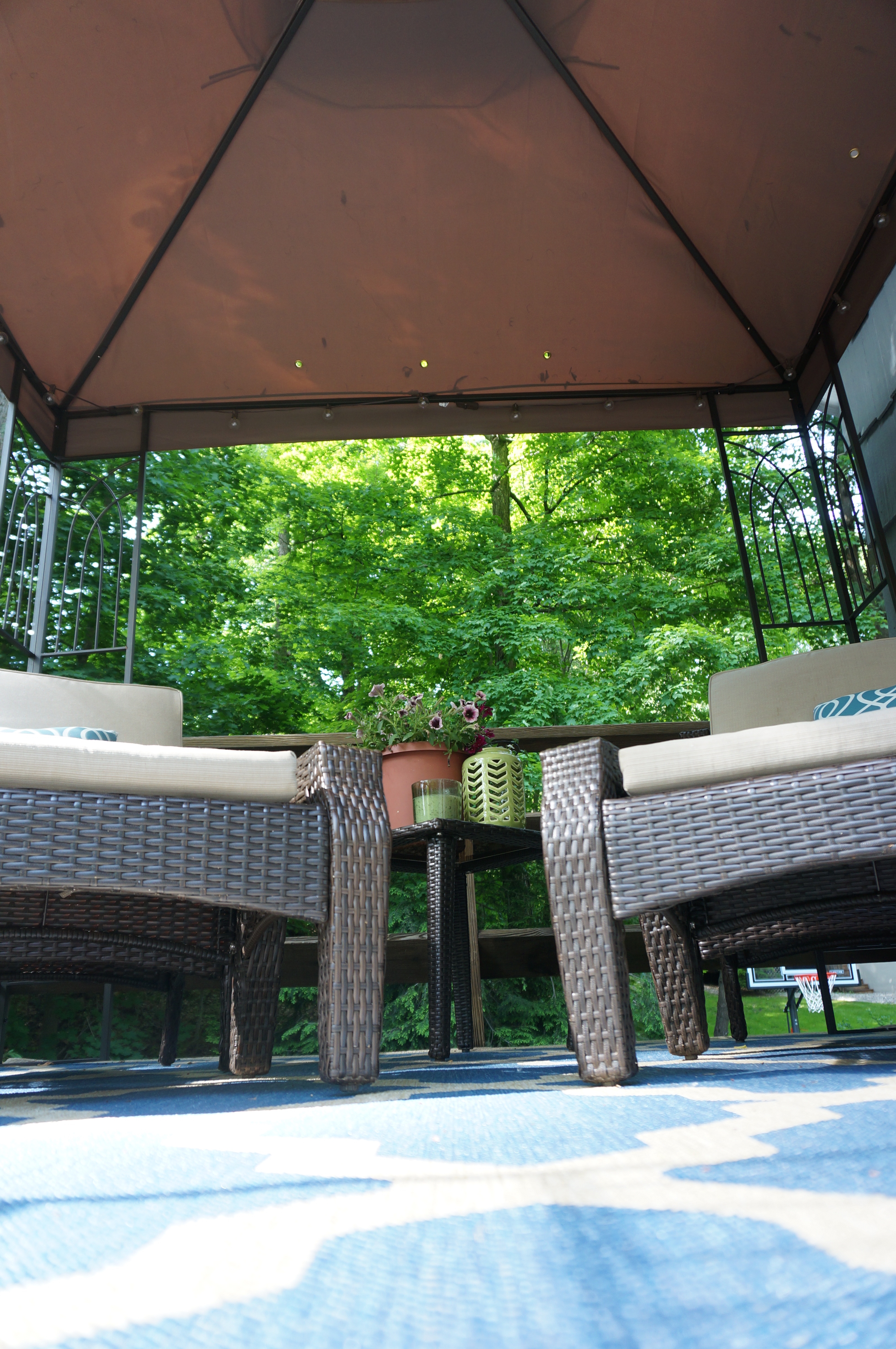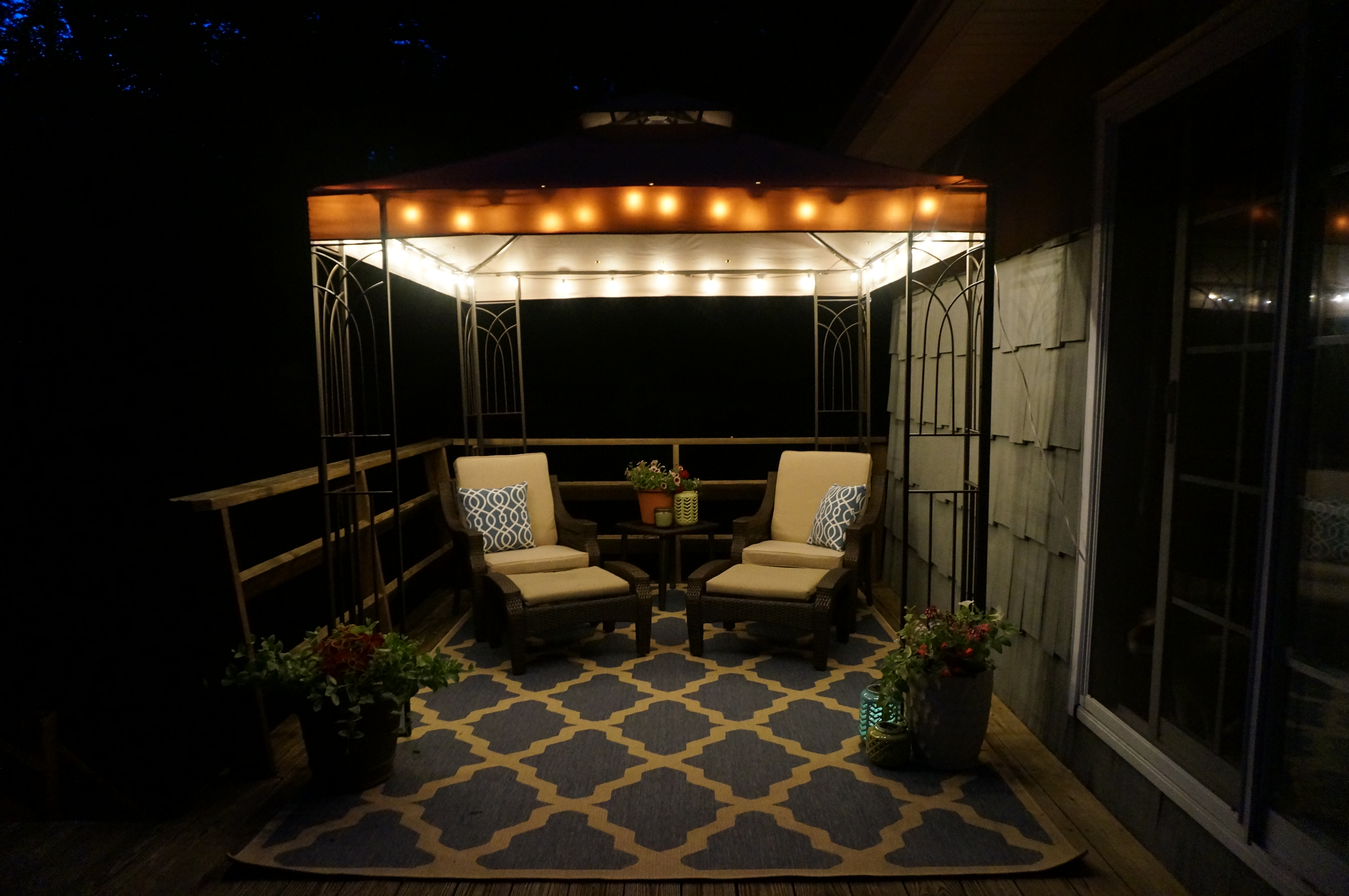 And of course to ensure that our new cushions don't get ruined we continue to place the old ones on top so that little Miss Asia can still have her spot!
I also freshened up the rest of the deck and added some more planters.  A few weeks ago we got a dumpster at the house and my boyfriend found these old tool boxes full of nails and he was just about ready to toss them when I looked at him like he was crazy and said we could turn them into planters.  He then looked at me like I was crazy!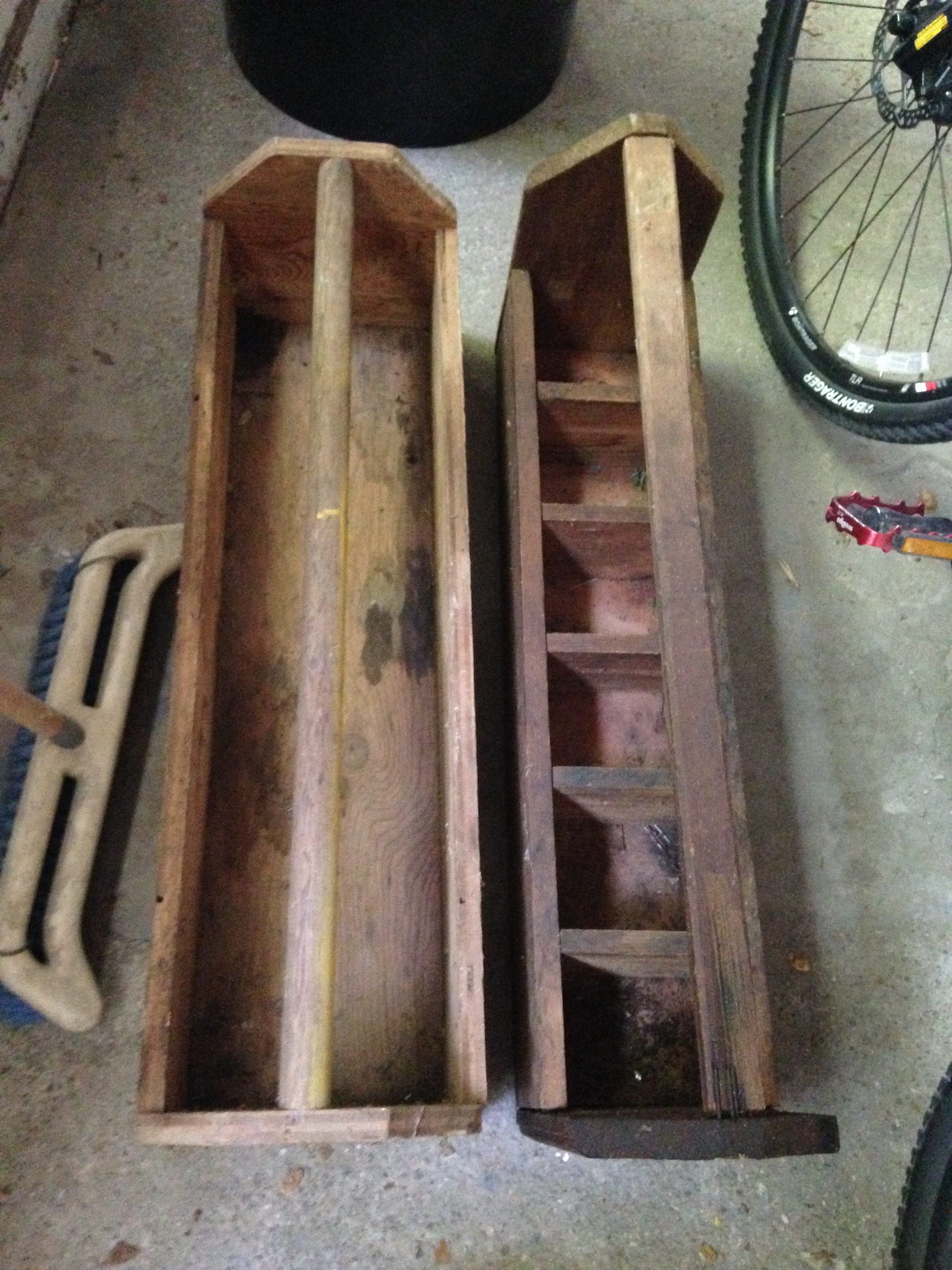 We drilled some drainage holes at the bottom and filled them with a bunch of different plants along with some other planters for the deck.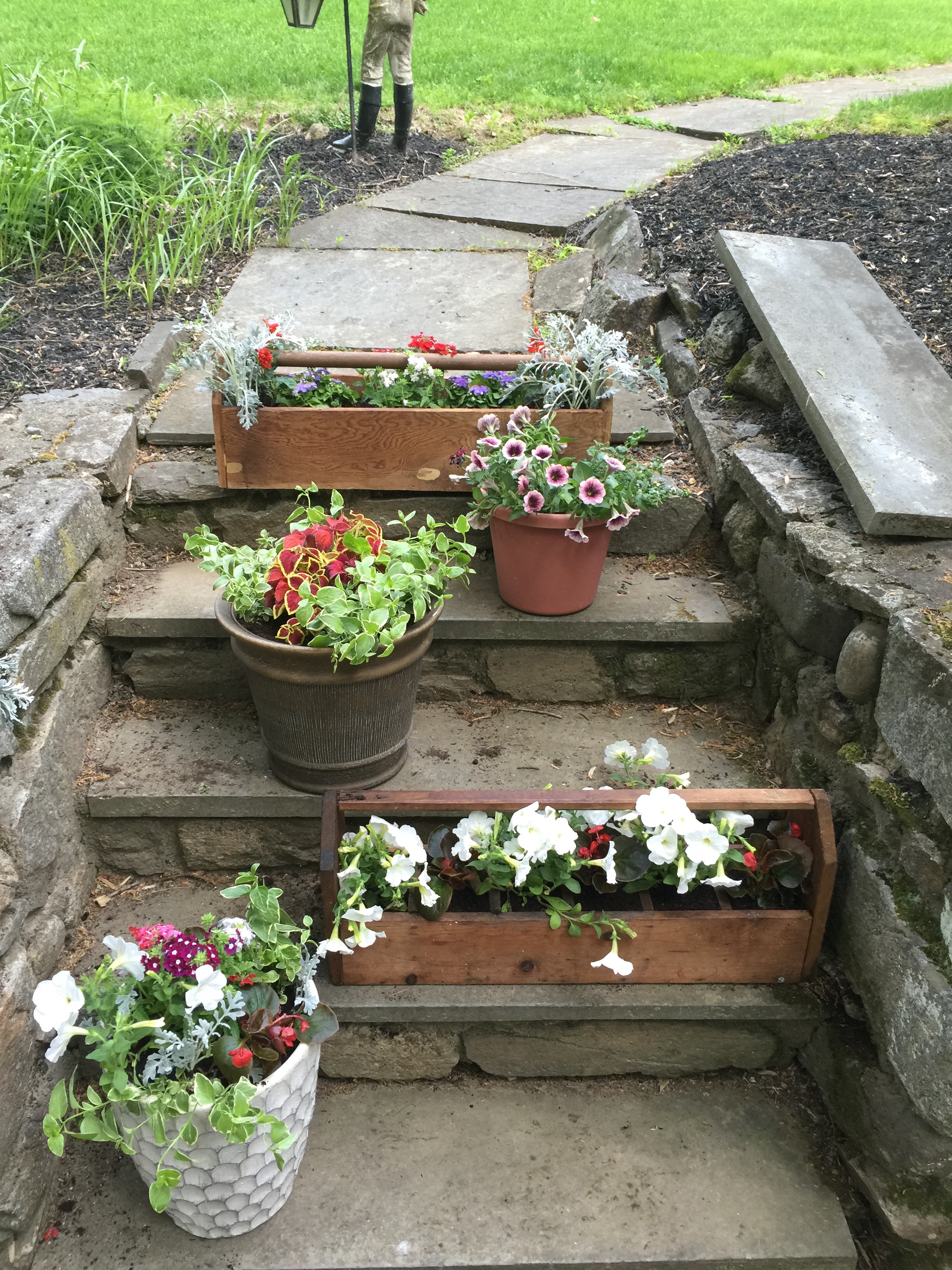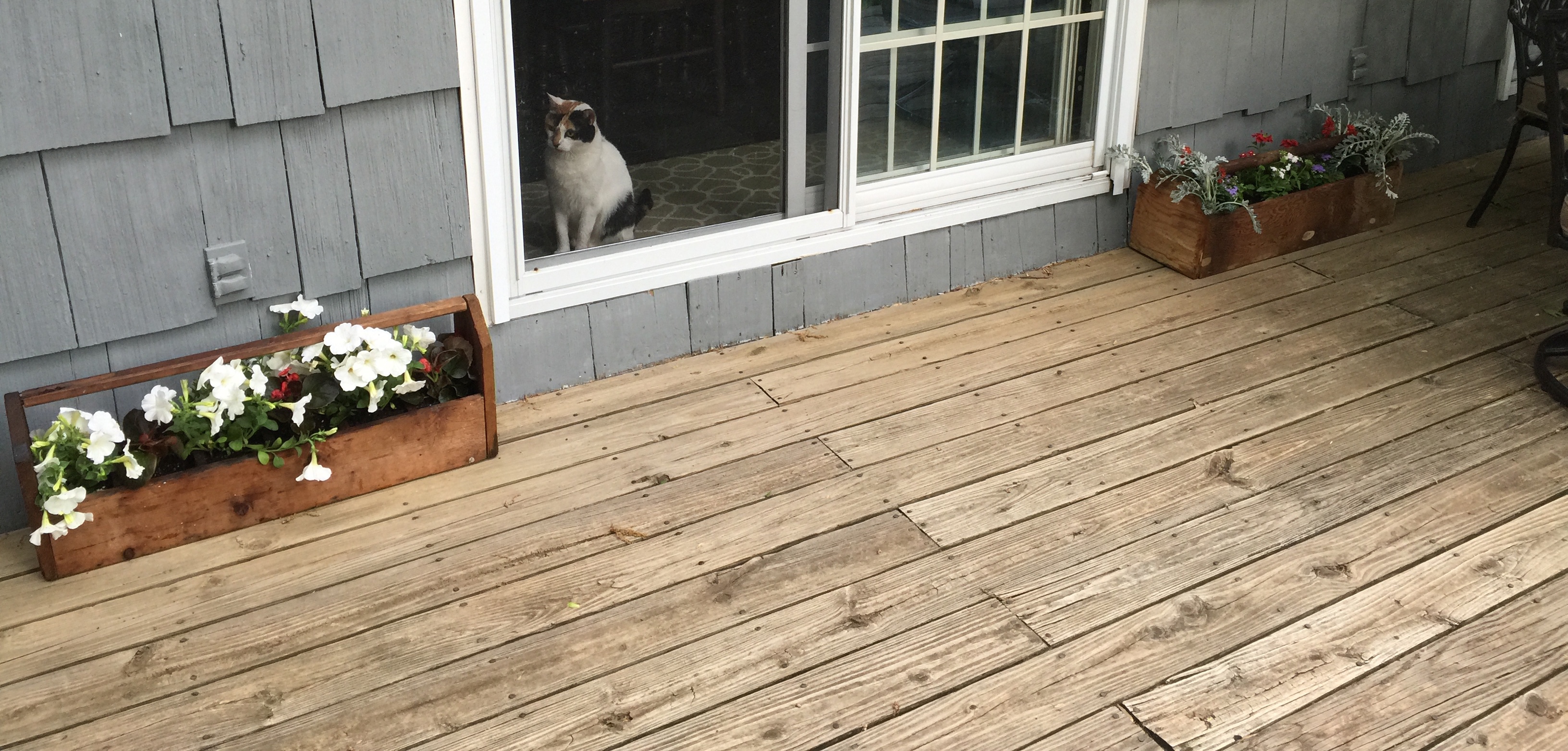 We also replaced all of the dated light fixtures as well!
Such a difference in look and lighting! It's amazing how much brighter our deck is at night now. I even kept one as a souvenir next to our lounge chairs.  I'm pretty sure someone is going to toss that soon!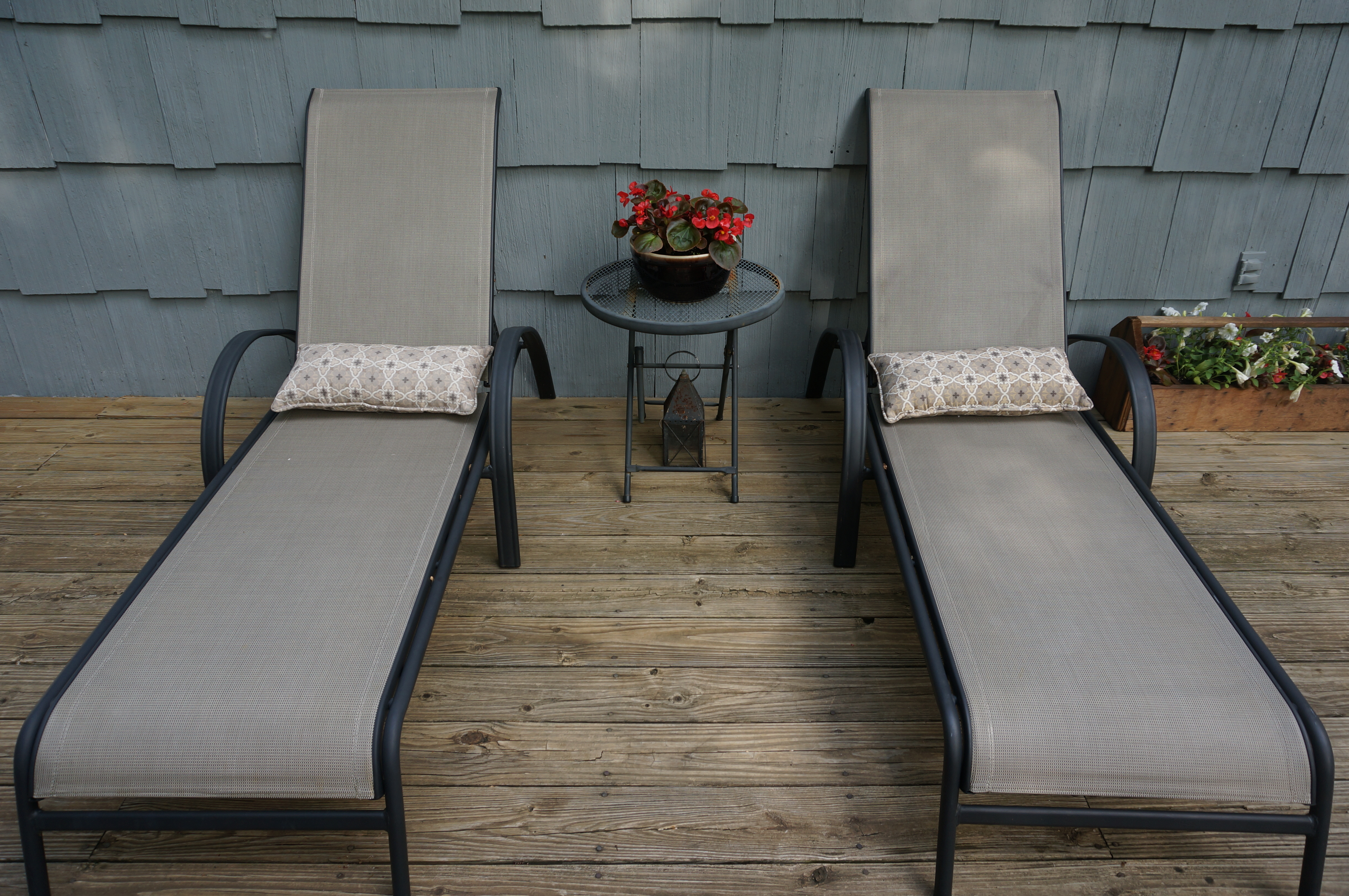 And the dining area. I'd love to add a rug under the table and a few accessories but for now I can deal!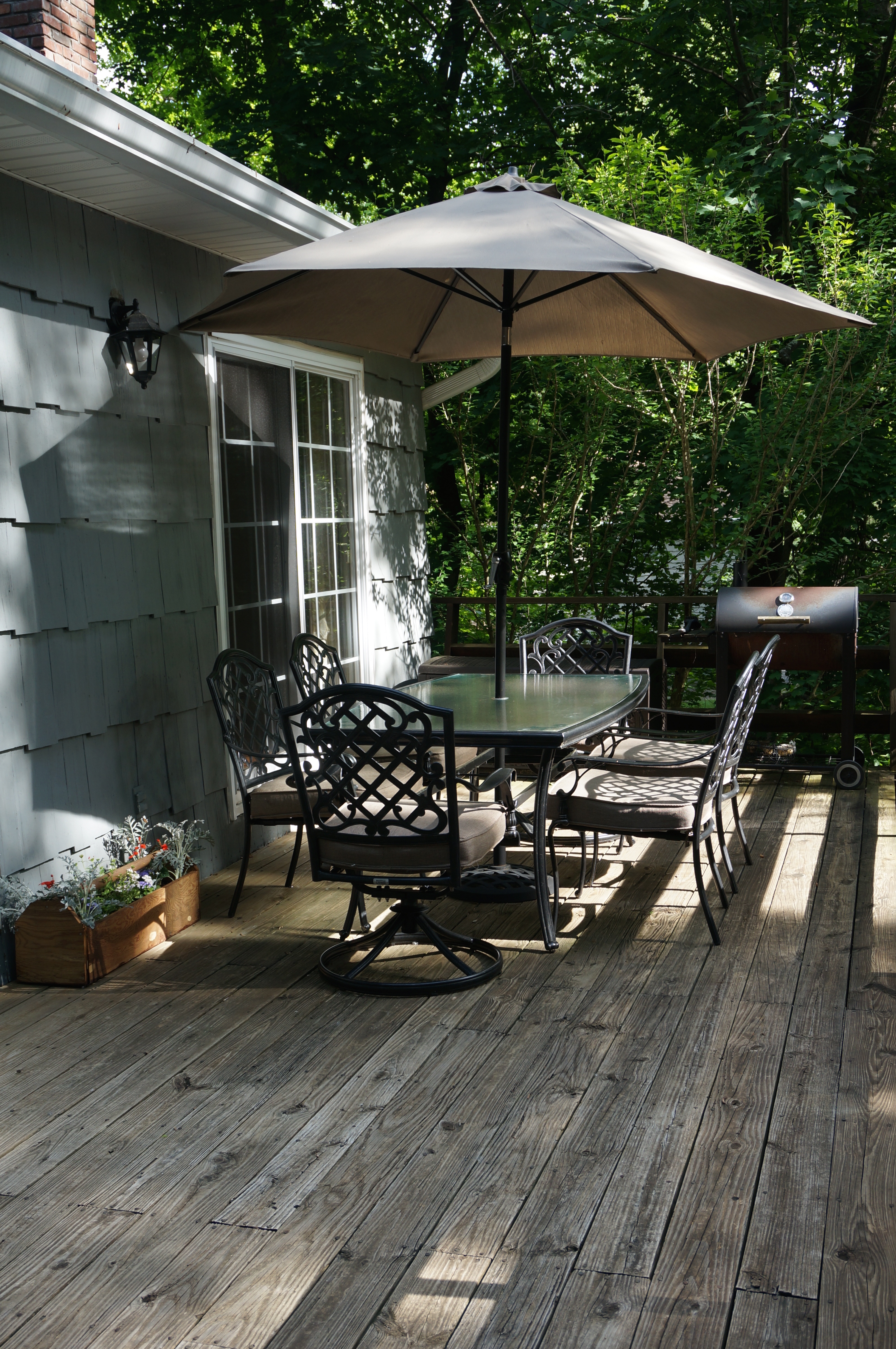 The whole space has really come together and we find ourselves out here all the time!  If you click on this photo below you can get a real feel for the space!