About a month ago I was at my local hardware store shopping for some paint samples. One of the great things about this place is that they have an on-site color specialist.  She was helping me pick out the green that would eventually make it's way onto the console. When I told her about my console idea (Miss Kelly) she started to tell me about an art show that the store was having.  The idea for the show was local artists create a piece of art work using only Benjamin Moore paint that the store would supply. The piece or pieces can't be bigger than 9×11 in size. Now, I should tell you, I am no artist but when she told me that the pieces would be sold with the money going to charity I thought it was a great idea. She informed me that I didn't have to be an artist to participate which made me feel much better and that I didn't have to use a canvas I could pretty much paint anything I want as long as it uses BM paint and is within the size required.
I knew right away I wanted to do some type of ombre painting so I took a bunch of shades of blue varying from light to dark. I also grabbed a goldish color and a sage color having no idea what I would do with them. I decided that I would tackle some canvas art since I've never done it before. I went out to Michaels and bought some 8×10 canvases and got to work. I ended up making 3 canvases.
For the first one, I tried to make my life as easy as possible so I printed out a chevron image and cut it to fit the canvas. Next, I taped over the stripes on the paper to get the space and shape I needed.  Then I just peeled the tape off the paper and onto the canvas and painted each open space starting with the lightest color to the darkest. There was some "leakage" of paint under the tape but I tried my best to wipe it away.
For the second one I just used the same 4 colors as above and ran the brush adding the darker color a bit at a time and tried my best to blend them together. To make it a little more interesting I grabbed a roll of toilet paper and dipped it into the darkest blue that I had and stamped the canvas. I didn't go all the way down because well, I liked the way it looked when I stopped.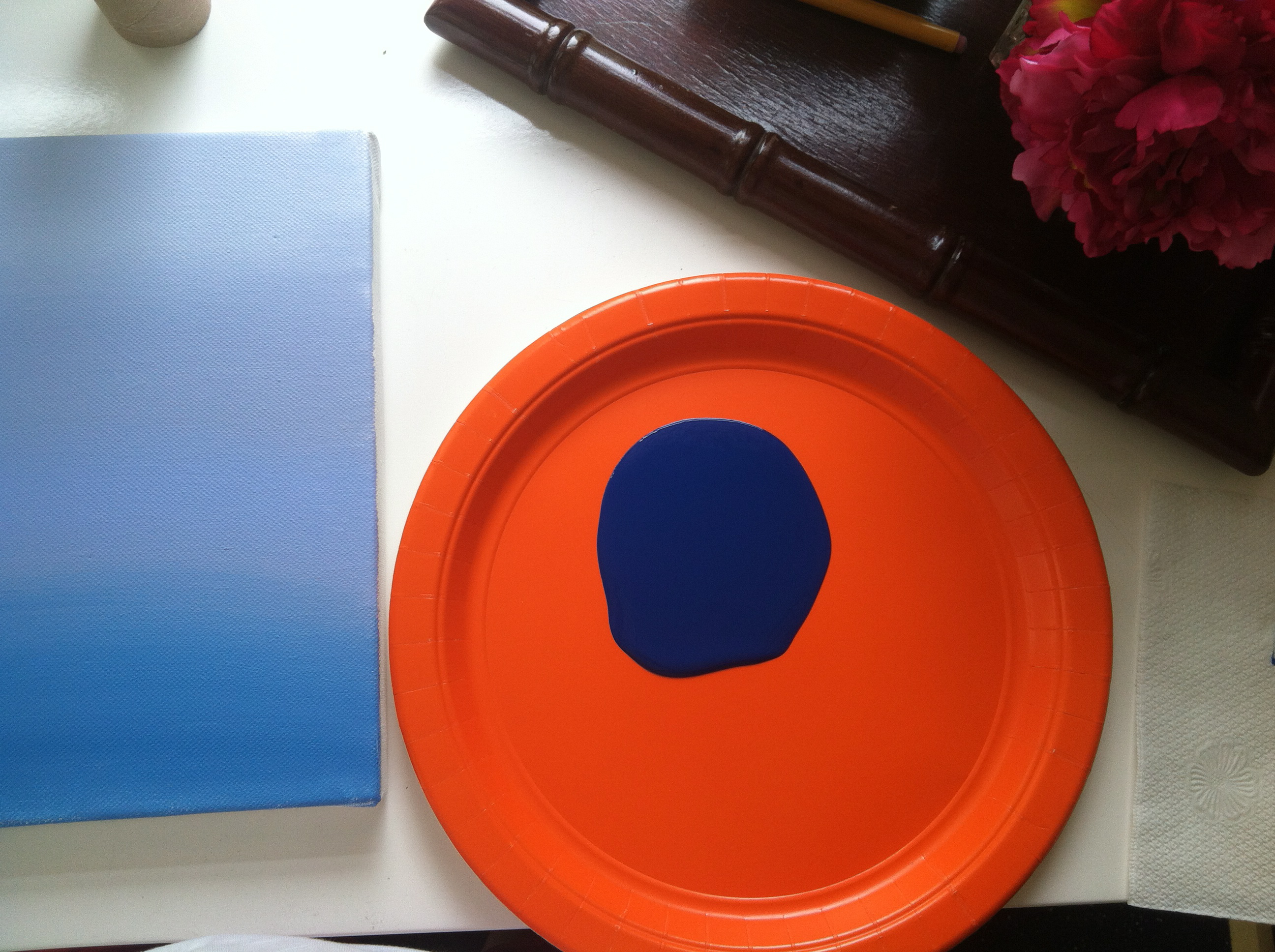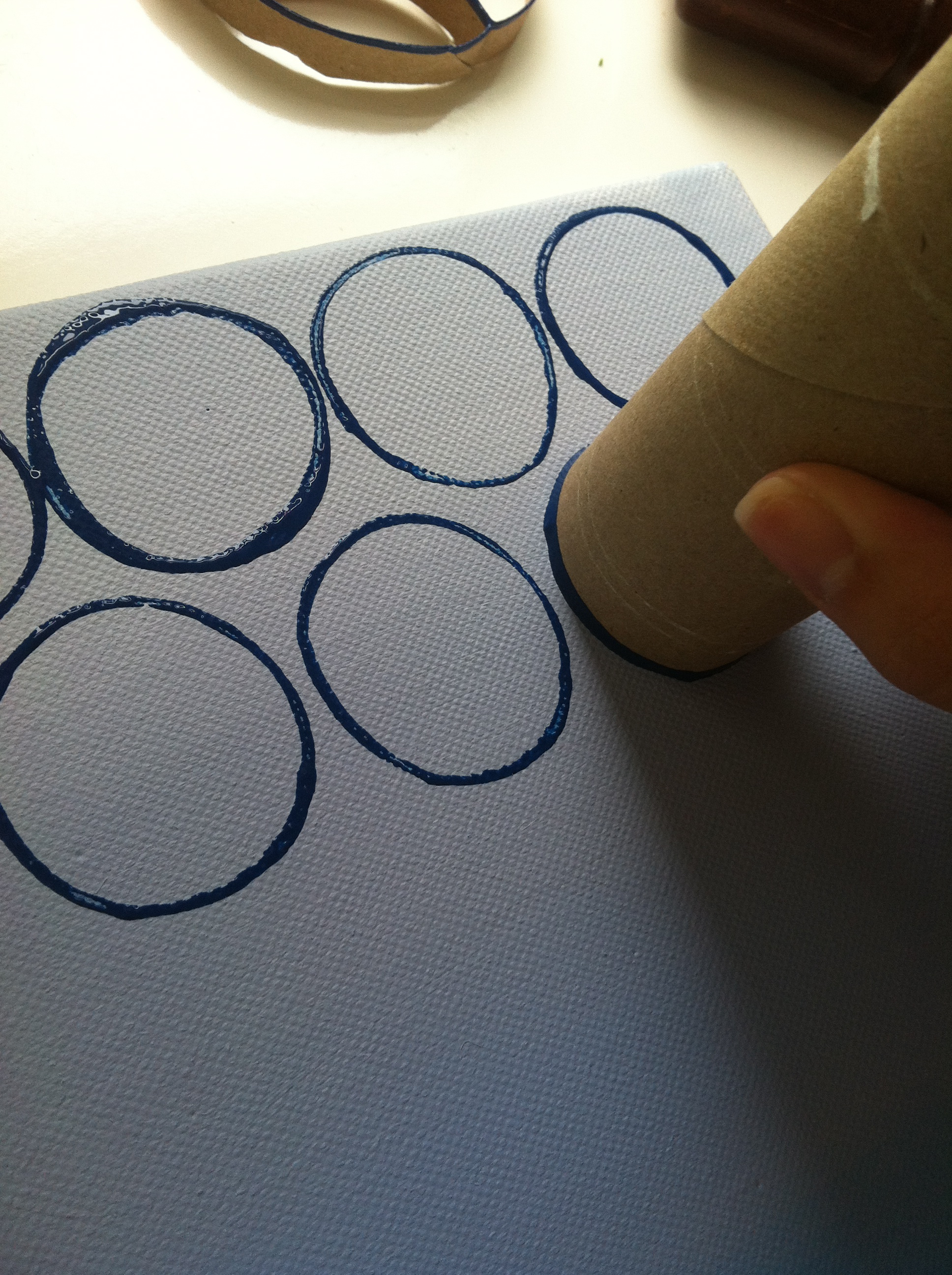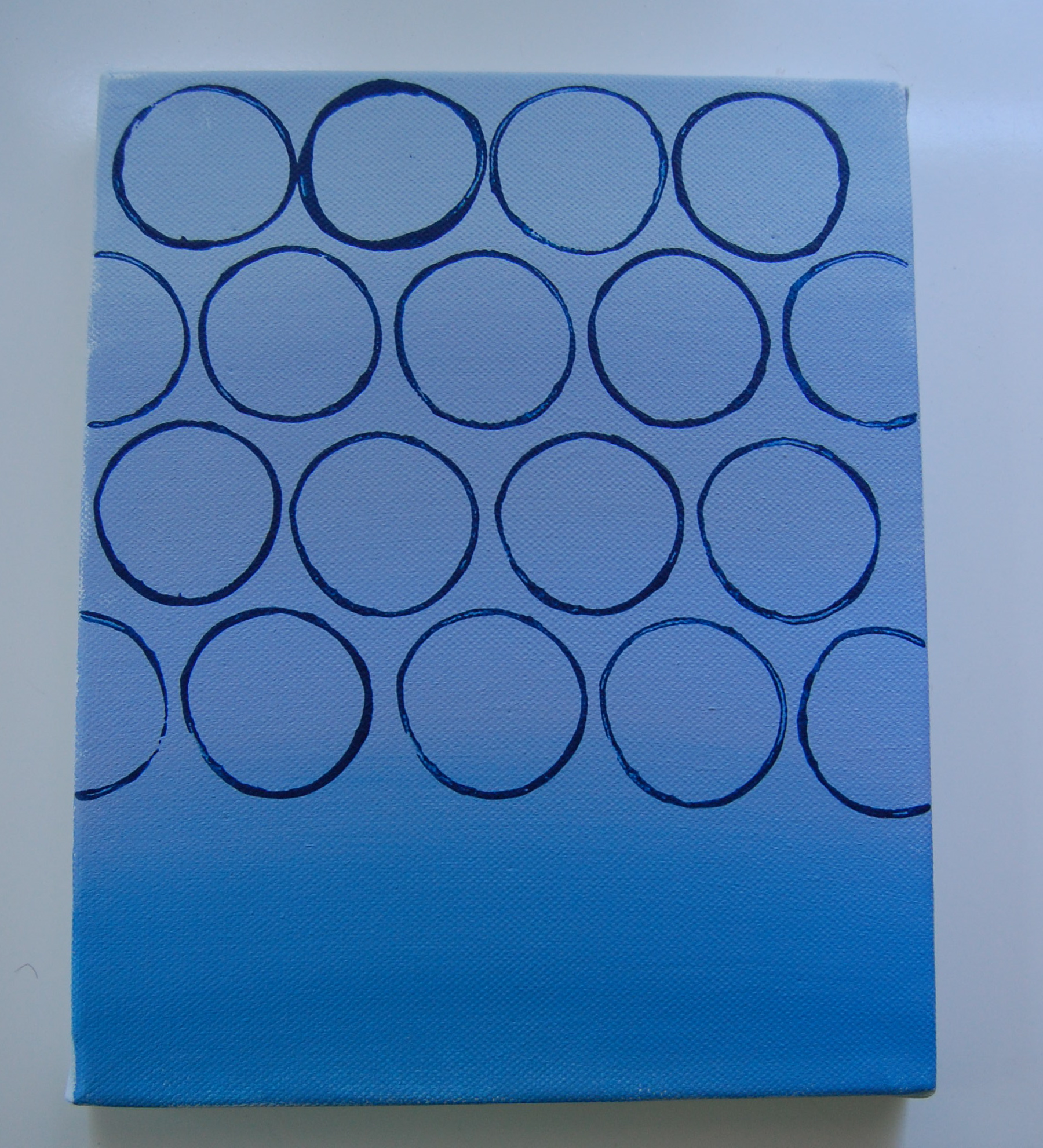 For the third canvas I used this art work as my inspiration. I first painted the canvas in Myan Gold and then taped it off. The tape did not want to hold so I went over it again with the same color paint to act as a glue to hold the tape down and also to insure that the green paint wouldn't leak underneath. Once it was dry I applied the green paint all over (2 coats) and then peeled the tape off slowly.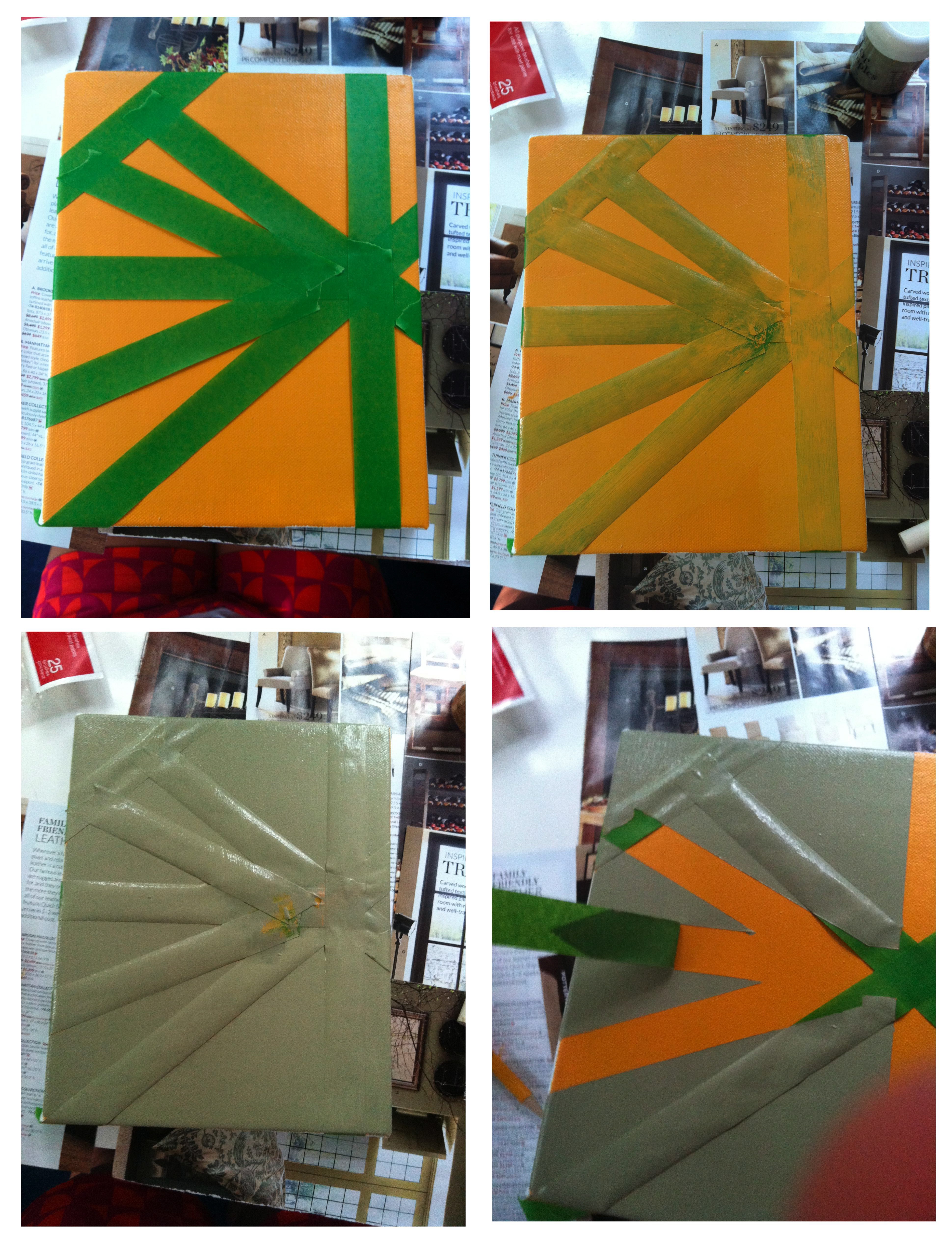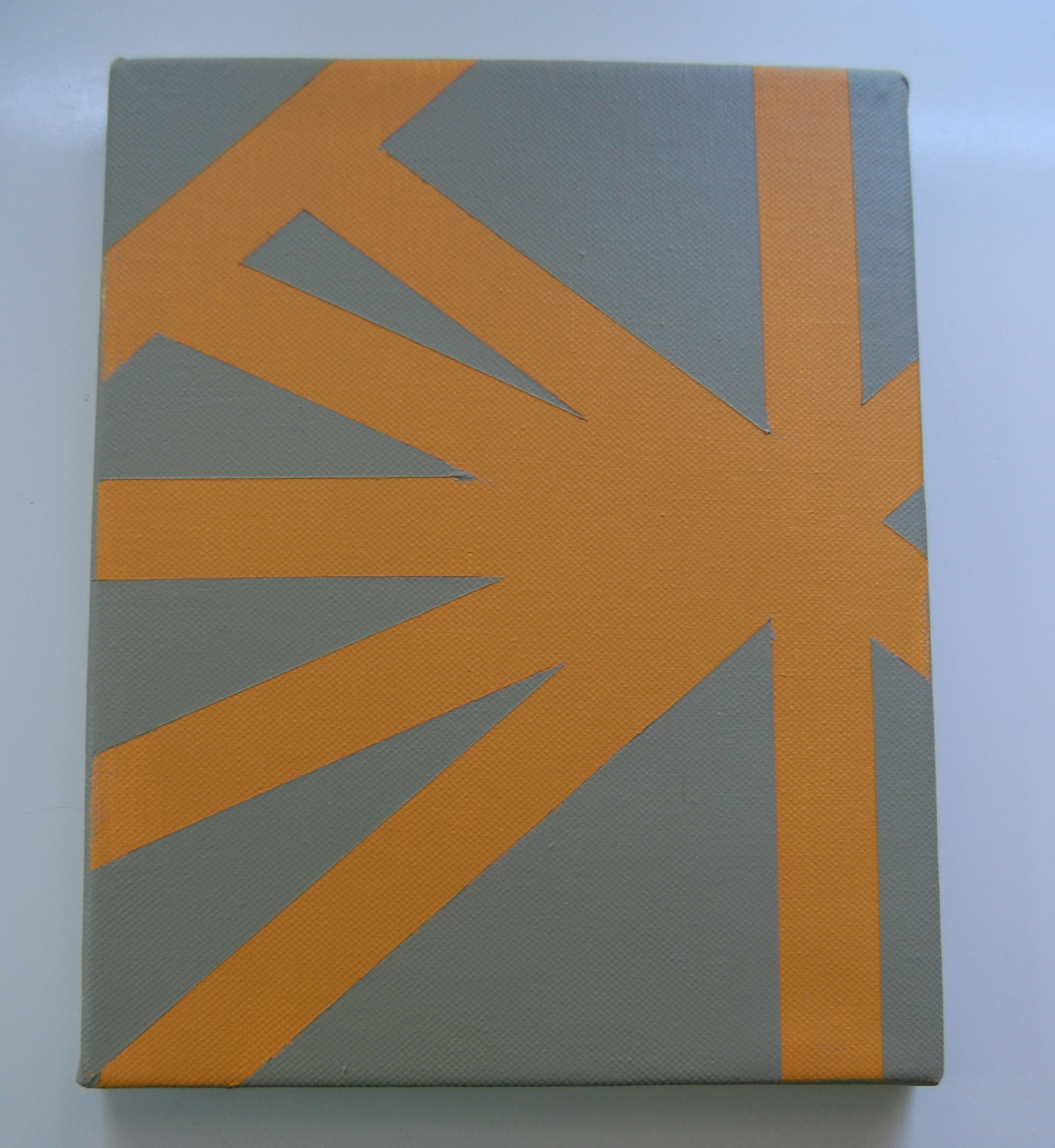 Now like I said, I am no artist. I just had some fun with free paint and hopefully someone likes them enough to buy them!

If you're in the Westchester-Katonah, NY area then I invite you to come check it out! It's tomorrow from 6:30pm-8:30pm at the Katonah Paint & Hardware Store. Refreshments and drinks will be served as well. Remember it's for a good cause!!
In case you're wondering, here is a list of the paint colors that I used:
White Satin
Blue Ice
Rivieria Azure
Summer Blue
Symphony Blue
Myan Gold
Dry Sage