A lot goes into making your space you. Everyone has their own different design style whether it be traditional, eclectic, contemporary, the list goes on and on. I'm still trying to wrap my head around what my style is because I'm totally drawn to Hollywood Regency but my place is very modern traditional.
Buying beautiful pieces of furniture for your space is important and whenever I set out on a piece I always think of it as an investment and I try to add as many classic pieces as I can. One of my absolute favorite things to do with a furnished space is to style it and accessorize. You can add so much to a space with different textures and patterns. With that in mind it was time to accessorize Miss Kelly.

I always try to use things I have around the house but this story lead me to a find that I am completely in love with and screams Hollywood Regency!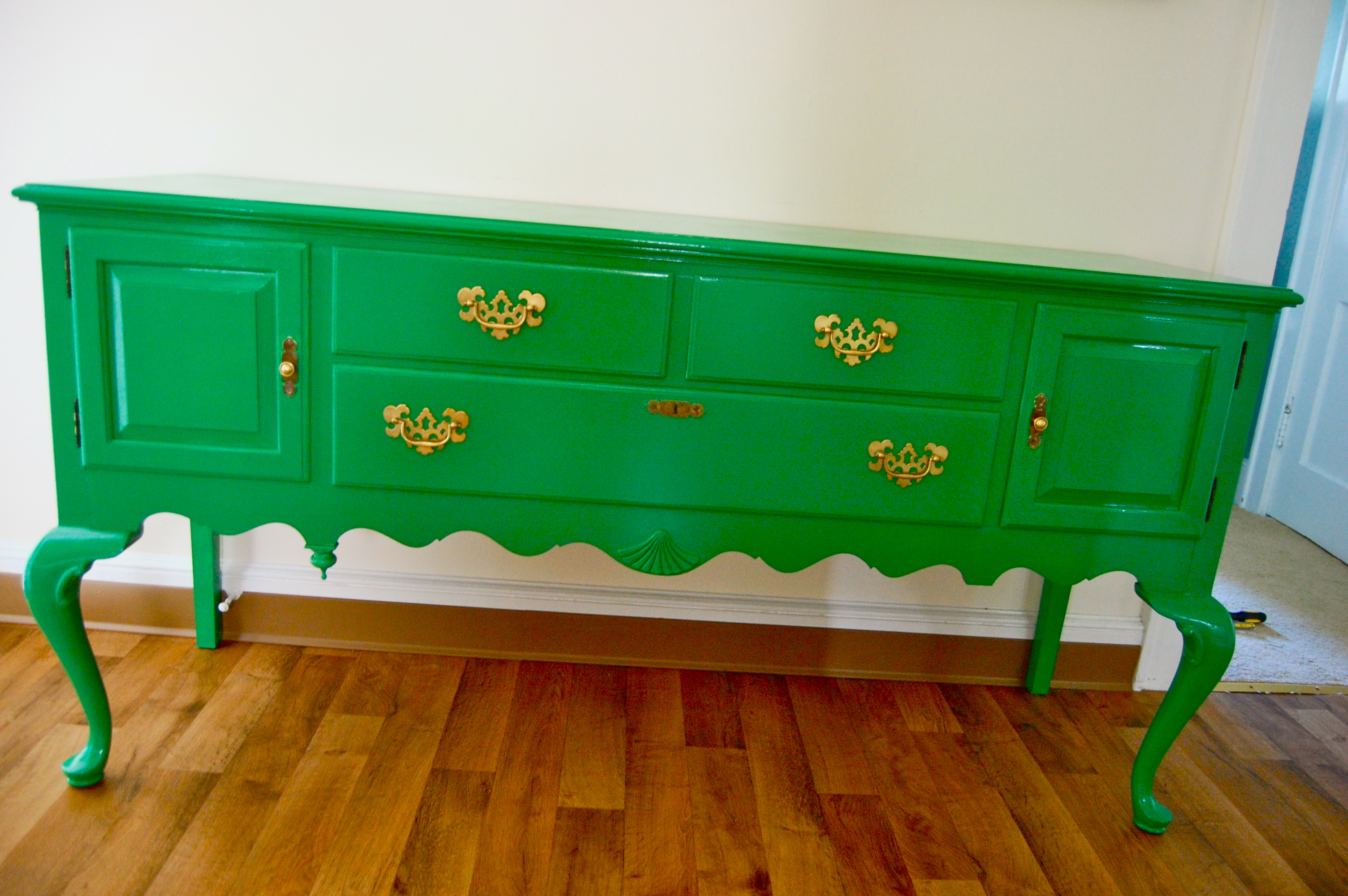 I knew I wanted to add some pops of gold into the mix and some lamps with accessories when styling this piece but that was about as far as I had gotten. Then I thought about my toilet paper roll mirror. I thought it would be best to spray paint it (the mirror) some nice oil-rubbed bronze to add a bit of darkness to the space since the walls are linen white and the piece is such a bold color.  I also had found a pair of lamps that I decided to paint Heirloom White and make my own shades for to save money. Once I had those pieces I used whatever else I had around my place to style it.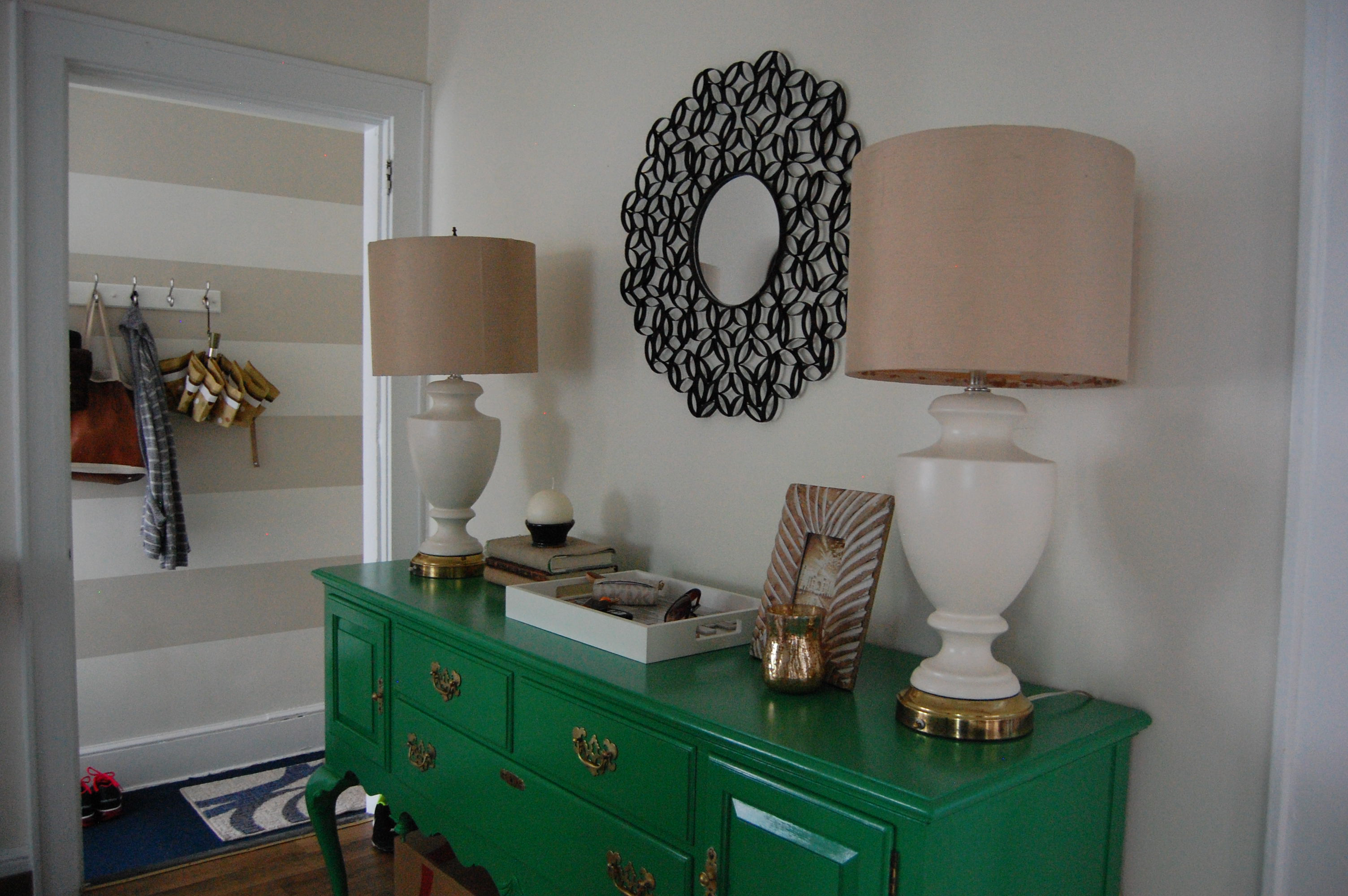 I lived with this for about 2 days and didn't care for anything that was going on. I immediately felt that the wall art should have been more of a champagne color and even though I still believed that I needed to add some darkness to the space the mirror wasn't what I wanted. As far as the lamps were concerned they were completely lost. They pretty much matched the color of the walls and so they might as well have not been there. I thought about spraying them a high gloss black but another problem I had with them was that they were too wide.
So what did I do? I went over to Home Goods to see if I could replace the lamps. I found these 2 smaller white lamps. It was between these white ones or another pair that was black. I decided to try out the white because they were a brighter white than what I had and I liked the size of them. I was also hoping they would make the mirror look better. Well, it didn't happen and can you believe I didn't take a picture at all to show you? You're just going to have to take my word for it!
So back to Home Goods I went to try out the other lamps I saw that were black but because I'm so lucky, they were gone. But the great thing about Home Goods is that they have some many great things and I found another set that I really liked. So into my cart they went and around the store I browsed and then it happened. I found, to date, my absolute favorite Home Goods purchase EVER!! The most gorgeous silvery gold antiqued round geometric mirror. It was $80 but after finding a little ding and turning on the drama I got it down to $70. Once I put it up and added the new lamps I fell in love! Let's check out the before and after…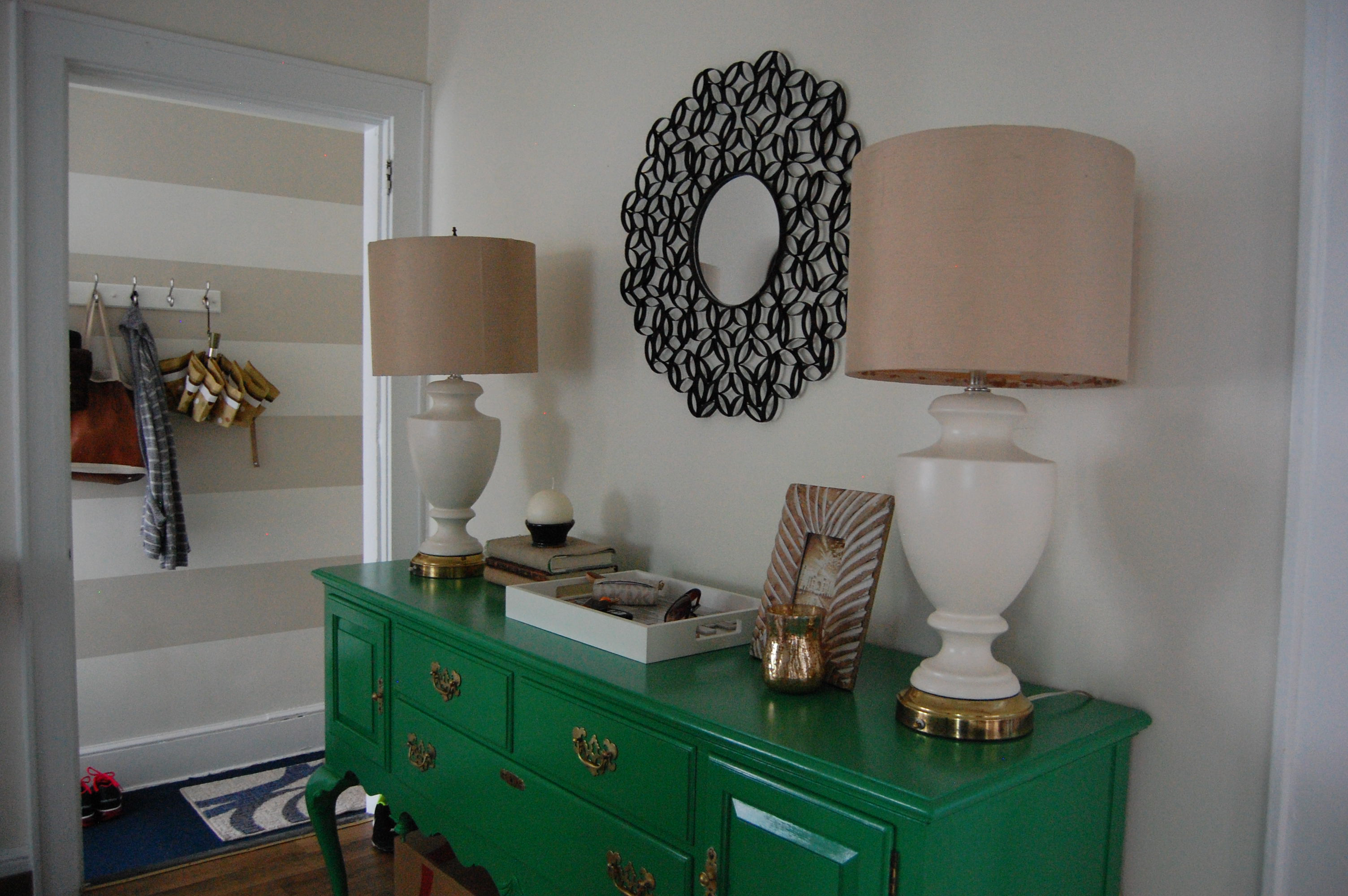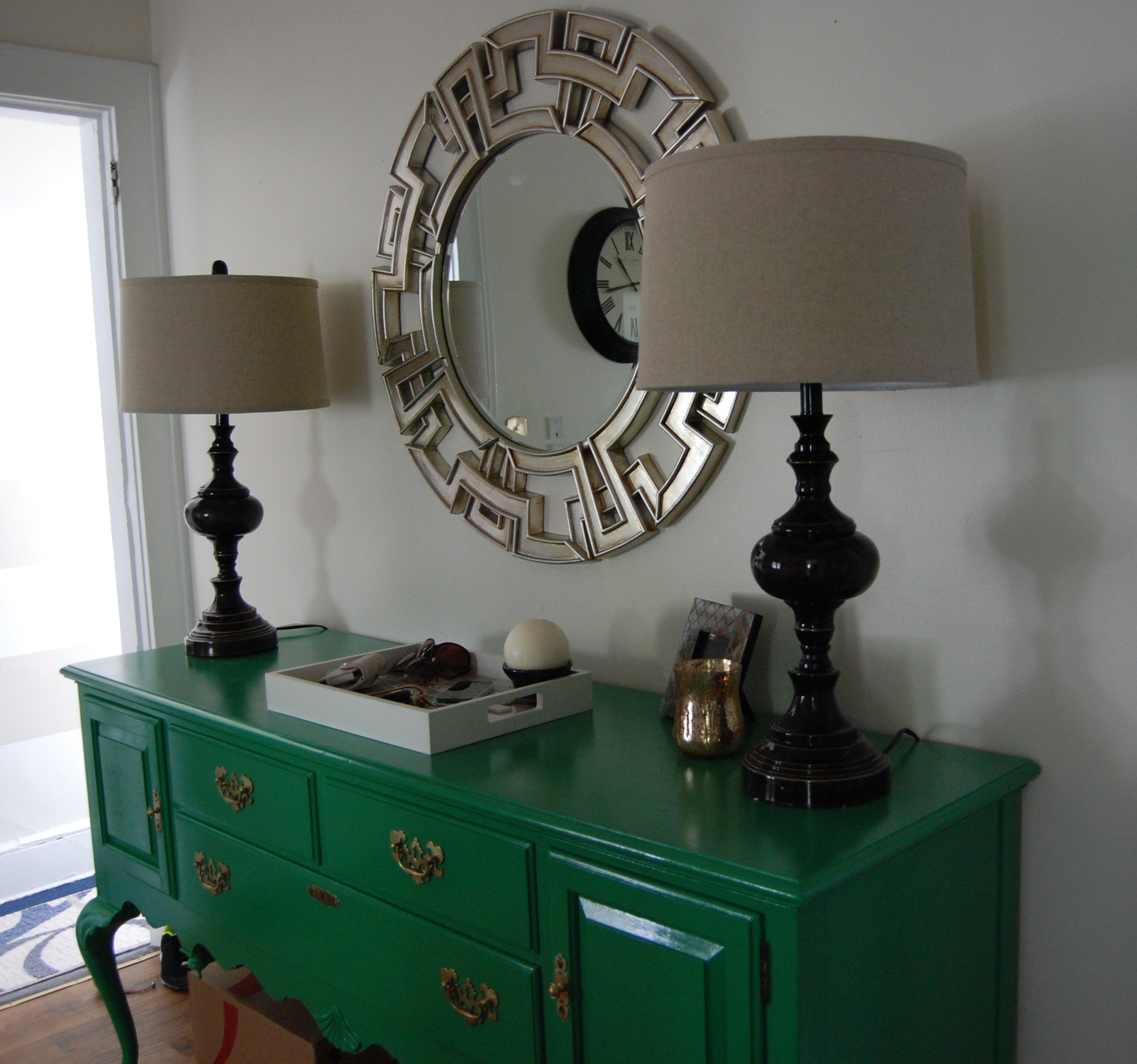 How amazing is that mirror!!! The lamps are so much better scale wise and add the color. I also love the lamp shades and the linen texture that it adds to the space. I was still able to incorporate some oil-rubbed bronze through the lamps which is great cause who doesn't love some ORB! As far as the rest, I added a tray as a drop spot for my keys, wristlet and sunglasses and just a frame and candle holder. I didn't want to clutter the space so I kept it simple. Wanna a better look at the mirror? Yeah, let's do that!!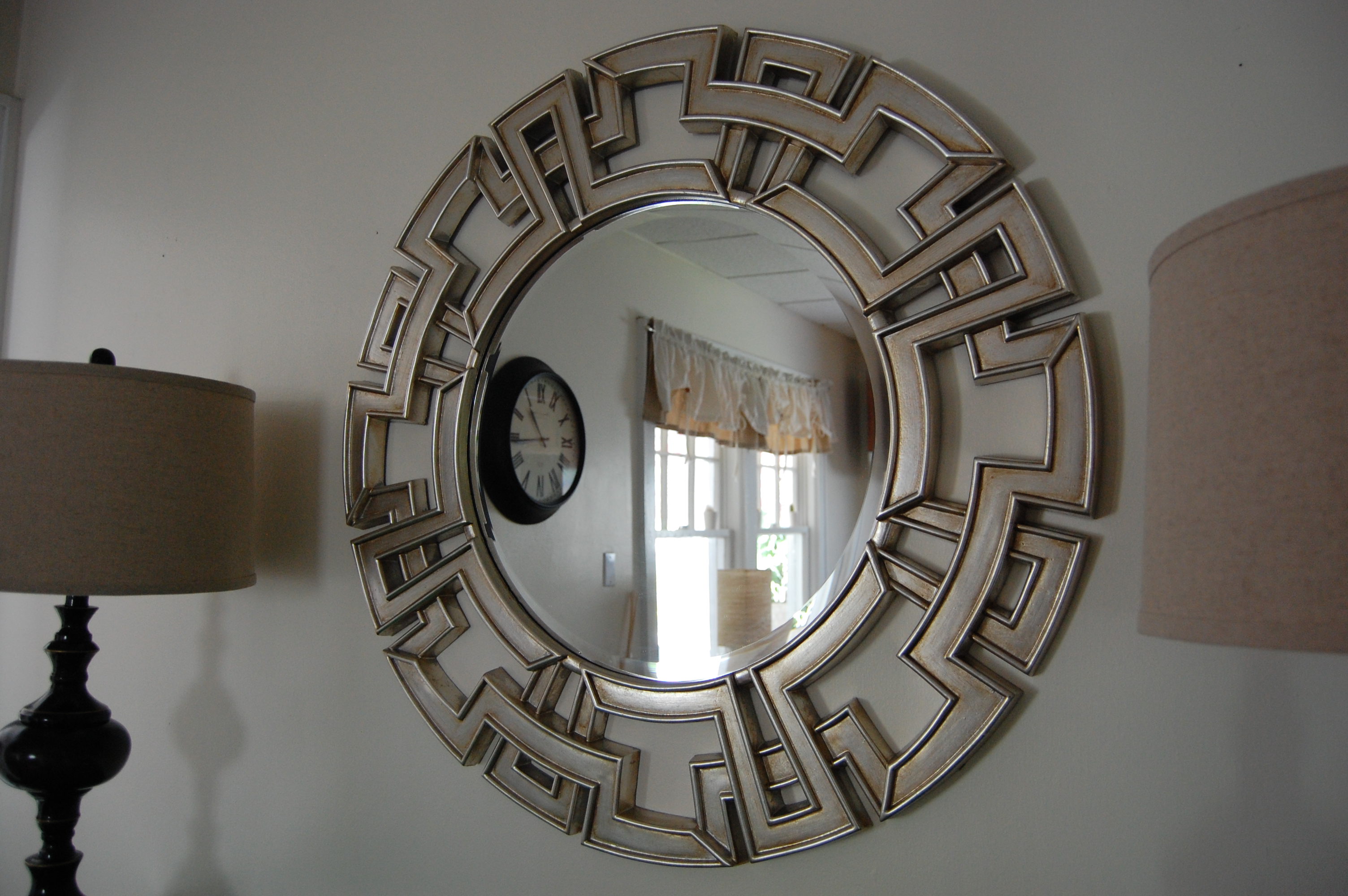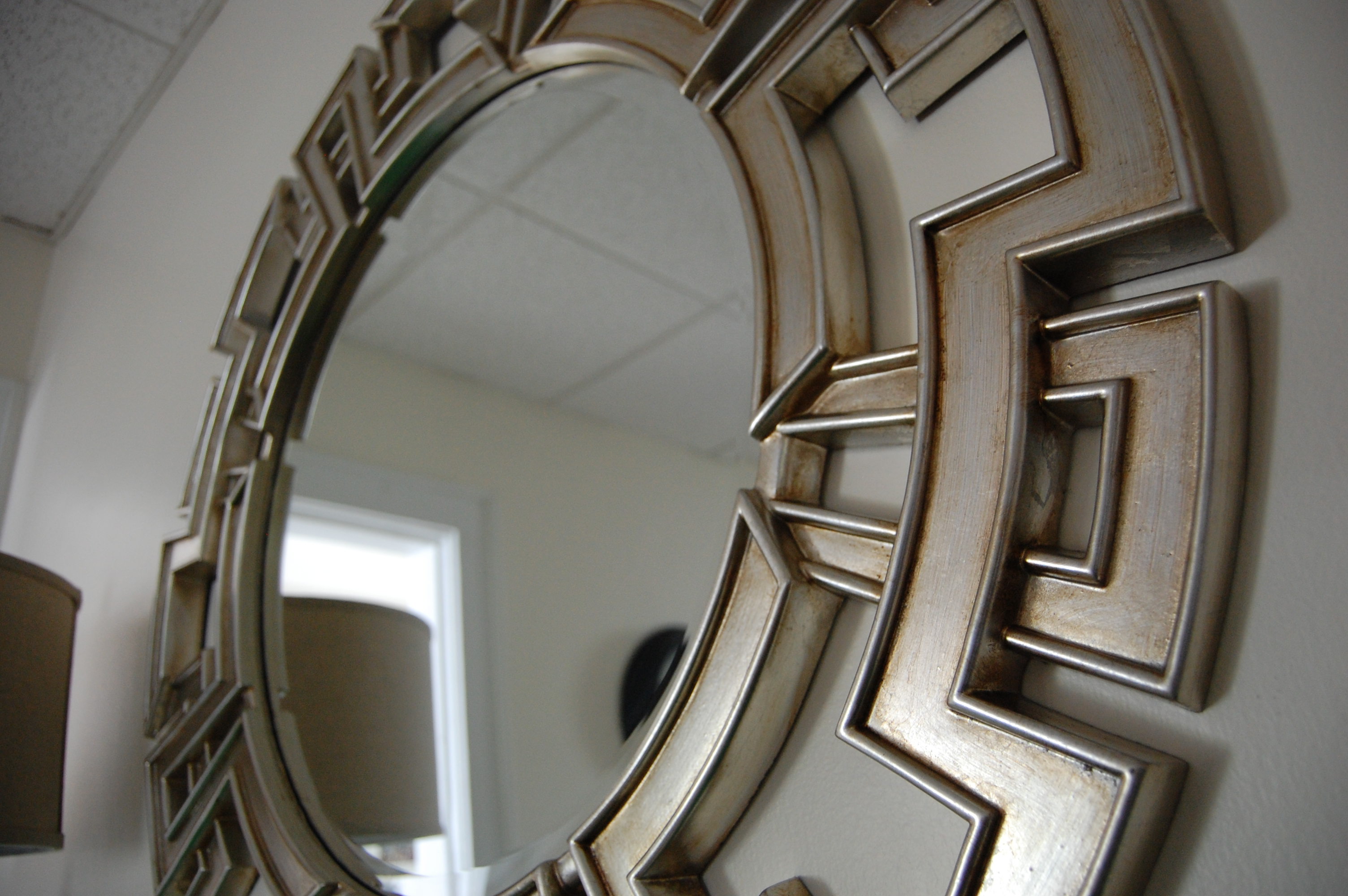 I love the size, the color, the shape…there is nothing about it that I don't love!
What's even better is that Z Gallerie sells one identical in shape but certainly not in price! As far as the TP Mirror that I made, it made its way to my friend Kate's apartment. She just recently moved and had a spot that needed a little something and it looks great! And the original lamps with DIY lamp shades are in storage right now until I find a spot for them.
Do you have a Home Goods or Home Sense piece that you found and fell in love with? Share with me, I love to chat!