One by one we have been crossing off projects from our list. The first one to share is our guest room.  This room left very little to the imagination.  Green walls and dark brown curtains. Not exactly something that screamed please come in and take a load off in here.  I knew this would be the room that my old bedroom furniture would be going into so we needed to do a little fixing up. The plan was to paint the room and add all new trim (crown, base, and casings.) Here's the room before we got started.
This happened to also be the room where we kept Luna when I first moved in to ease her into the new environment, hence the litter box.  We cleared everything out and pretty much sold the furniture that was in there since we didn't have a use for them.  After chiseling off each of the outlet covers (OMG! There must have been about 5 layers of paint on them!), patching holes in the walls, and fixing up a tape line in the ceiling, we got to work.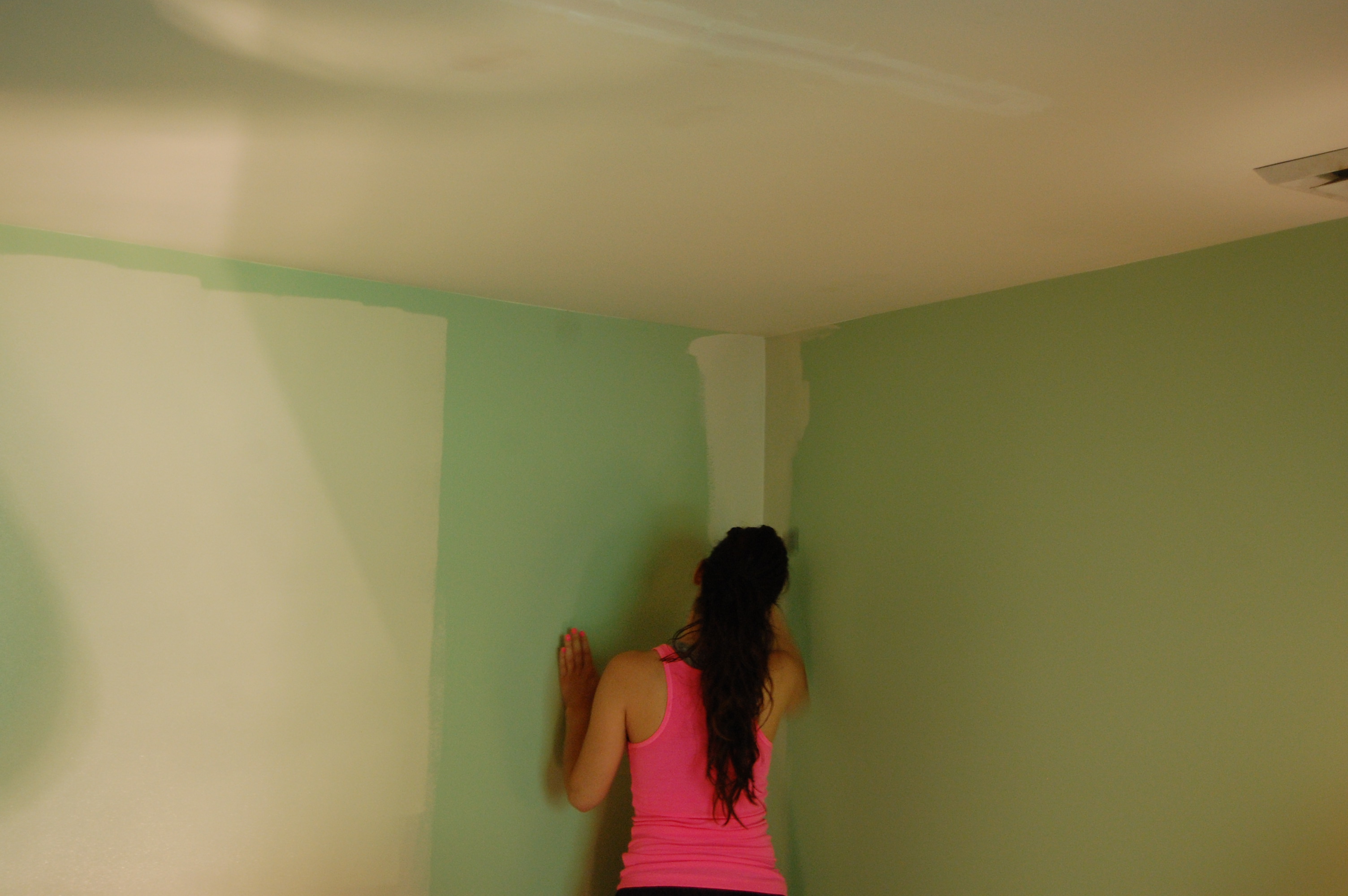 The color I chose was Sherwin Williams Canvas Tan. I had it color matched by Benjamin Moore. I didn't choose to prime because I didn't want to do more work than needed. In other words, I was lazy. I did all the cutting while Frank rolled. Since we were going to be adding crown molding I didn't go crazy making the line straight on top which was so nice!
After the room was all painted we were ready to have the trim installed. Luckily, we have a friend who is skilled in doing this. The problem with friends is we work on their time frame. So as you can imagine the room sat and sat and sat a little more. But the big day did finally come. All the trim that was around the doors and windows came down and the new trim went up!
And the rest of the room…don't mind the patches, we noticed a few small holes we wanted to patch.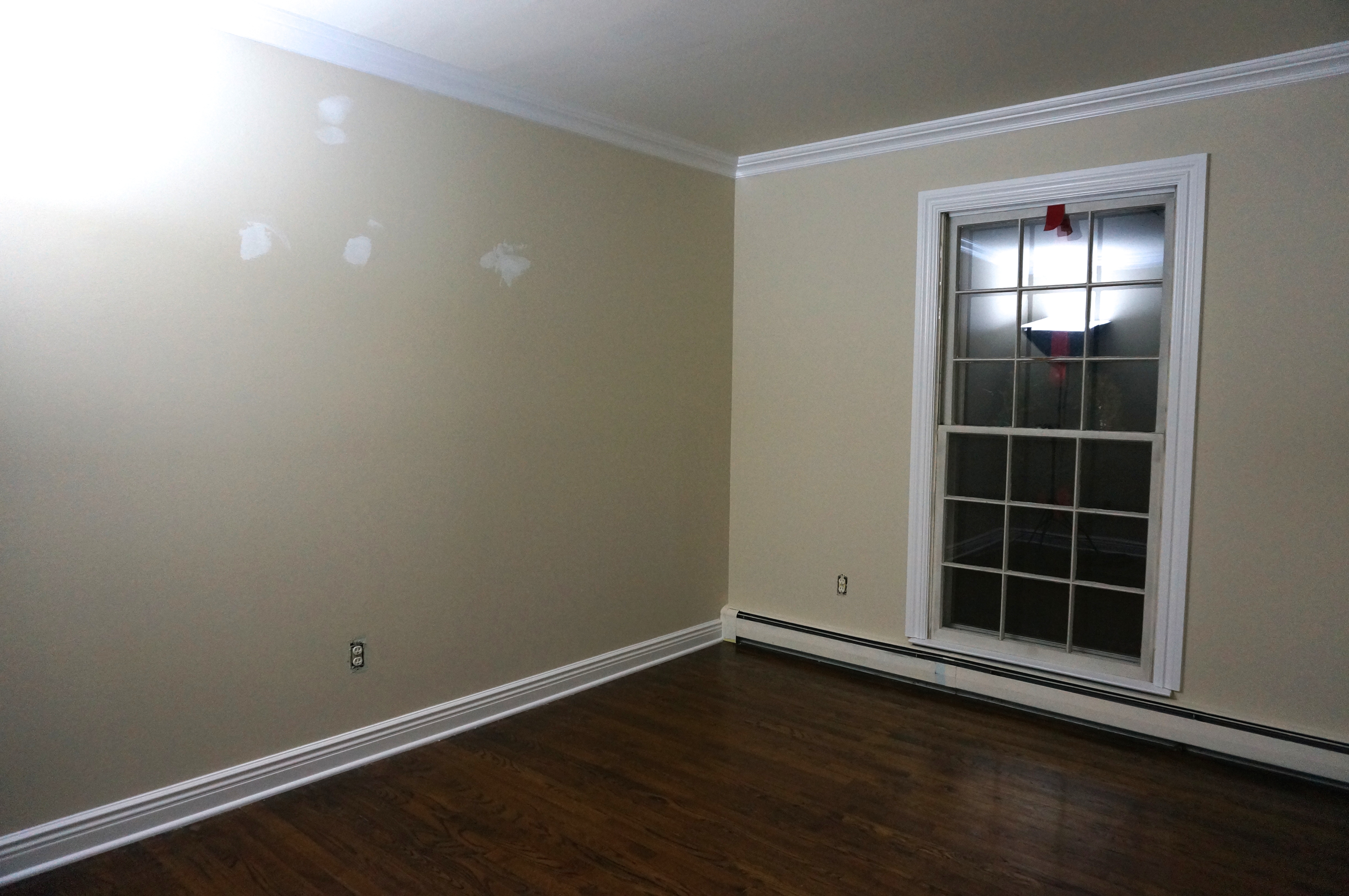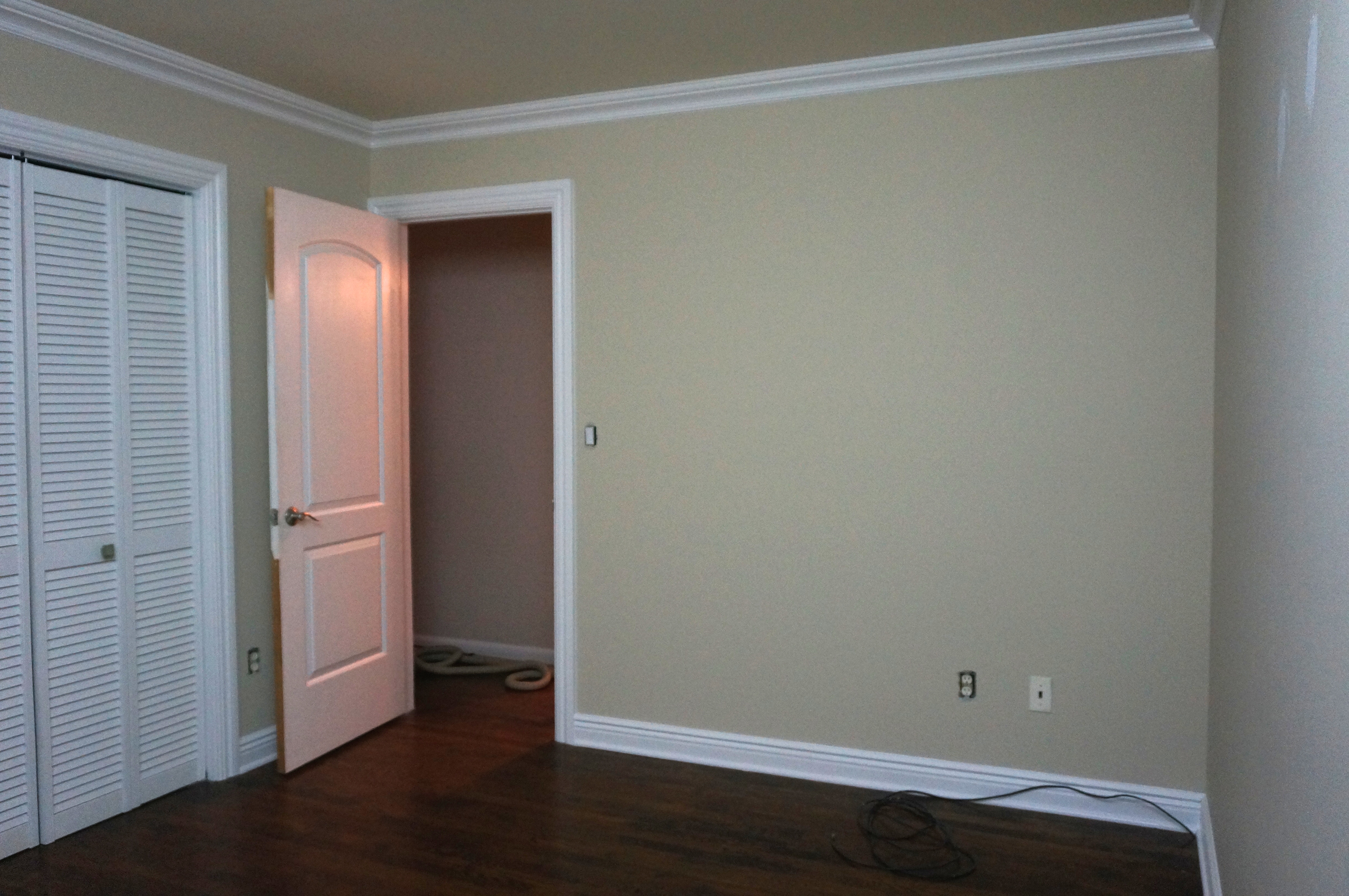 The next step was bringing in the furniture.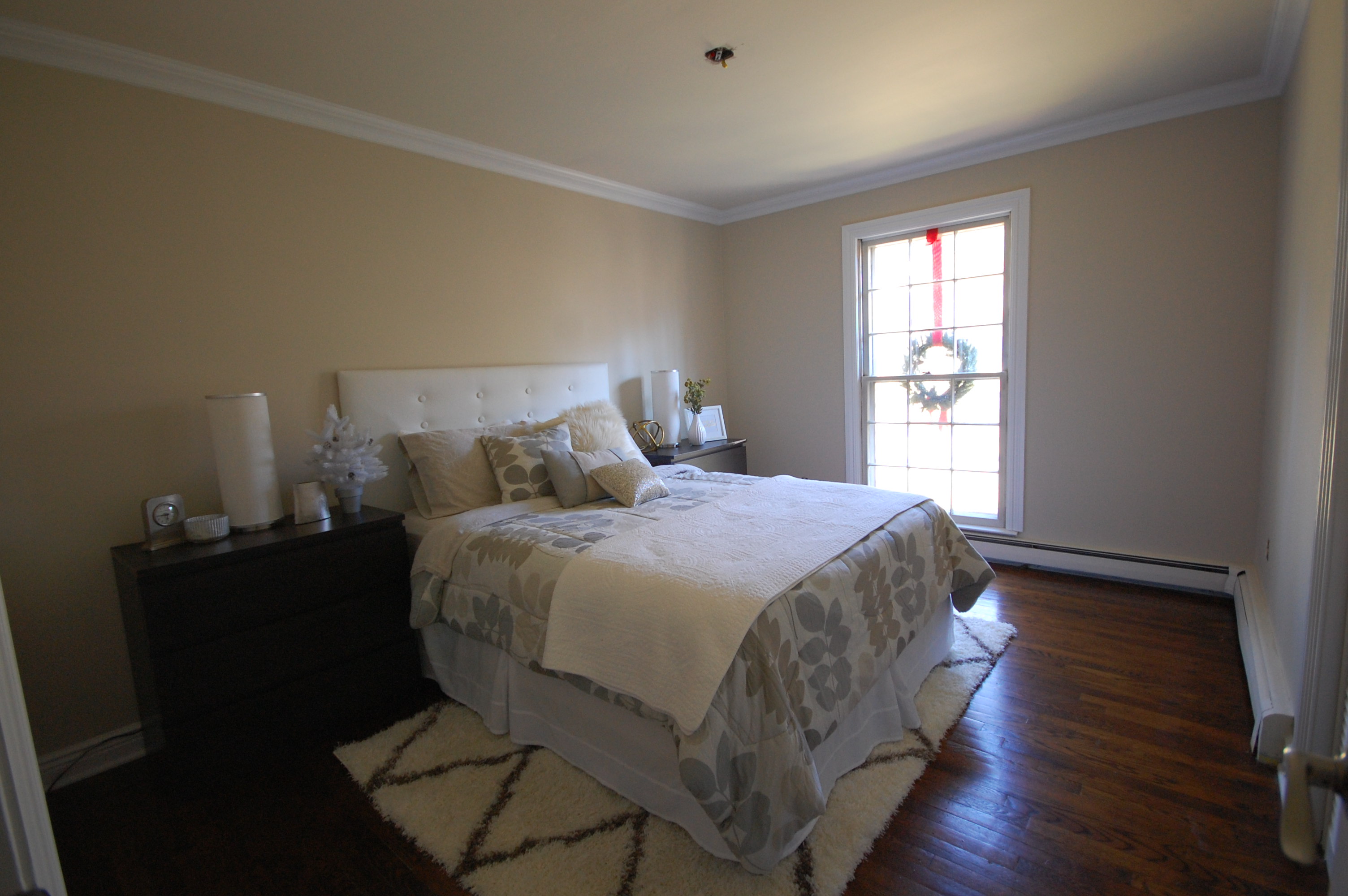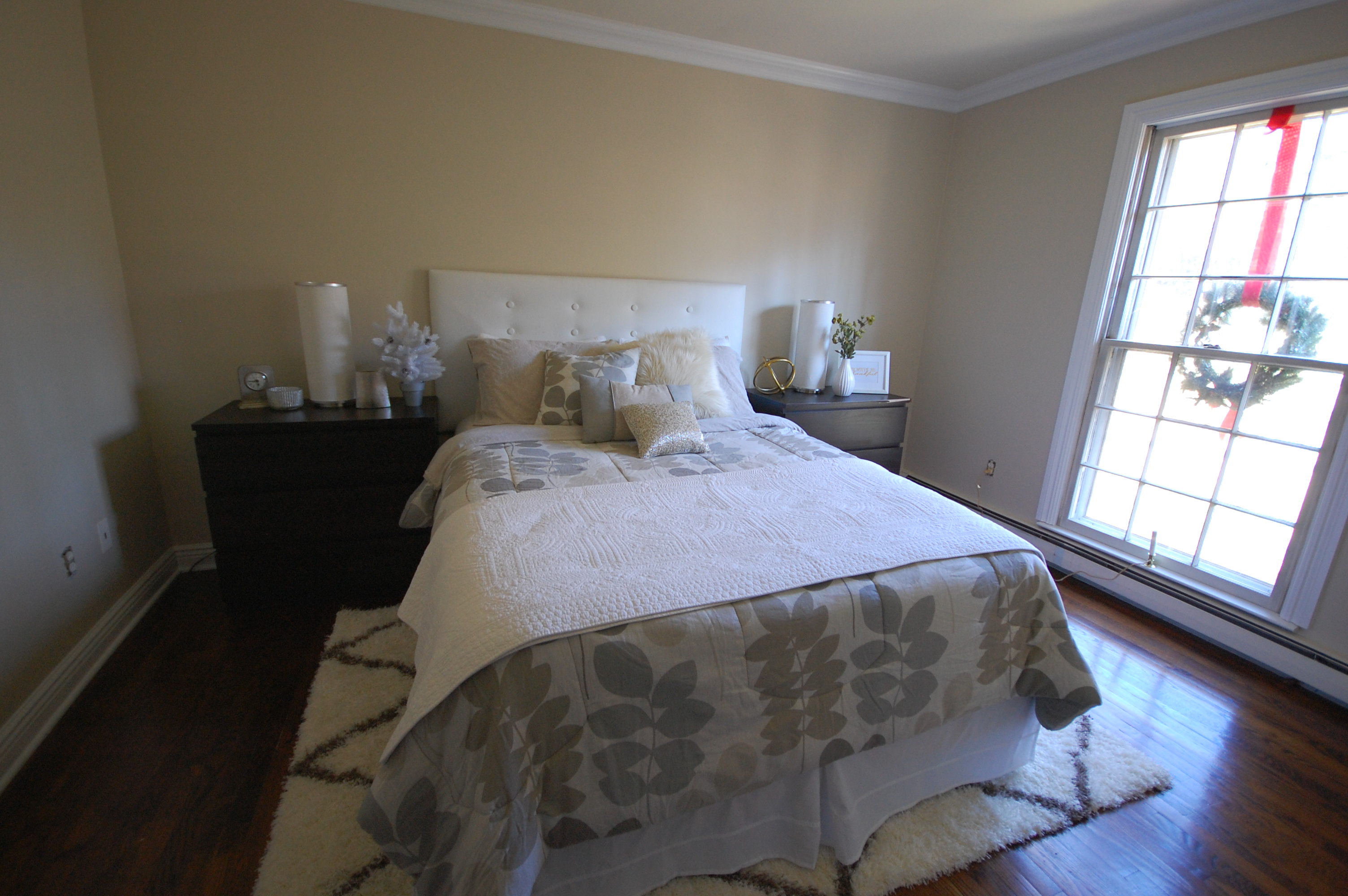 I'd love to say that since this photo has been taken the wreaths in the window have been taken down but I would be lying if I did.  The truth is it's been way too cold to go out and take anything down so while Christmas is gone inside I can't say the same for outside!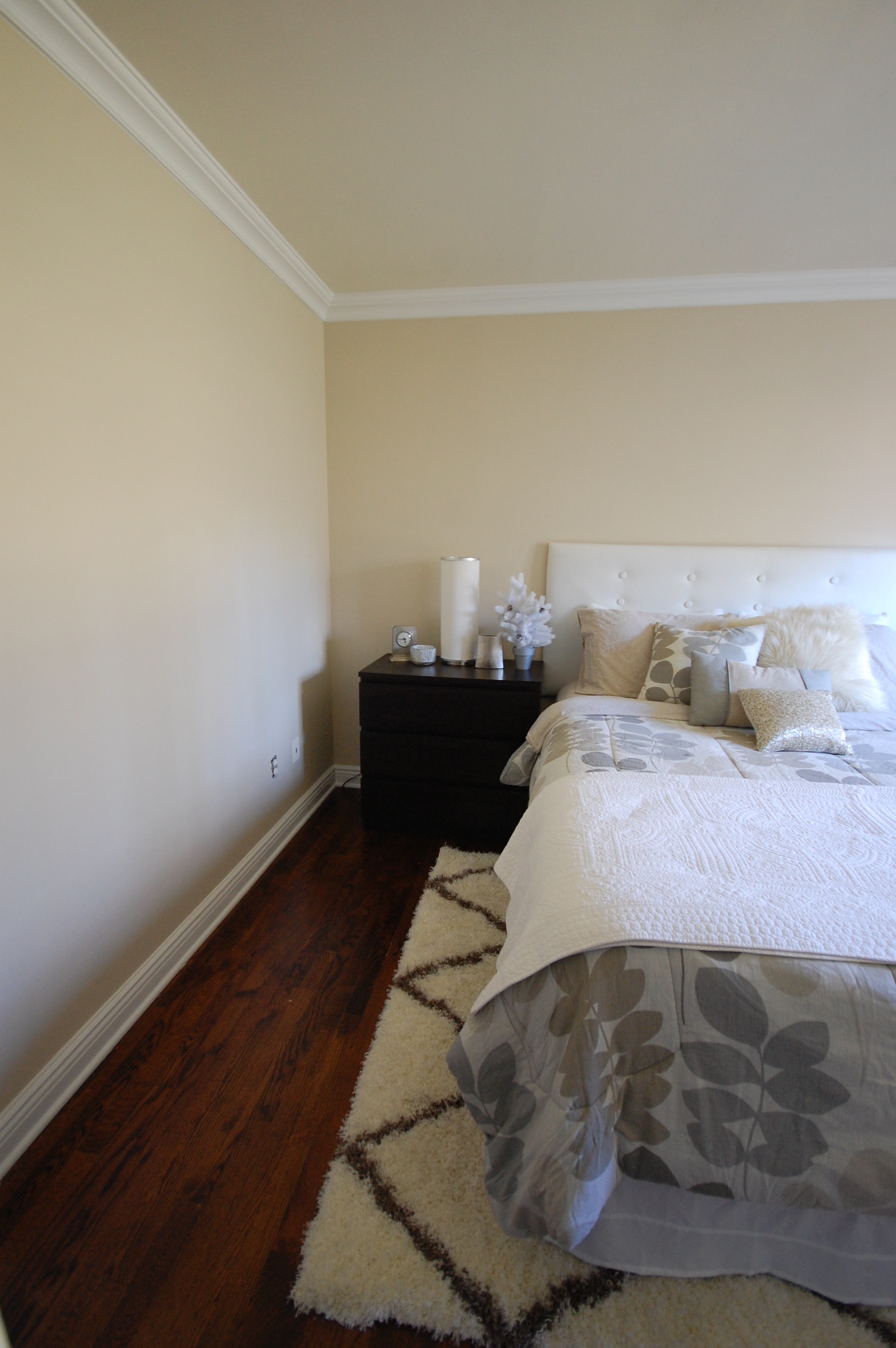 Ah, much better. There is still more to be done like blinds for the windows and something above the bed. But my absolute most favorite part is the space to the left of the closet. That will be getting a little something special.  Something I have been wanting forever. I am putting in a vanity! A place to do my hair and makeup and if all goes well a place to set up my camera and start making some more beauty videos for you guys! I also have plans for the closet in the room as well but for now I'm enjoying walking by a room that finally looks like a bedroom!