For the longest time I have been wanting to try out chalk paint.  I have a serious love of redoing furniture.  I can't even begin to tell you how many pieces I am hoarding with the intention of doing over. Many of which I have sanded and primed! If you've painted a piece of furniture before then you know how time consuming and exhausting sanding and priming can be.  This my friends is what drew me into wanting to try Annie Sloan's Chalk Paint.  I have heard so many wonderful things about it like, "no need to sand," and "no priming needed". Those words are music to my ears. So when I had a piece I was looking to redo I bit the bullet and bought some chalk paint.  I did a little research online as to what colors would give me the look I was trying to achieve.  I wanted a sort of grayish brown Restoration Hardware look. After settling on what colors would work I made my purchase.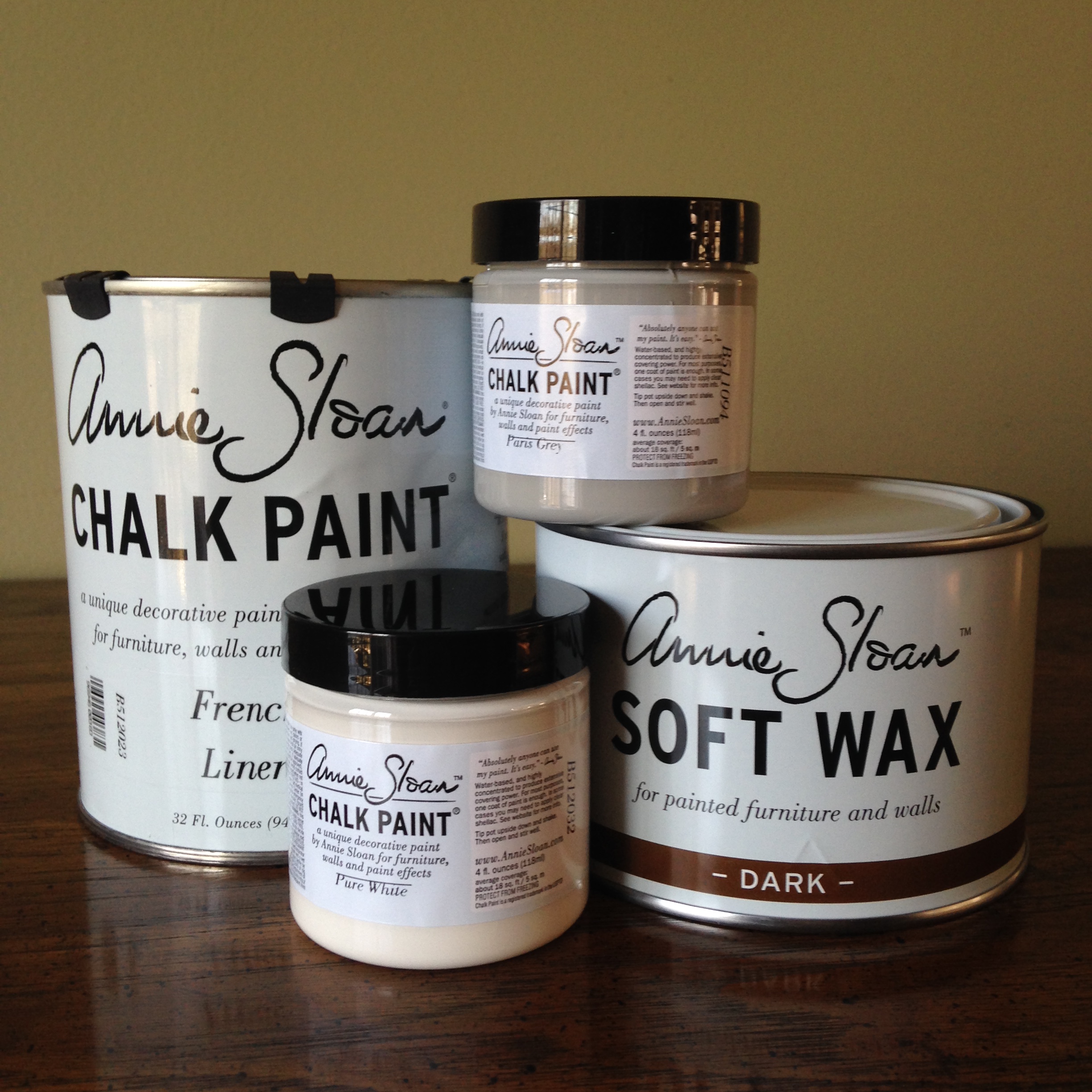 I went with a quart of French Linen as the base, sample sizes of Pure White and Paris Grey for dry brushing, and the Dark Wax to seal it all.  The reason I only purchased sample sizes for what I needed to dry brush is because what you will learn as soon as you open this paint is that it is crazy thick and a little goes a very very long way! It may be pricey but it is totally worth it!
So here is the piece itself before being touched.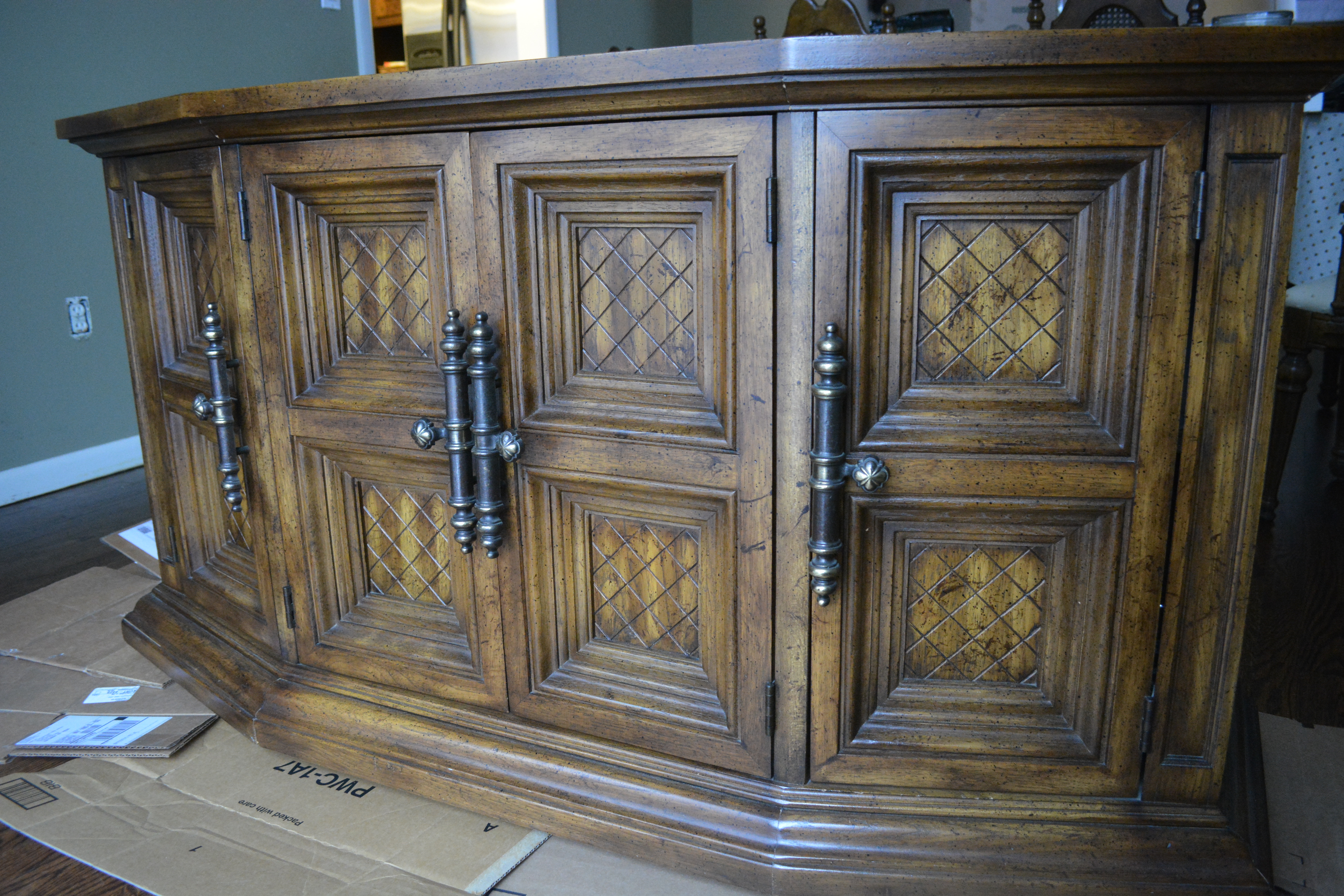 If you're anything like me then you can clearly see the potential here.  The shape of this piece is what really drew me in and as soon as I saw the squares within the doors I knew I wanted to put some mirrors in there to update it.  Unfortunately, when I went to unscrew the hideous hardware I was completely taken by surprise to learn that they can't be removed! When I opened the door to find the screw on the other side I only found that there was no screw. It seems that the door was half build, the handles went on, and then the other half of the door went on blocking the screw.
This certainly didn't stop me from continuing but I'm not gonna say I didn't cry a bit over it! I do have some options just not sure what to do quite yet. Anyway to get started I simply wiped the entire piece down with a wet rag and then dried it. That was all I did to prep the piece before painting.  Using my trusty Purdy brush, I got to work.  The great thing about this paint is it's really fool proof. For most flat surfaces I would use a small roller but there is no need, you can totally do it with a brush.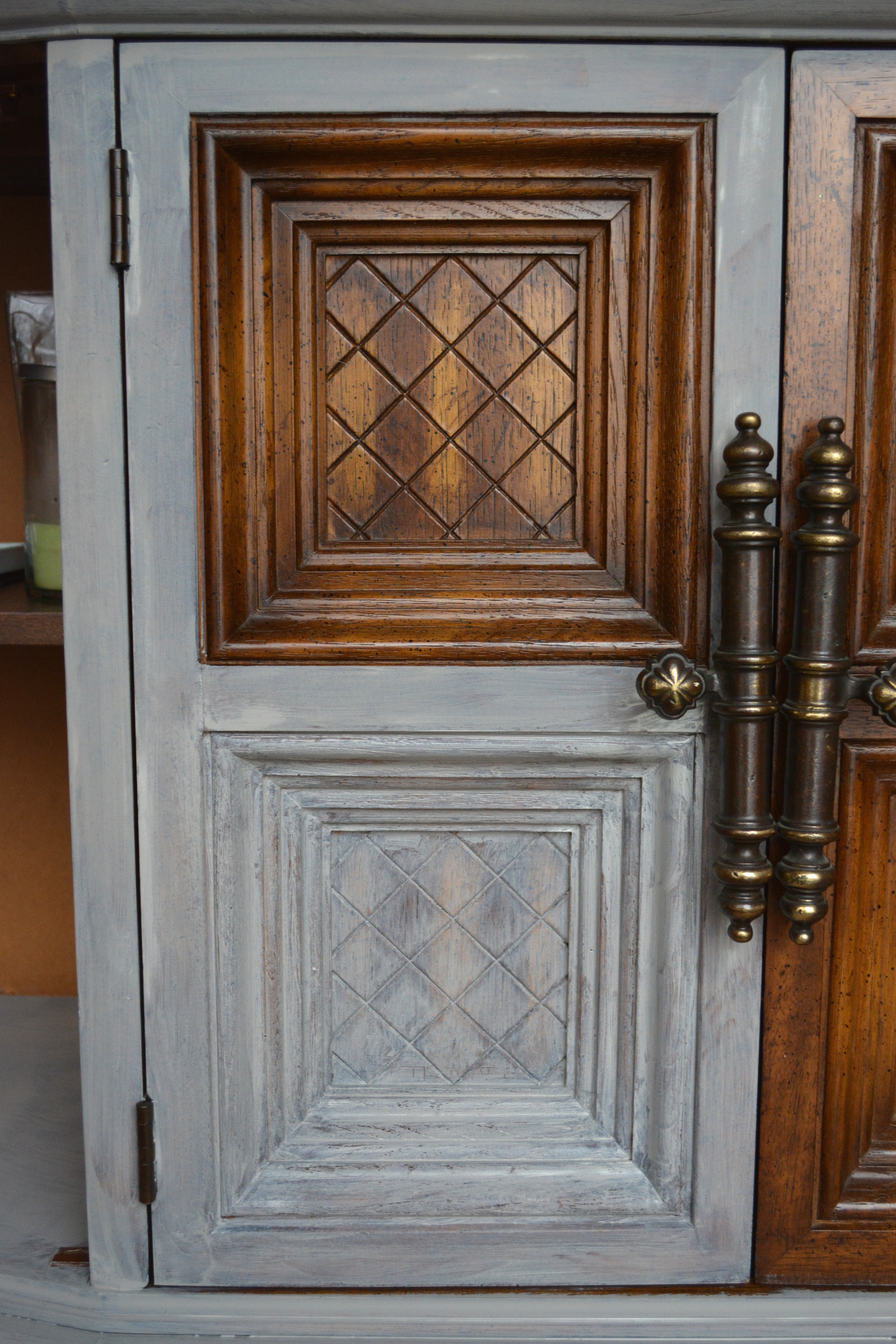 Here is what the piece looked like after one full coat.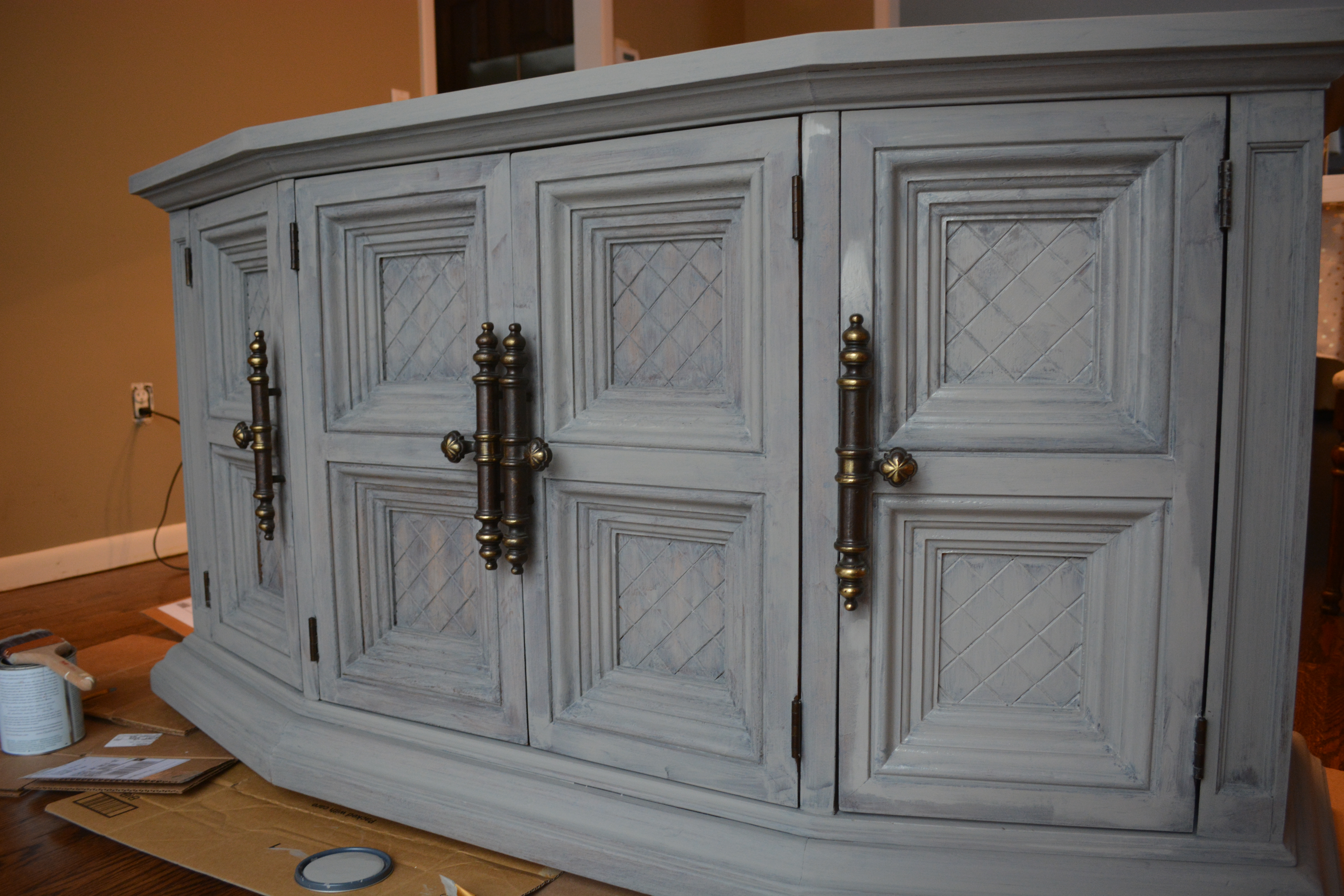 You can see how opaque this paint is…it's amazing! It's super thick and you can also add water to it to thin it out and make it go even further.  I barely used a fourth of the quart to do this whole piece! After leaving it to dry for 24hrs I went in and did a second coat, allowed that to dry for a day and then went in with a small chip brush and my sample colors to dry brush.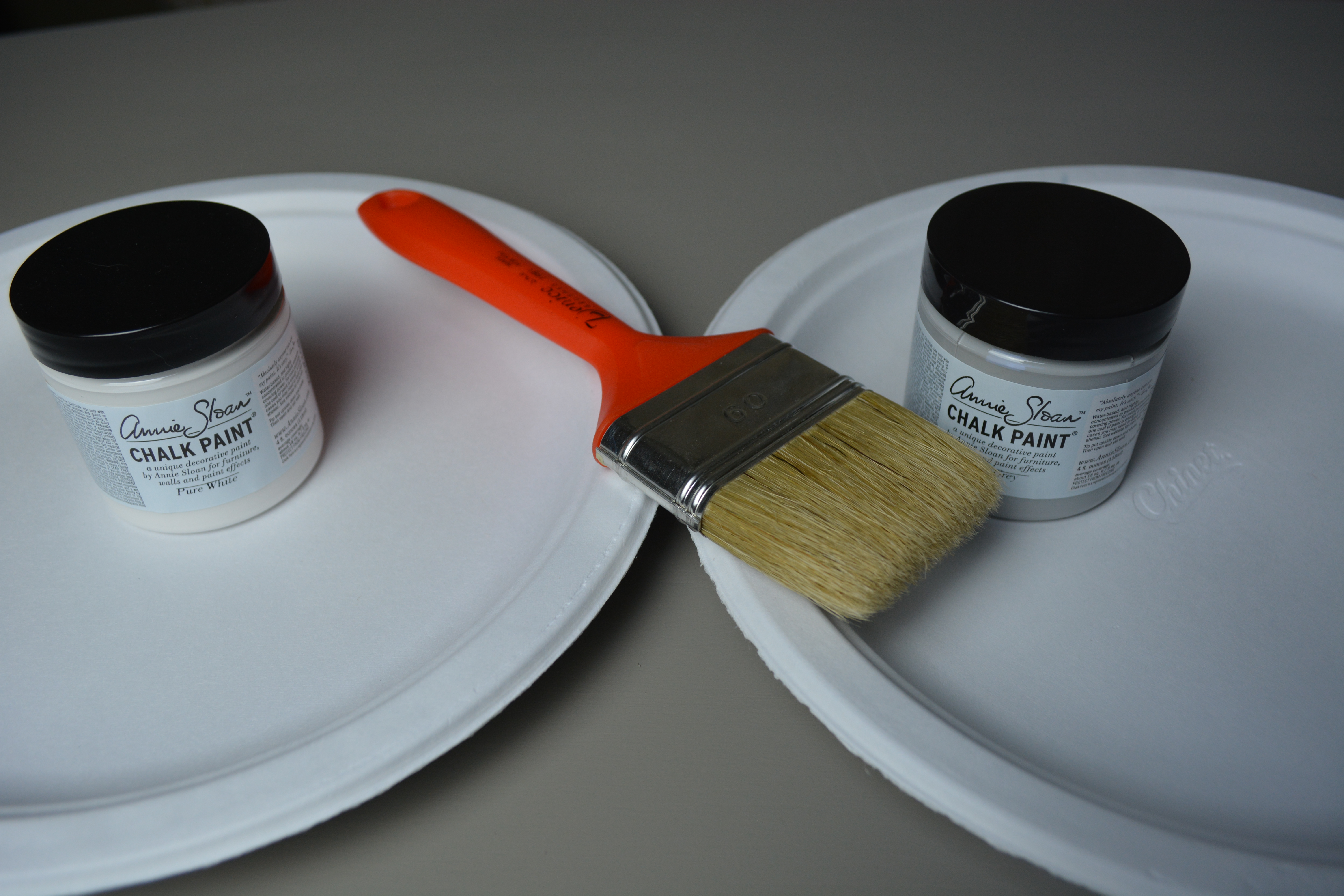 I began with Paris Grey by simply dipping the brush in the paint and rubbing the excess off on a paper plate.
You can click this link to watch a hyper lapse video of the technique of Dry Brushing. If you can't view it I simply just rubbed the brush up and down in each section. Remember that you don't want to have globs of paint on the brush, you almost want to remove the paint from the brush before applying it to the furniture piece. Here's what it looked like after going in with Paris Grey and then Pure White.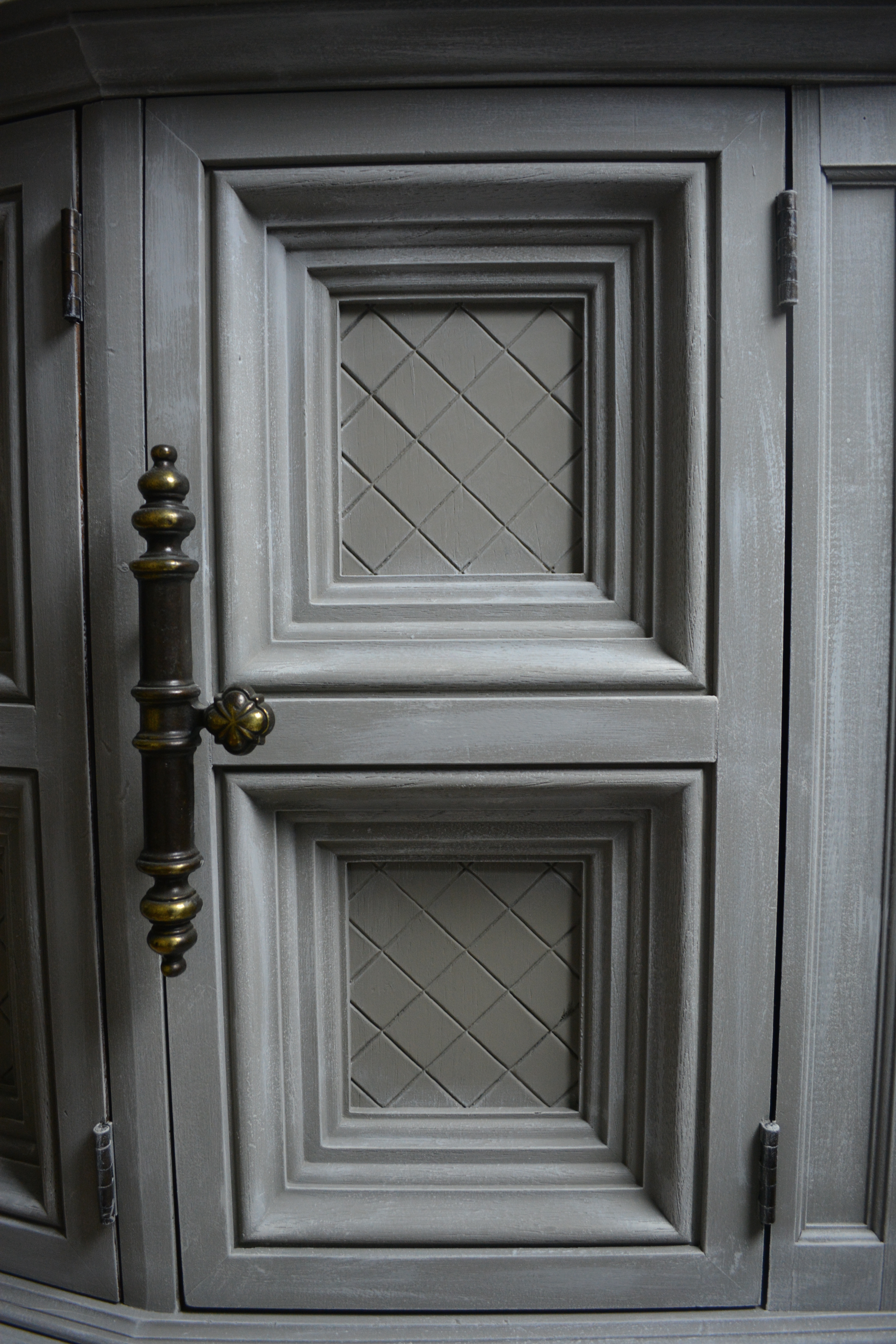 You can tell the difference if you look at the inside square which is the base color and has no dry brushing done to it. Here are some more shots.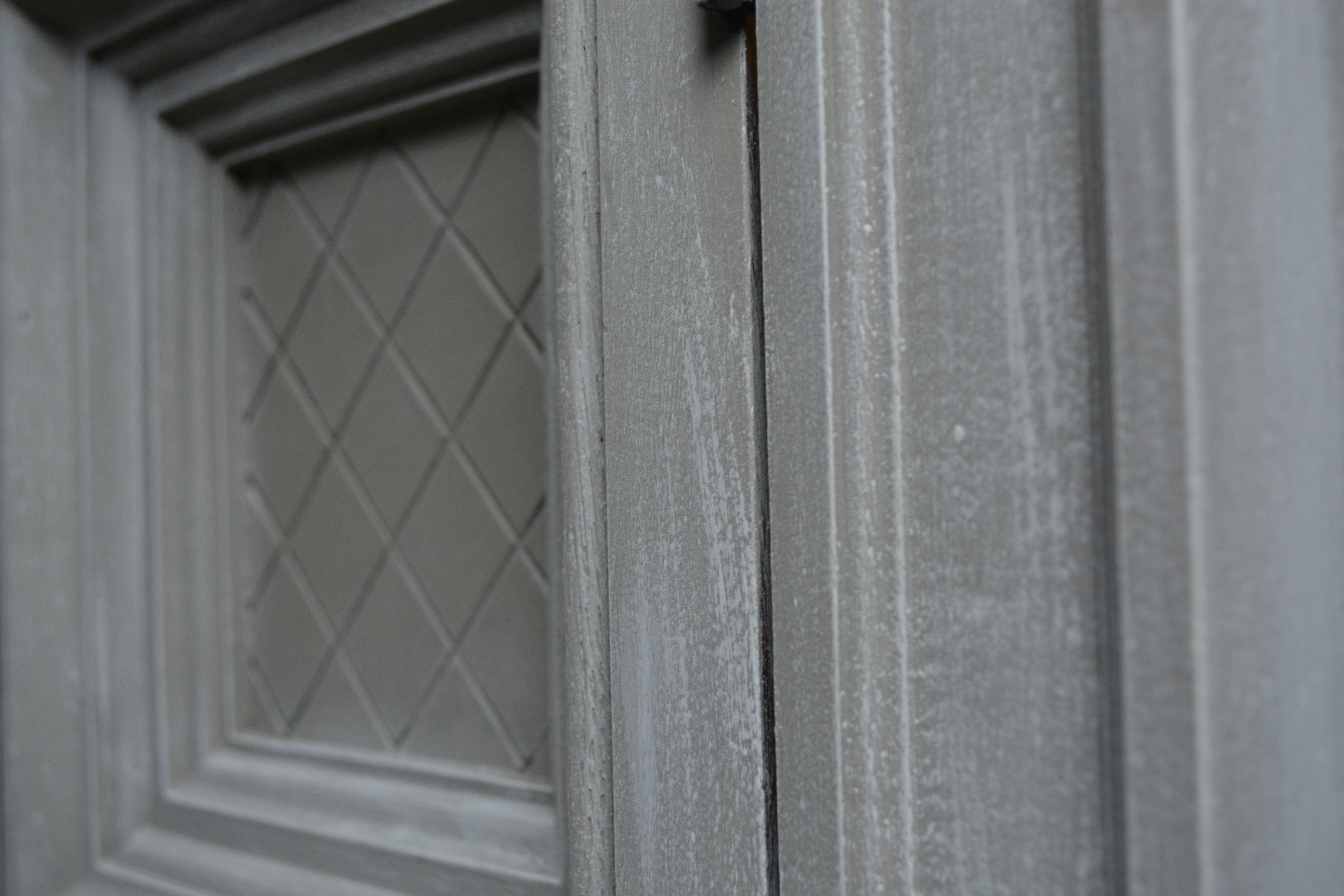 A little before and after. The Paris Grey created an almost like haze on it whereas the Pure White really stood out.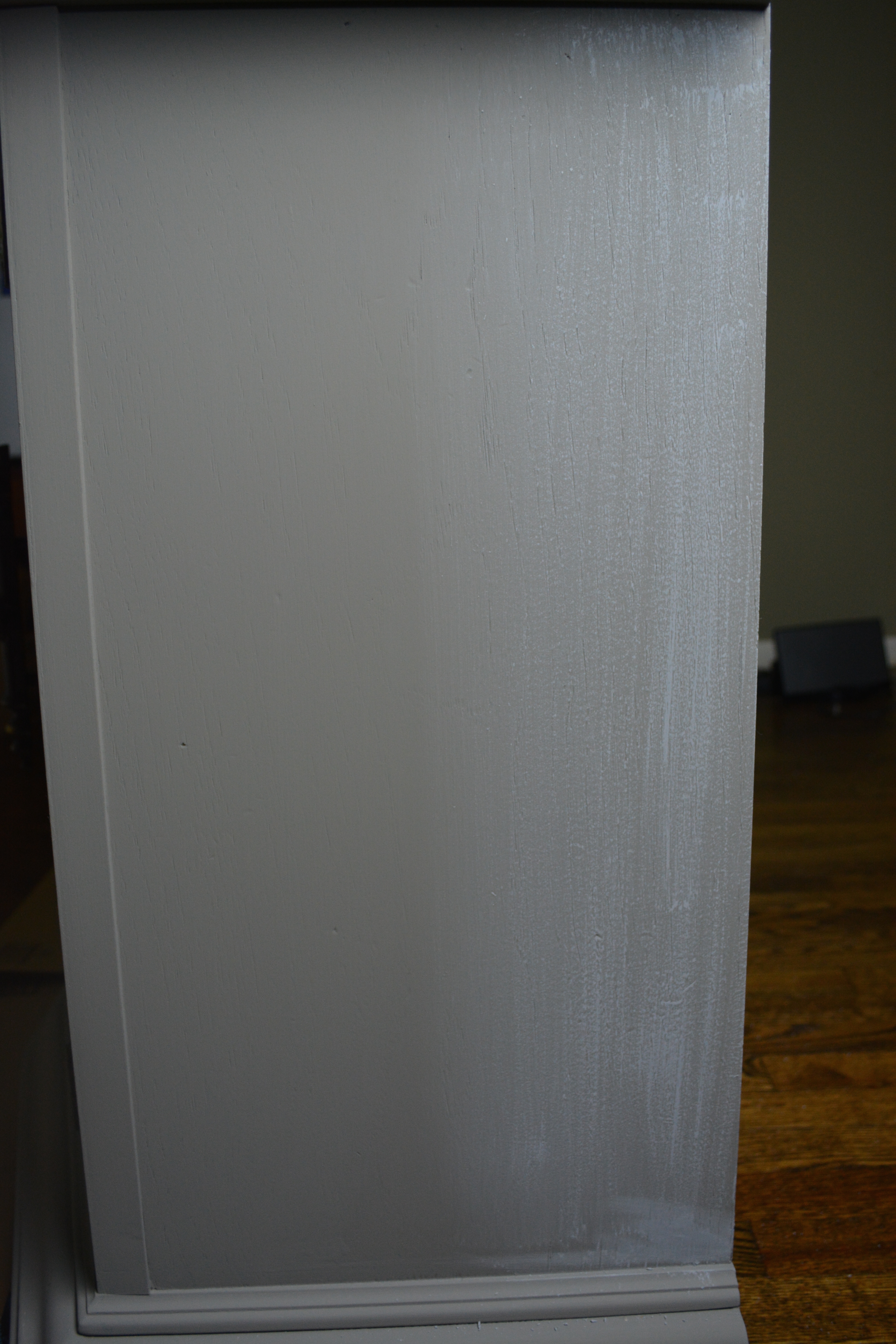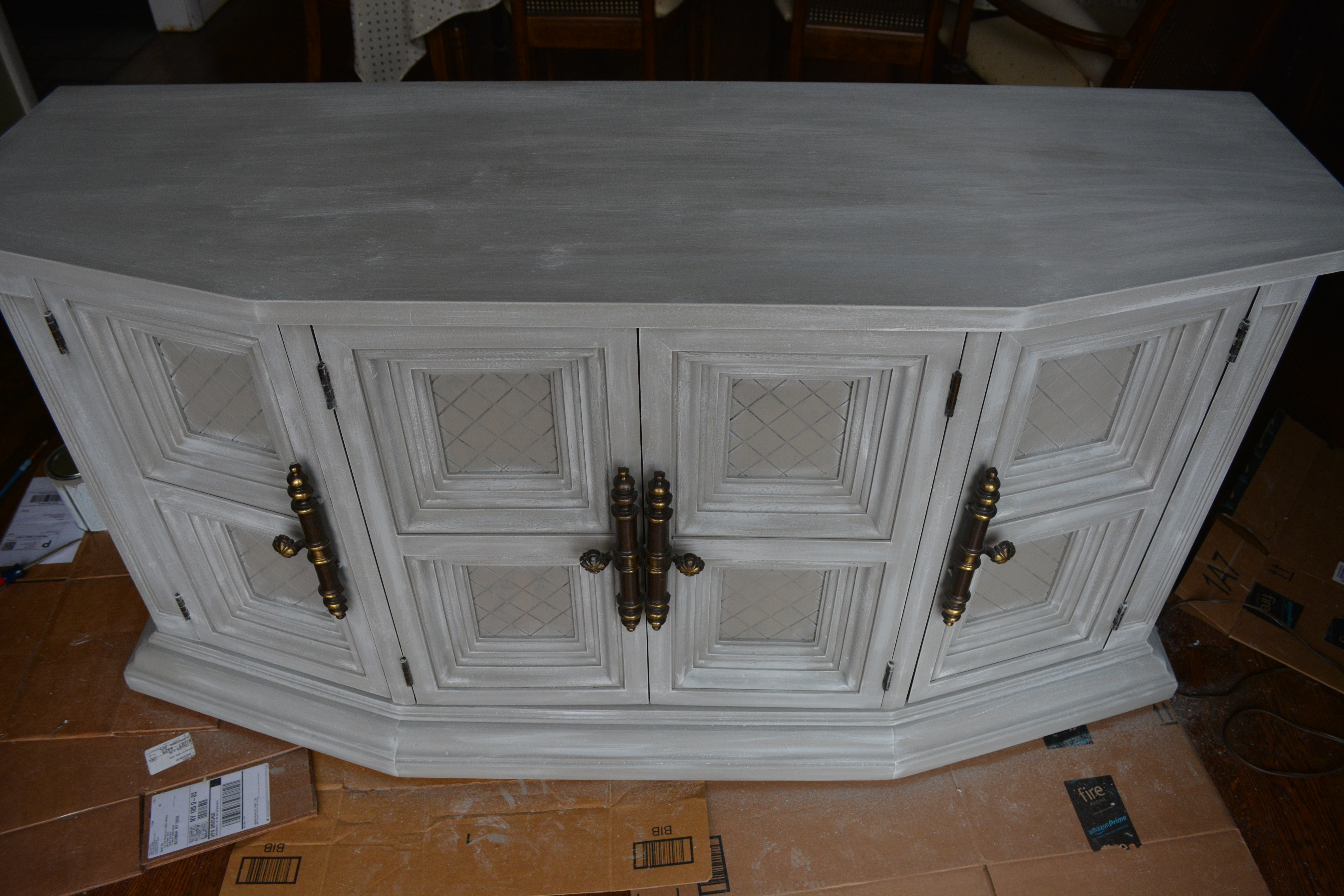 The next part is adding the wax. Now after doing some research online I read that it's best to seal your piece with clear wax first and then go in with the dark wax after but I am a rebel and didn't want to do that! I felt that the clear wax wouldn't allow the dark wax to really seal its beautiful color into the piece so no clear wax here.  I purchased a wax brush online, I highly recommended doing so.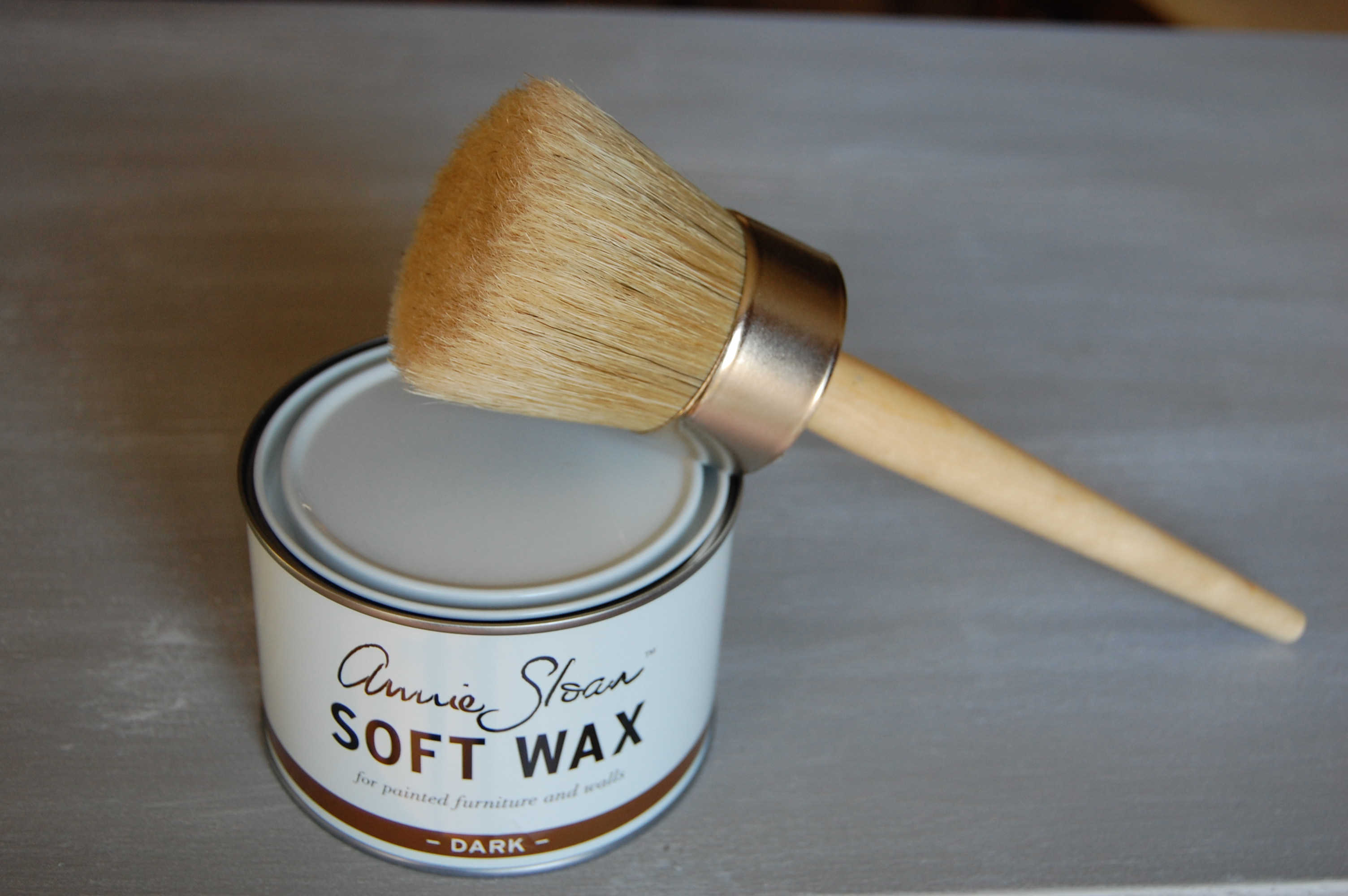 I just dipped the brush into the can and just like with the dry brushing wiped off the excess onto a paper plate. Once you get used to doing it you might start skipping the plate part and applying directly on the piece.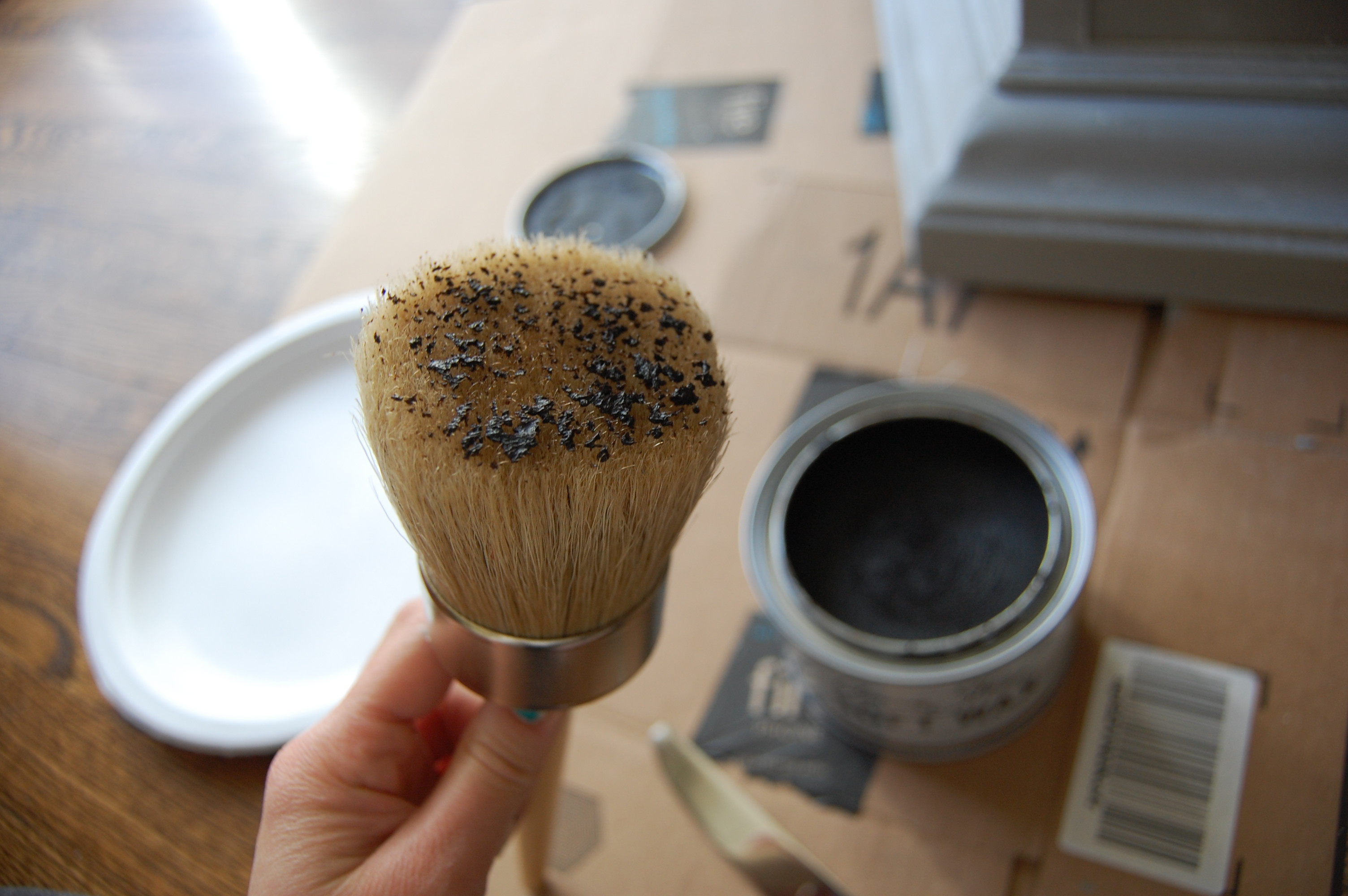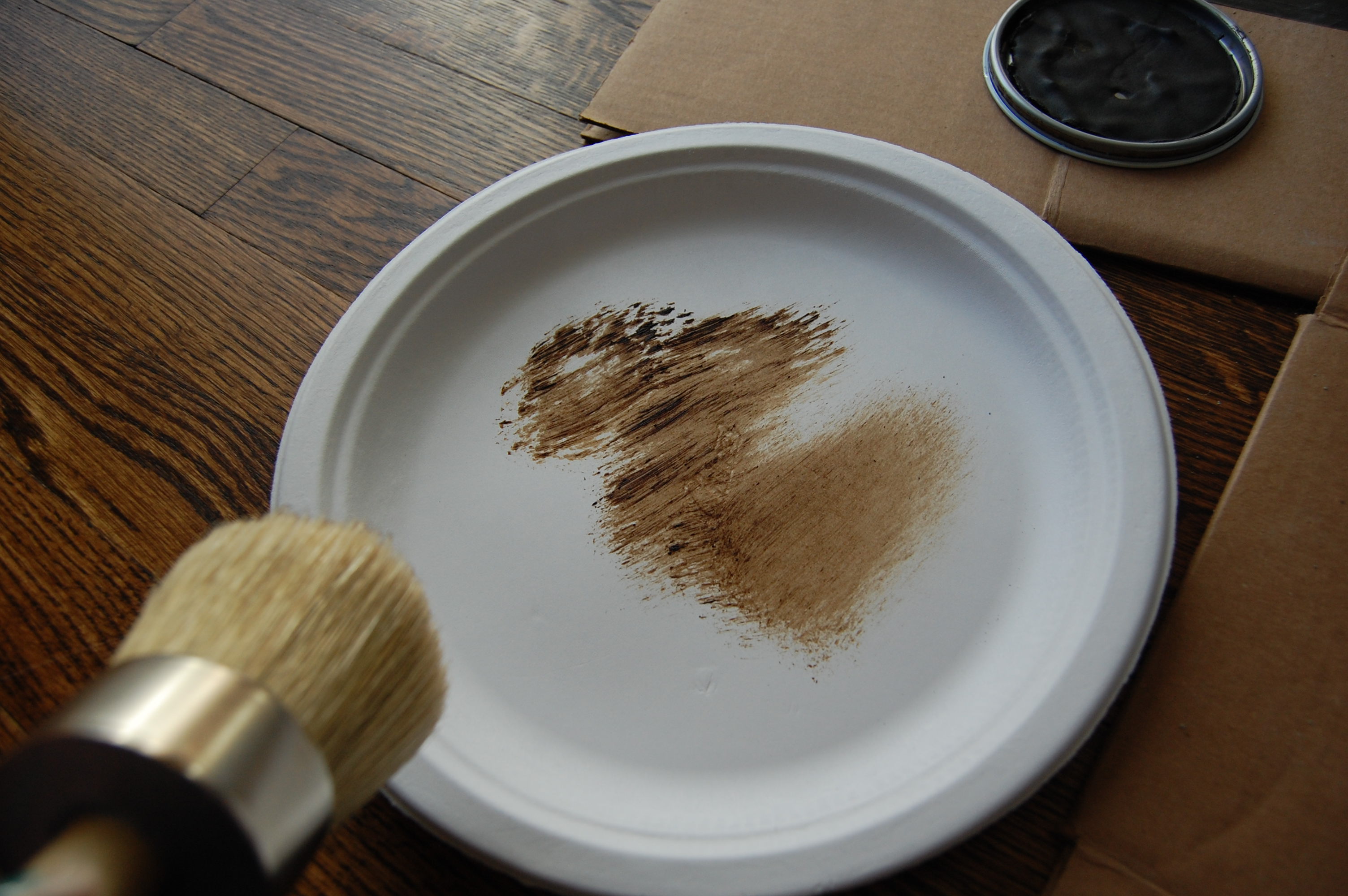 Now as far as technique goes I just went with the grain of the wood in an up and down or side to side motion, depending on the wood. I started on a side that wouldn't be seen much just to test it out.  Here is a shot of the start of it.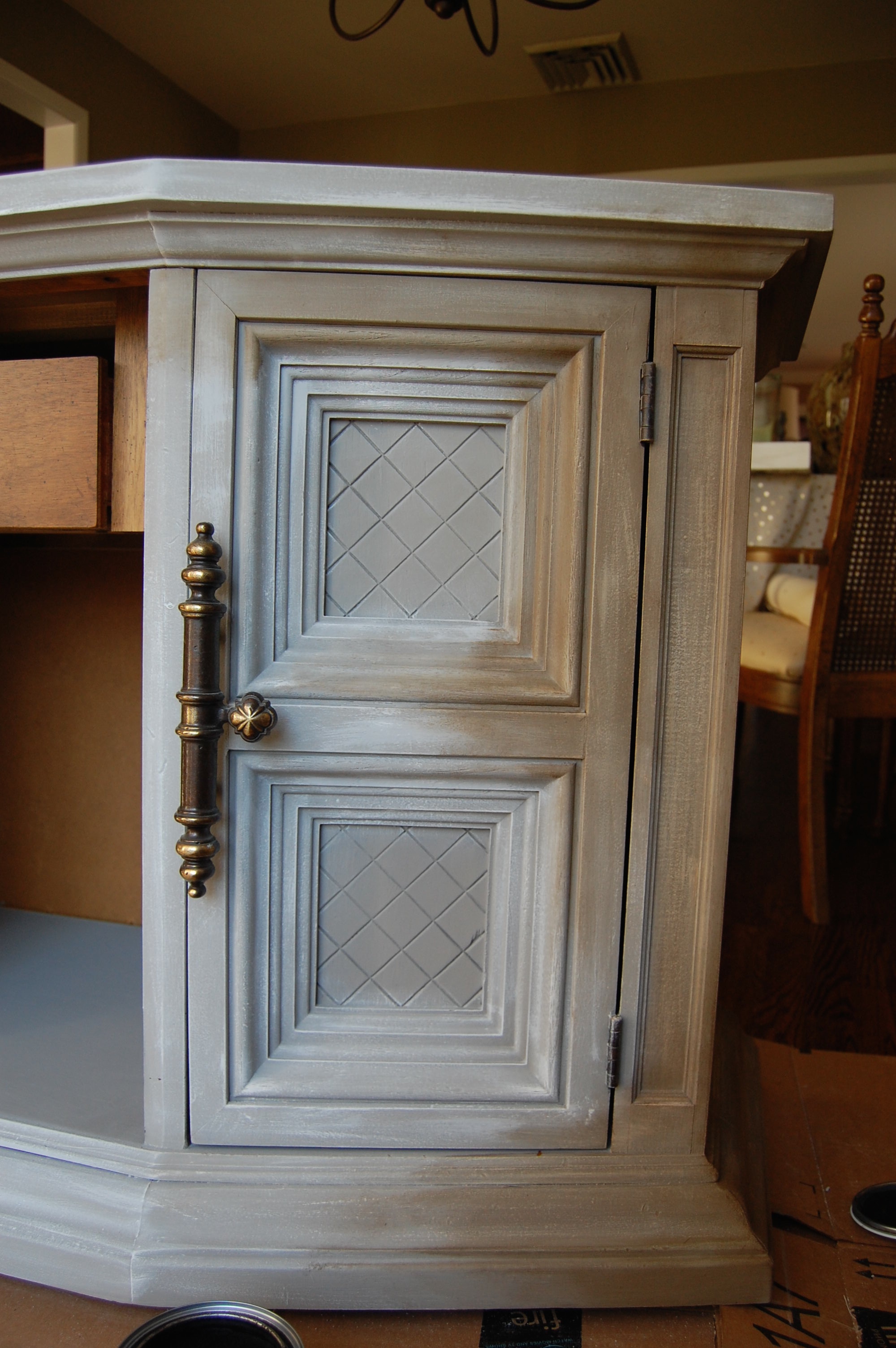 You can see how the dry brush strokes come through.  It made such a difference and I am in love with it.  The reason the door is missing is because I had brought it to a glass and mirror shop to have the mirrors cut. Once the wax was applied I went in with an old t-shirt and buffed it out. The more you buff the shinier it gets. I attached the mirrors using special glue and now it's all done! 
The sun was shining into the room when I took this next picture so the color looks a little more warm than the other pictures.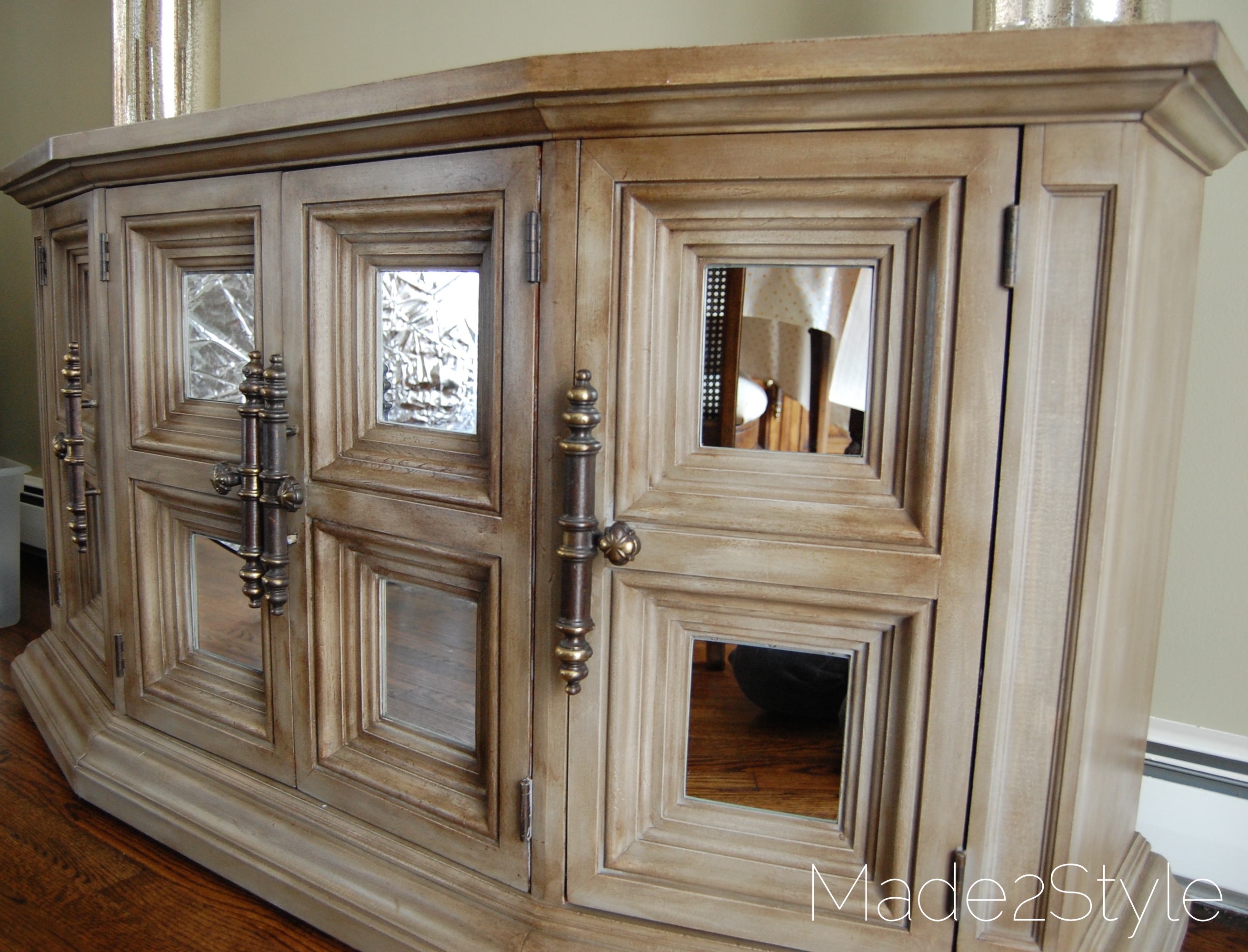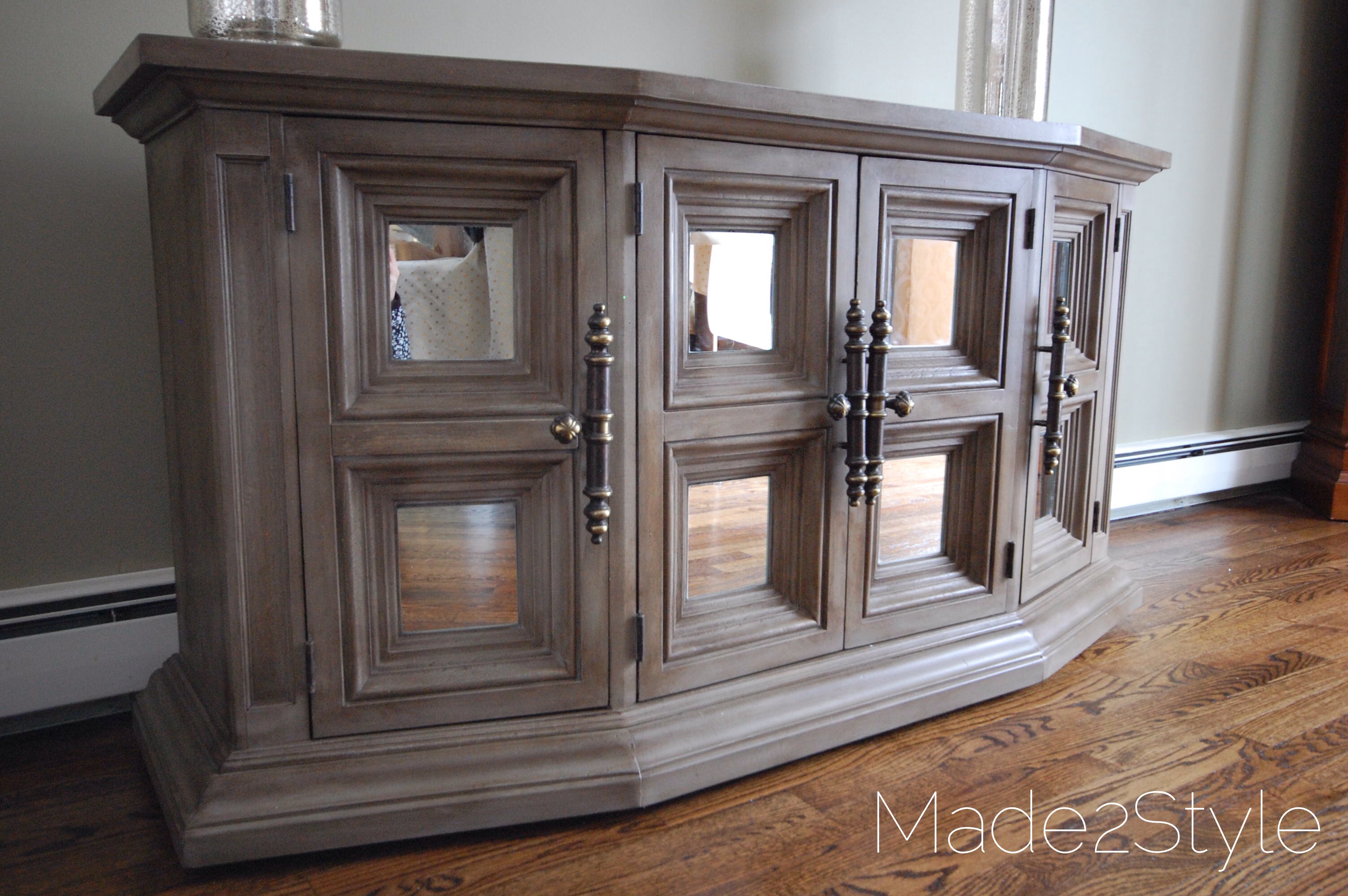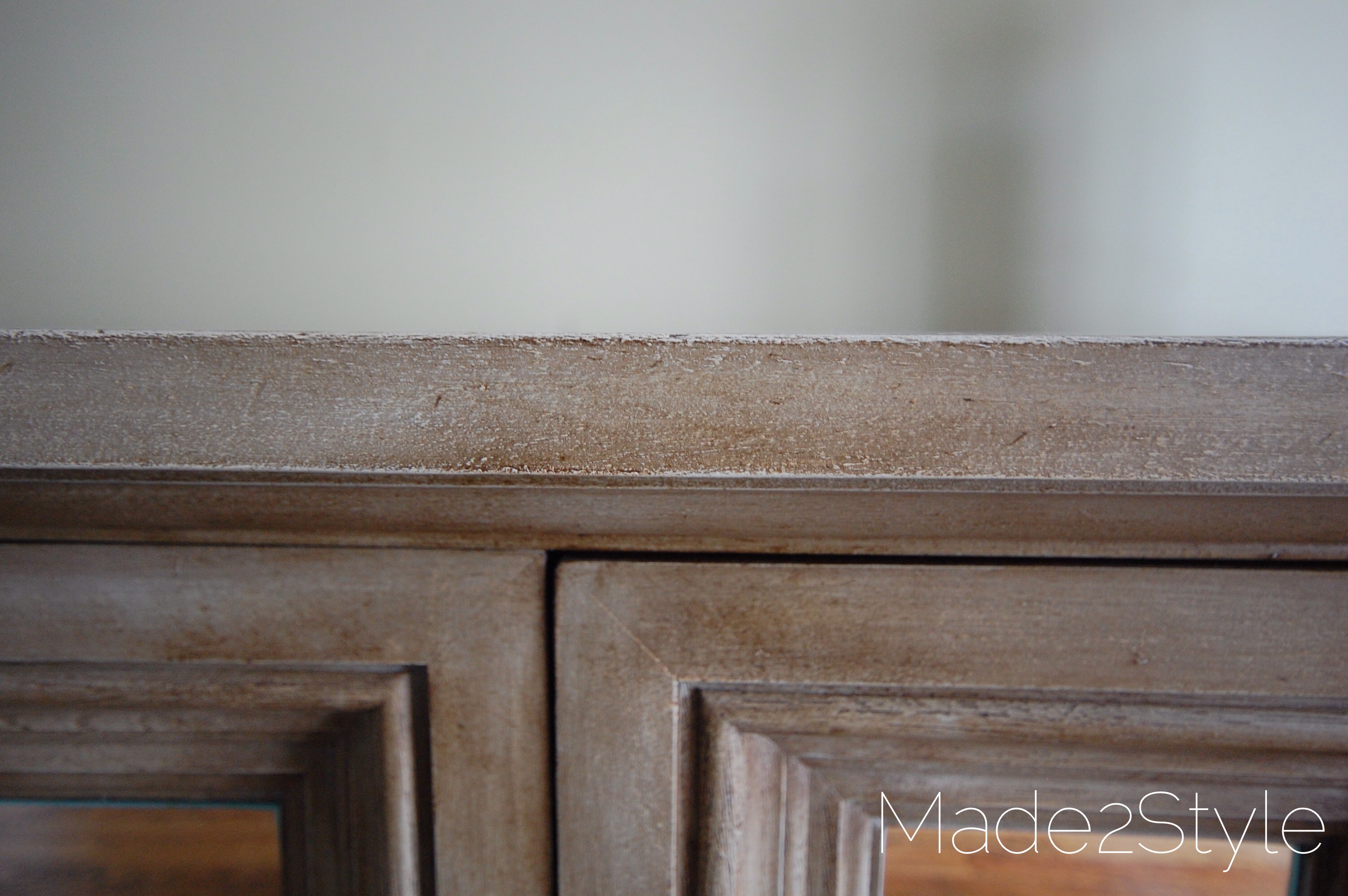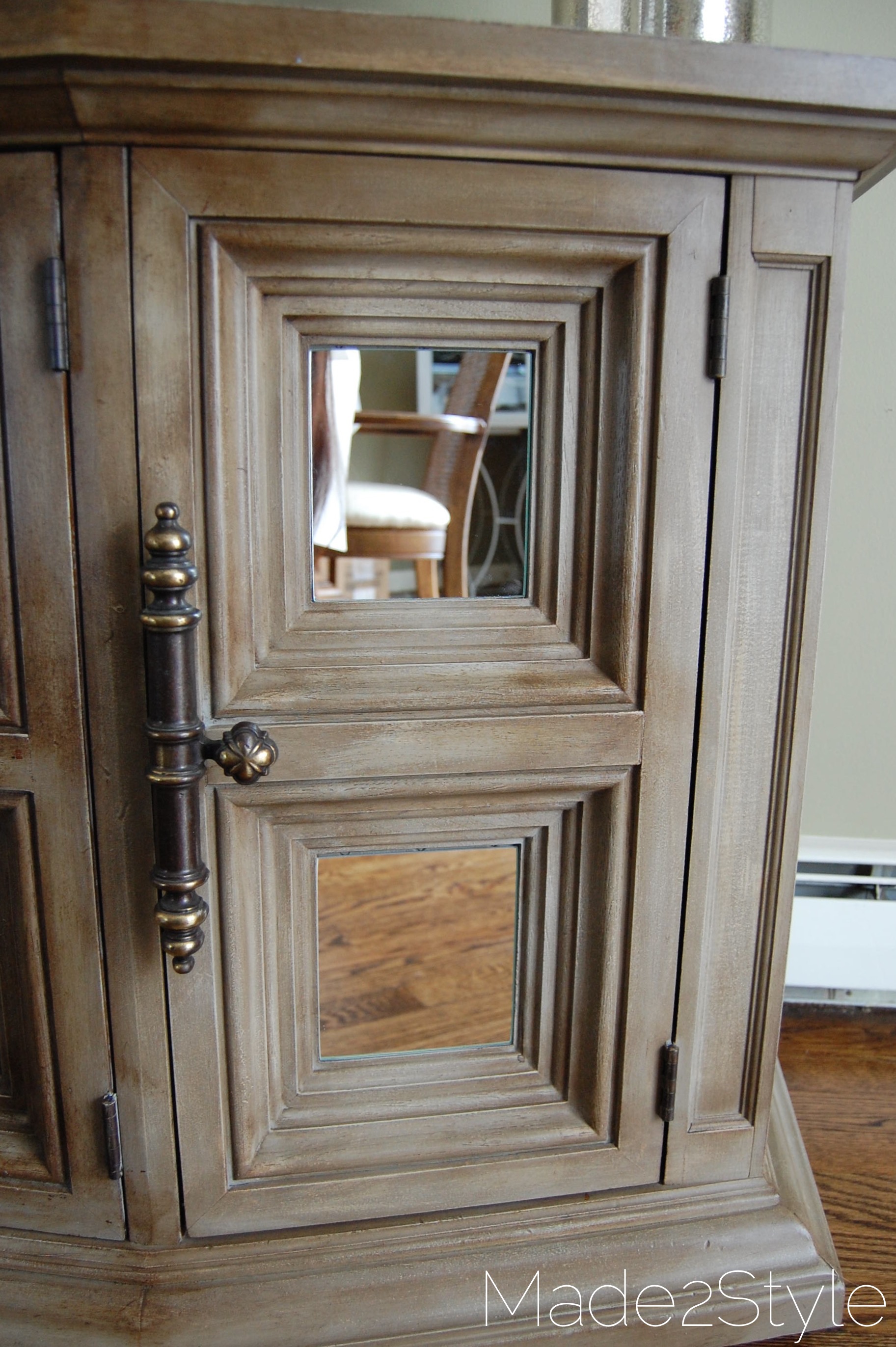 As far as the handles go I do have the option of sawing them off. If you look closely at the back of the door picture I posted you can see where the back of the door was attached which leads me to believe that the door is hollow and by a simple knock you can hear that it is hollow. If I saw the handles off then the plan would be to knock the piece that is still in the door in and it would fall inside the door…make sense? The problem with this plan is that there is no guarantee that the piece will fall in and if it doesn't then I'm screwed (pun intended!) If anyone has any advice I will gladly take it! These handles make me sad and I will try anything to replace them!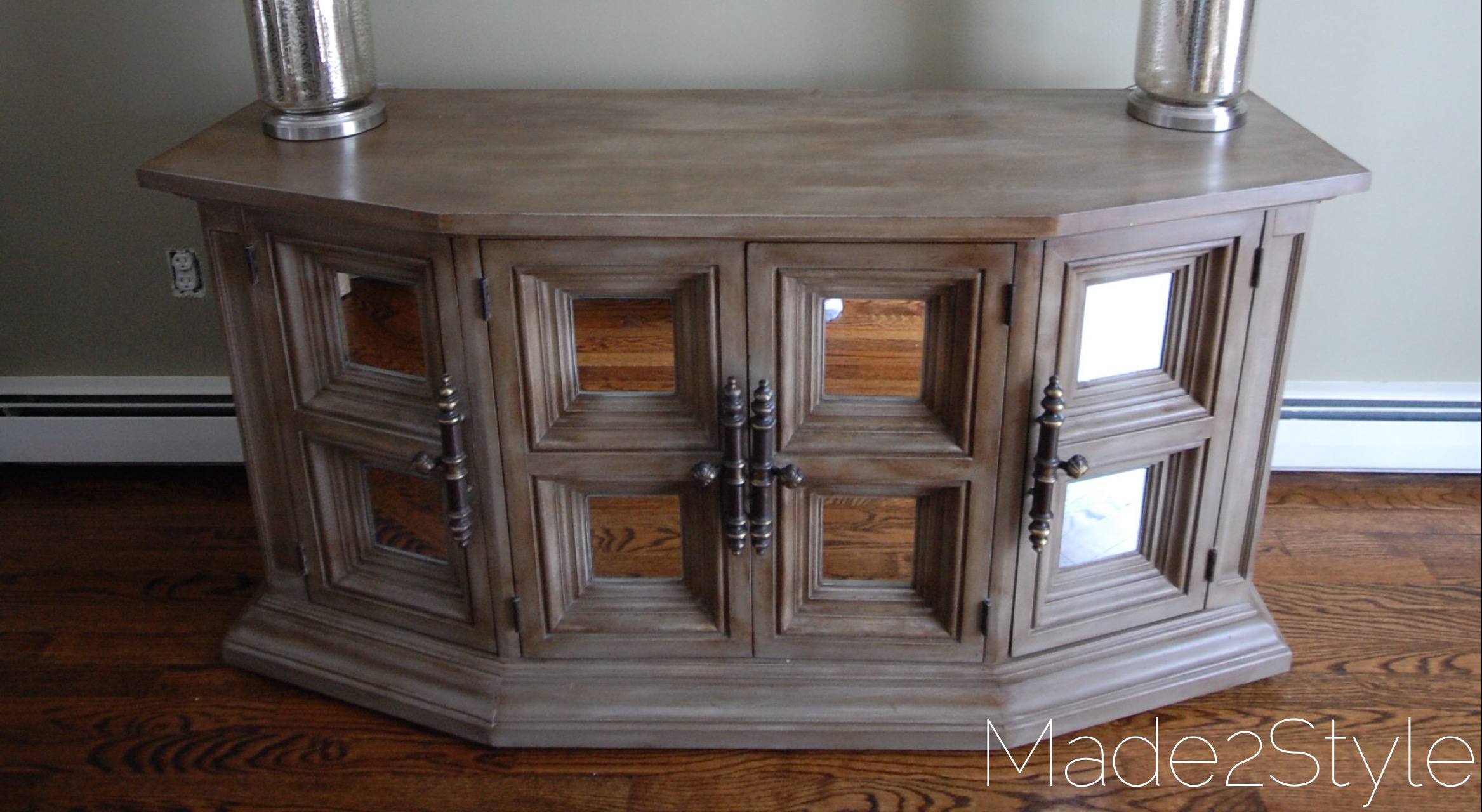 I purchased some mercury lamps to go on either side and am currently redoing the frame of a mirror I had to hang above it.  The frame was black so I'm trying to lighten it up a bit, not quite happy with it yet but it's getting there.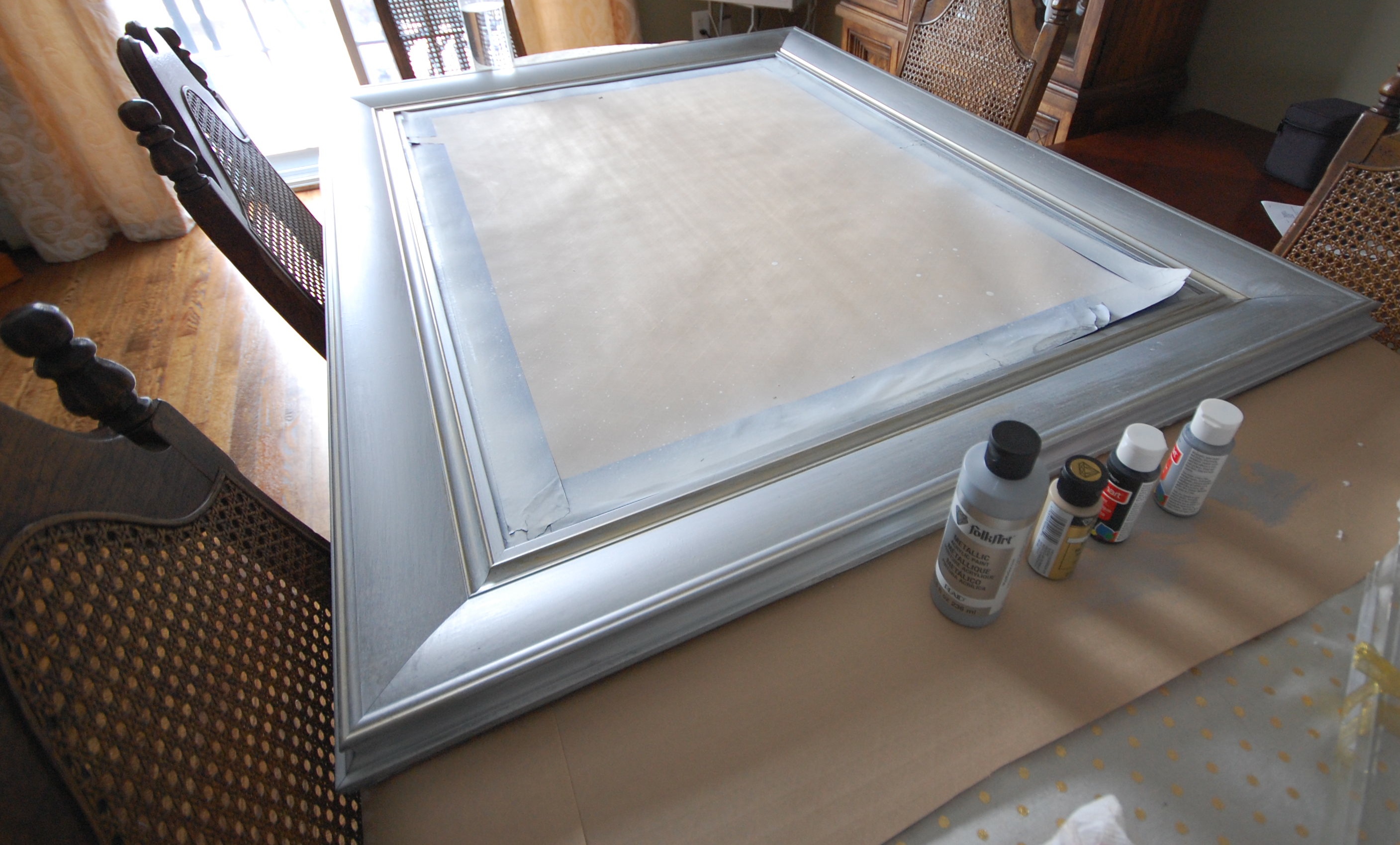 So if you're looking to redo a piece I highly suggest trying chalk paint! I purchased mine from The Purple Painted Lady, it came super quick and they are very knowledgable in these products!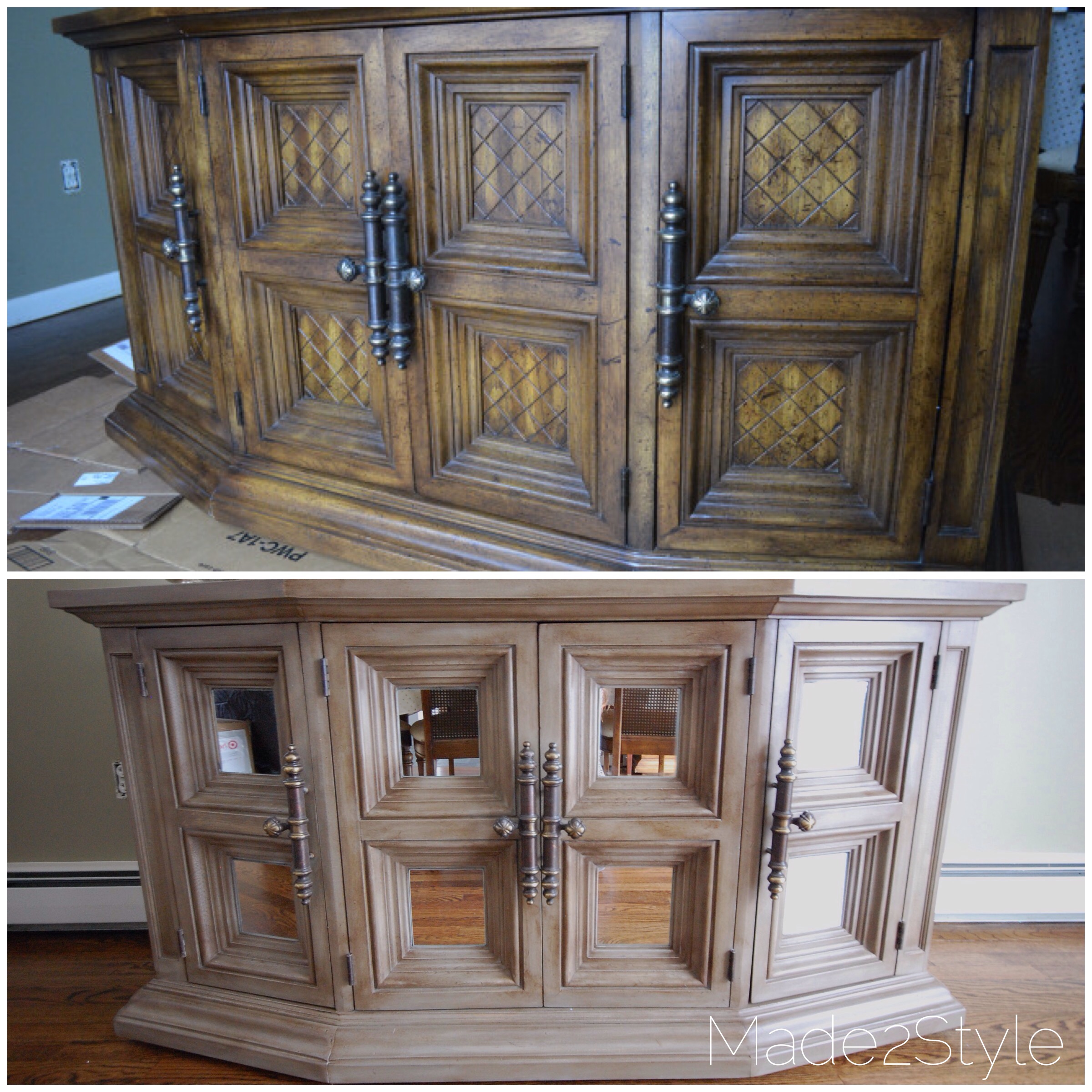 The color came out exactly like I hoped it would. Do you think you'll give it a try?
Don't forget to subscribe for email updates on the sidebar so you'll never miss a post!