Disclaimer: This project was worked on almost 2 years ago and for some reason unknown to me I have never posted about it! So here we go!
If you live in a house that hasn't been updated since the 70's then there is a very good chance you're rocking a bathroom with some type of unflattering colored tile.  At least that is what was happening over here.  Not only does our hall bath have some awesome yellow tile but at one point it had some metallic wallpaper, and not the trendy kind 😉 The wallpaper had been taken down and that's pretty much the state it had been in until we decided to fix it up.  On top of not being the best looking bathroom it also was not a functioning one either.  Here is what it looked like right before we got in there and tackled it.
Let's start with that vanity…I mean, fit for Big Bird or what!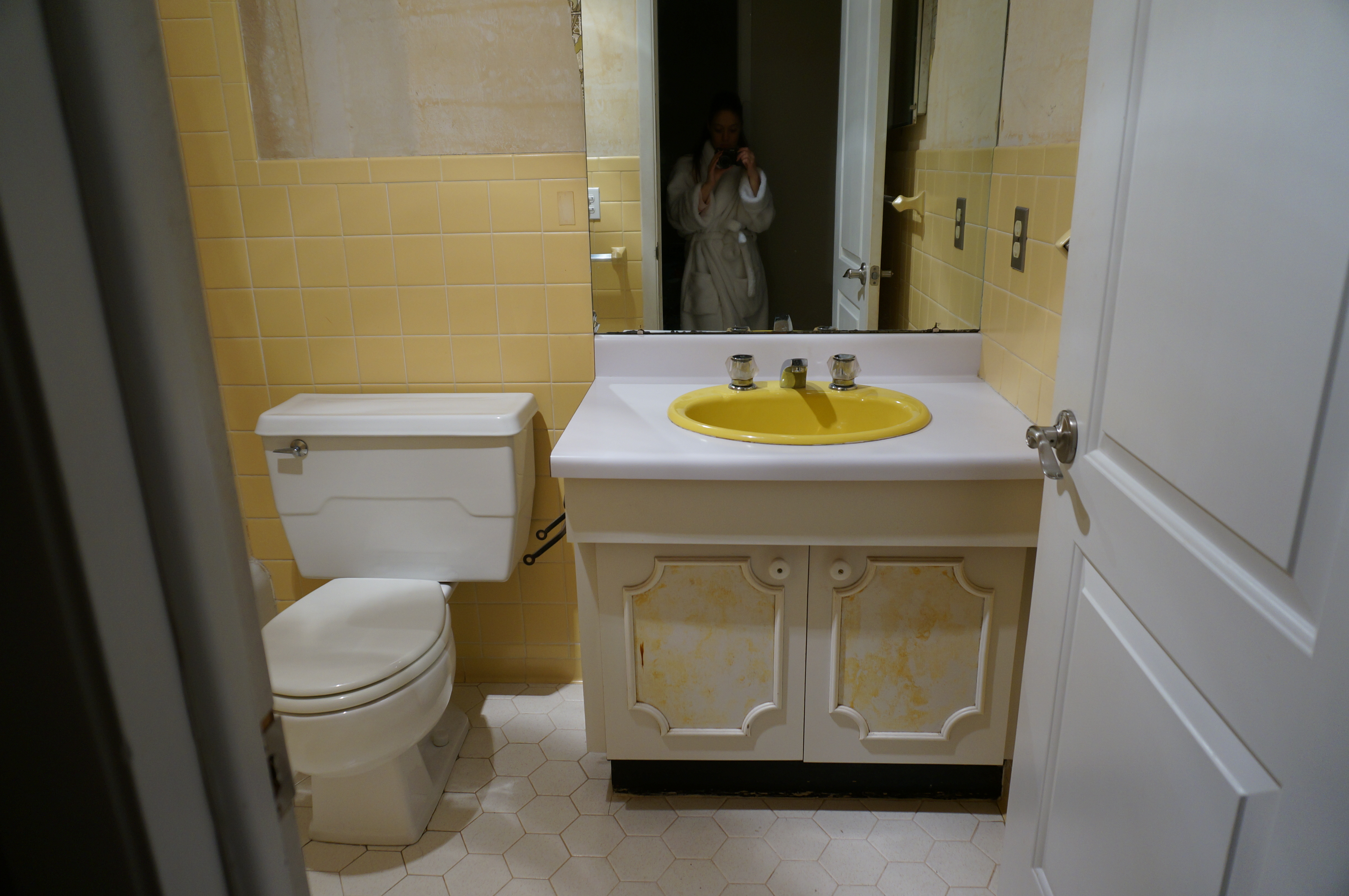 You can see some remnant of the wallpaper still stuck to the side of the mirror here.
Random medicine cabinet in the middle of the wall.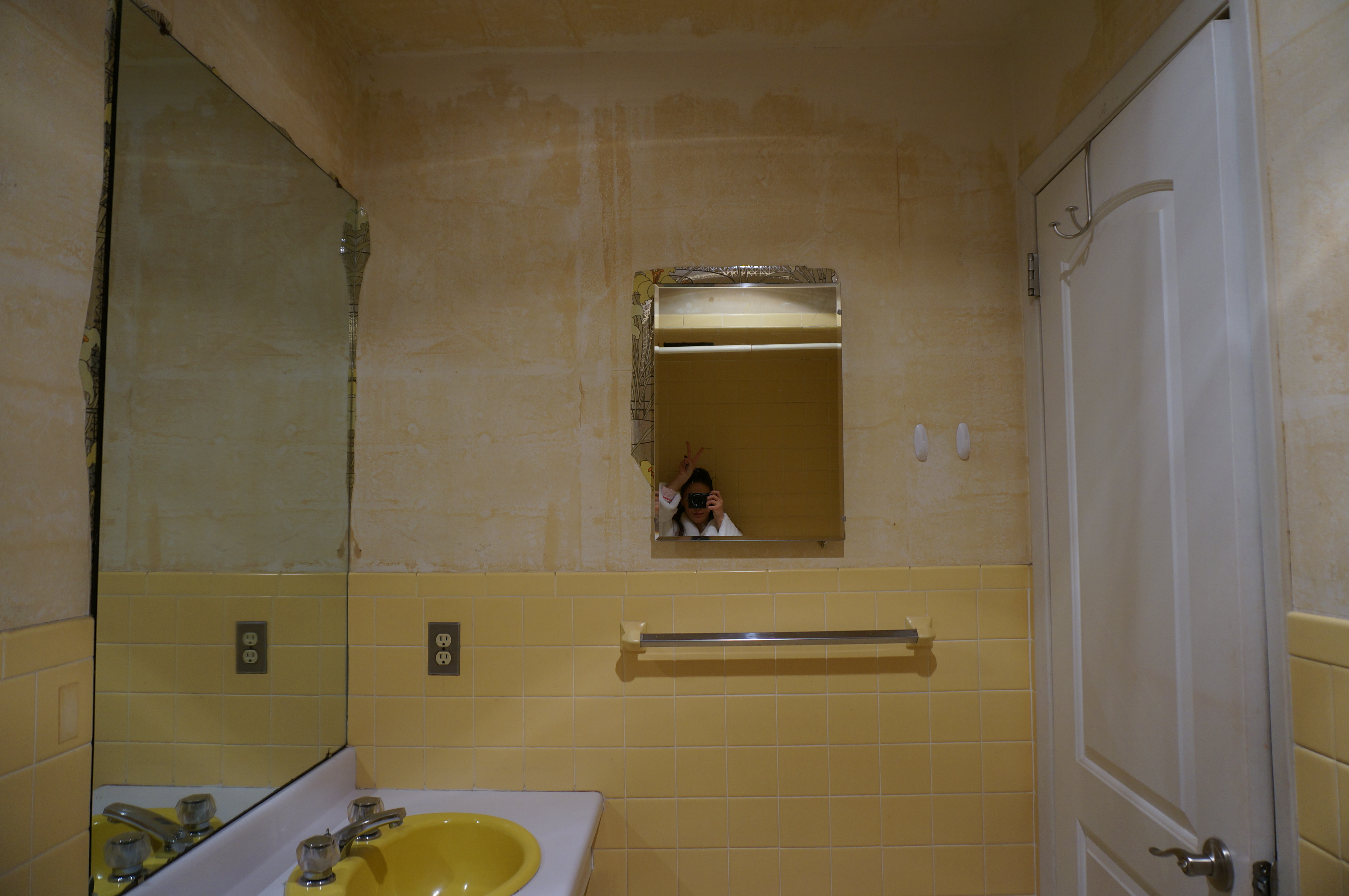 Yup, the wallpaper went all the way onto the ceiling as well.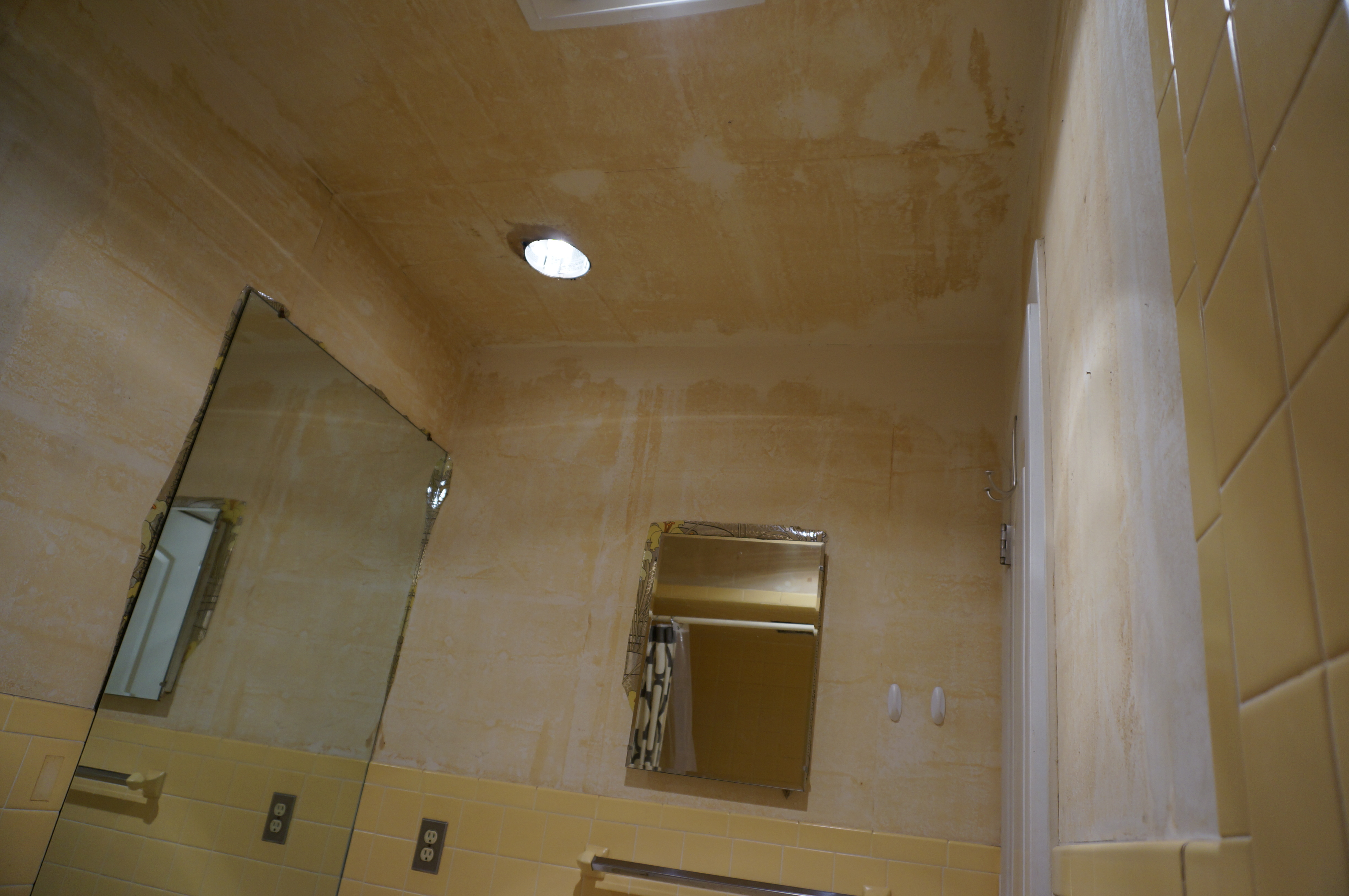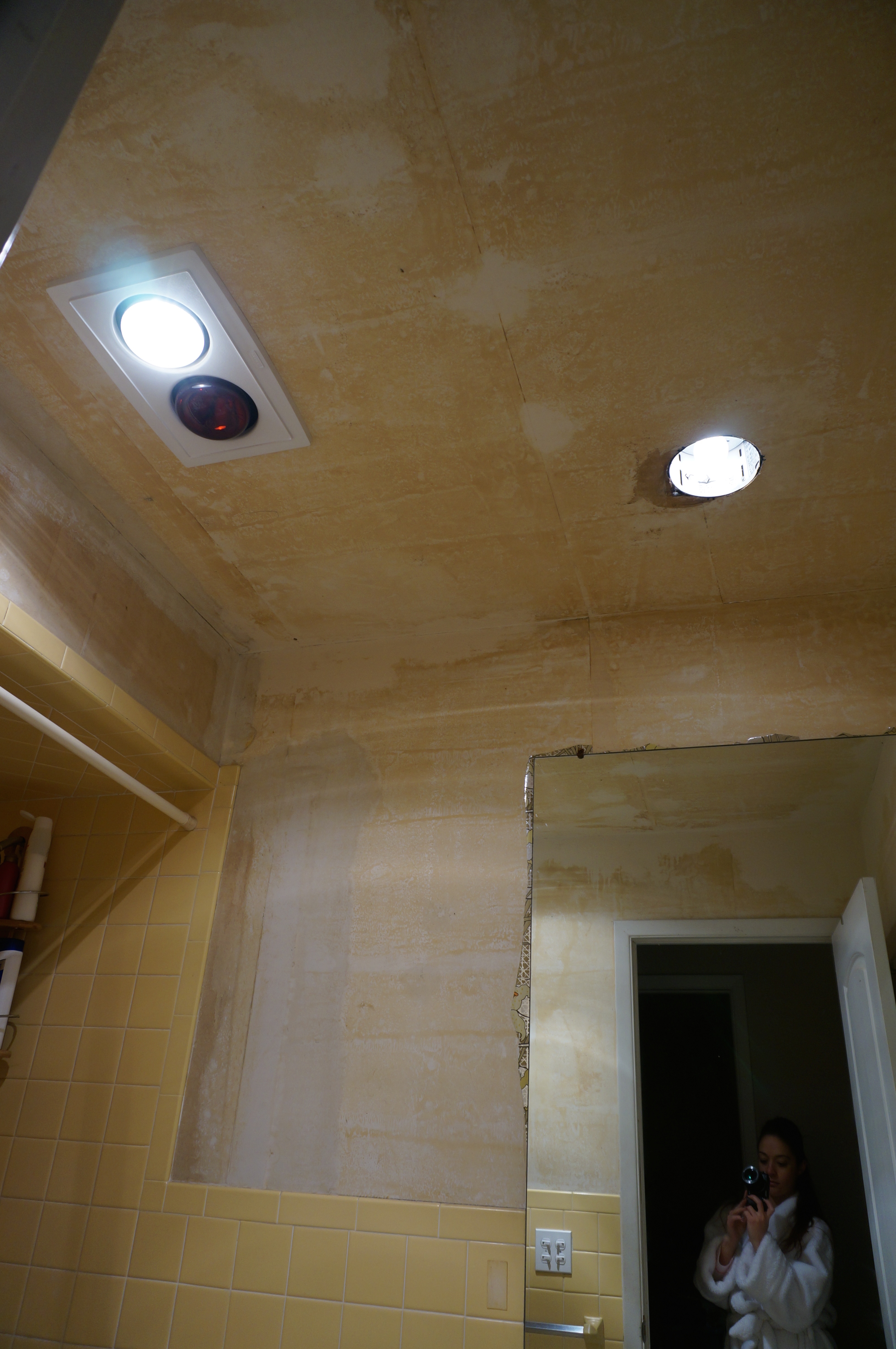 That toilet paper dispenser eerily reminded me of the toilet paper roll mirror I made.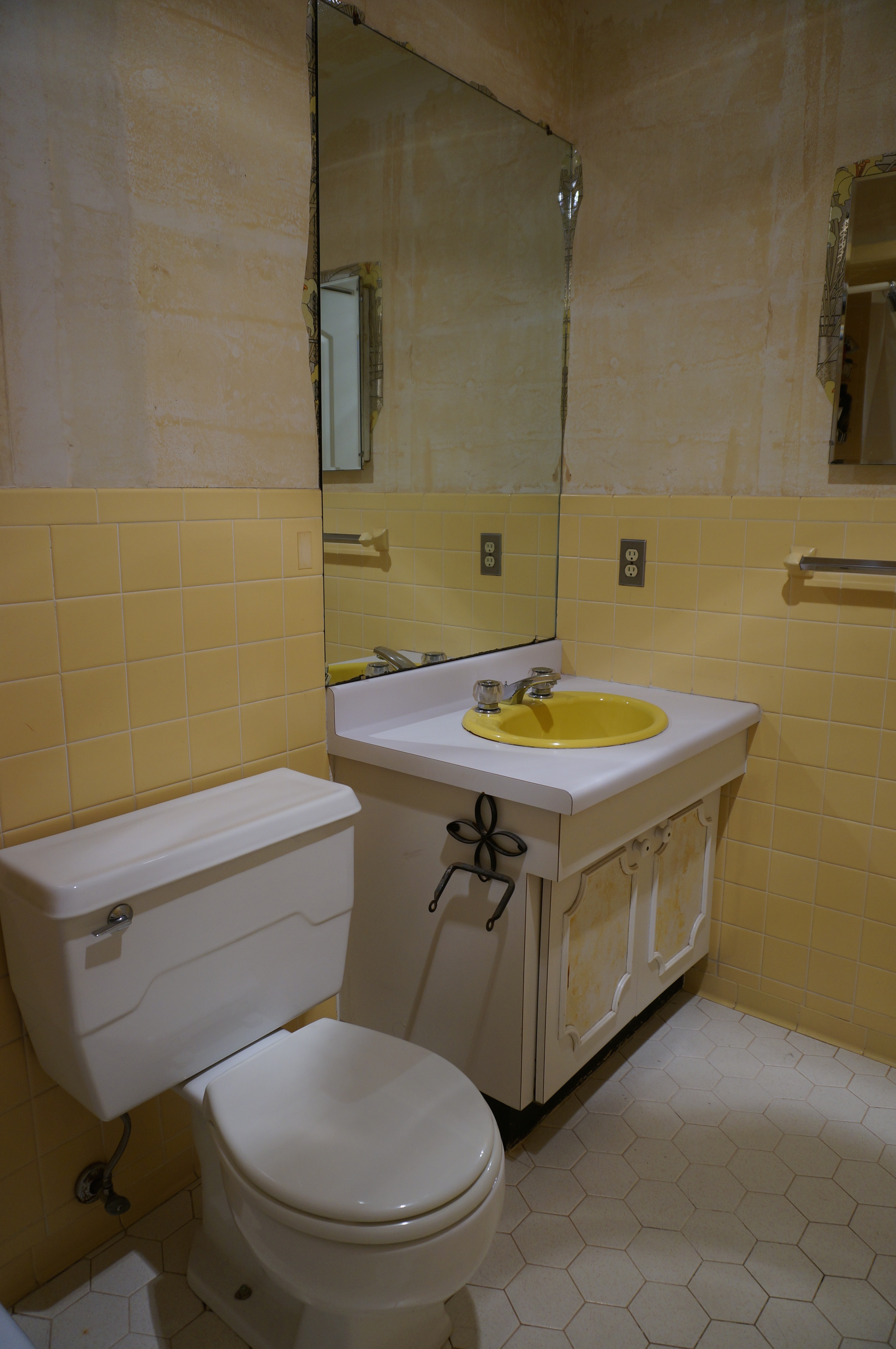 Now we weren't doing a full reno but our list of to do's consisted of 
1. Replacing the vanity
2. Replacing the toilet
3. Skim coating the walls
4. Painting walls and ceiling
5. Adding crown molding
6. Framing out mirror
7. Clean/replace grout on floor tile
8. Remove medicine cabinet behind door and patch existing hole
9. Replace recessed light with hanging pendent
10. replace faceplates/outlet covers
Unfortunately removing the yellow tile was not on our list. Hence this post being called Part 1.   We also thought that by taking the tile down it would mean we would have to replace all the sheetrock but after seeing how skilled our handyman was at skim coating we quickly realized that we wouldn't need new sheetrock so we removed what we could outside of the bath/shower. We definitely plan to get rid of it but for now we need to work with what we have and that's yellow tile.
As far as painting the walls the only color I could think of to do that would work with the yellow tile is gray. After looking at a few colors we settled with Gray Owl by Benjamin Moore.  We put a sample on the wall and loved it, it looked like the perfect gray for the room. That was until we painted the room and realized that the gray was really green gray, insert rolling eyes. After replacing everything here is what we have going on today, but first a before.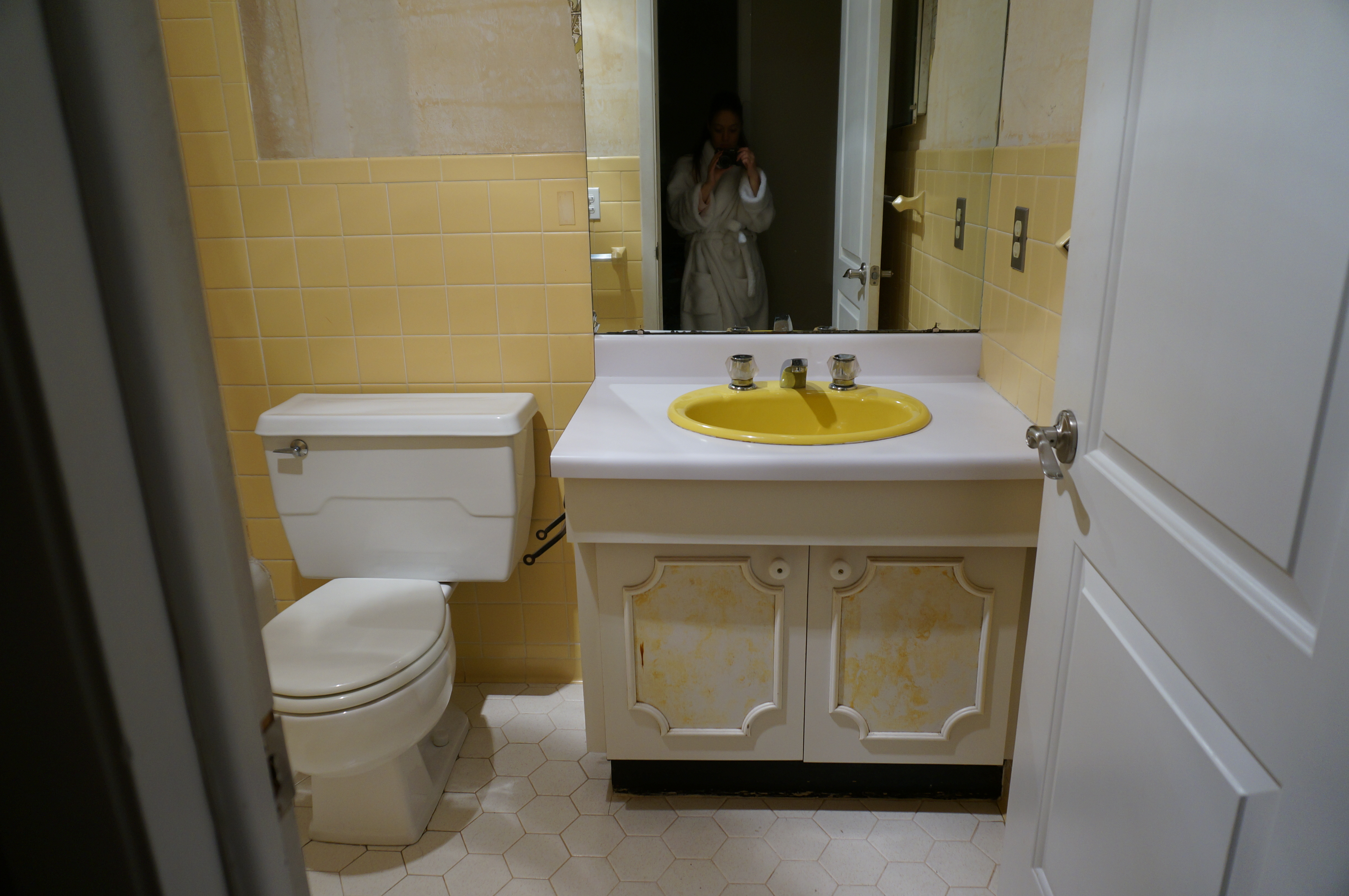 And now…for now.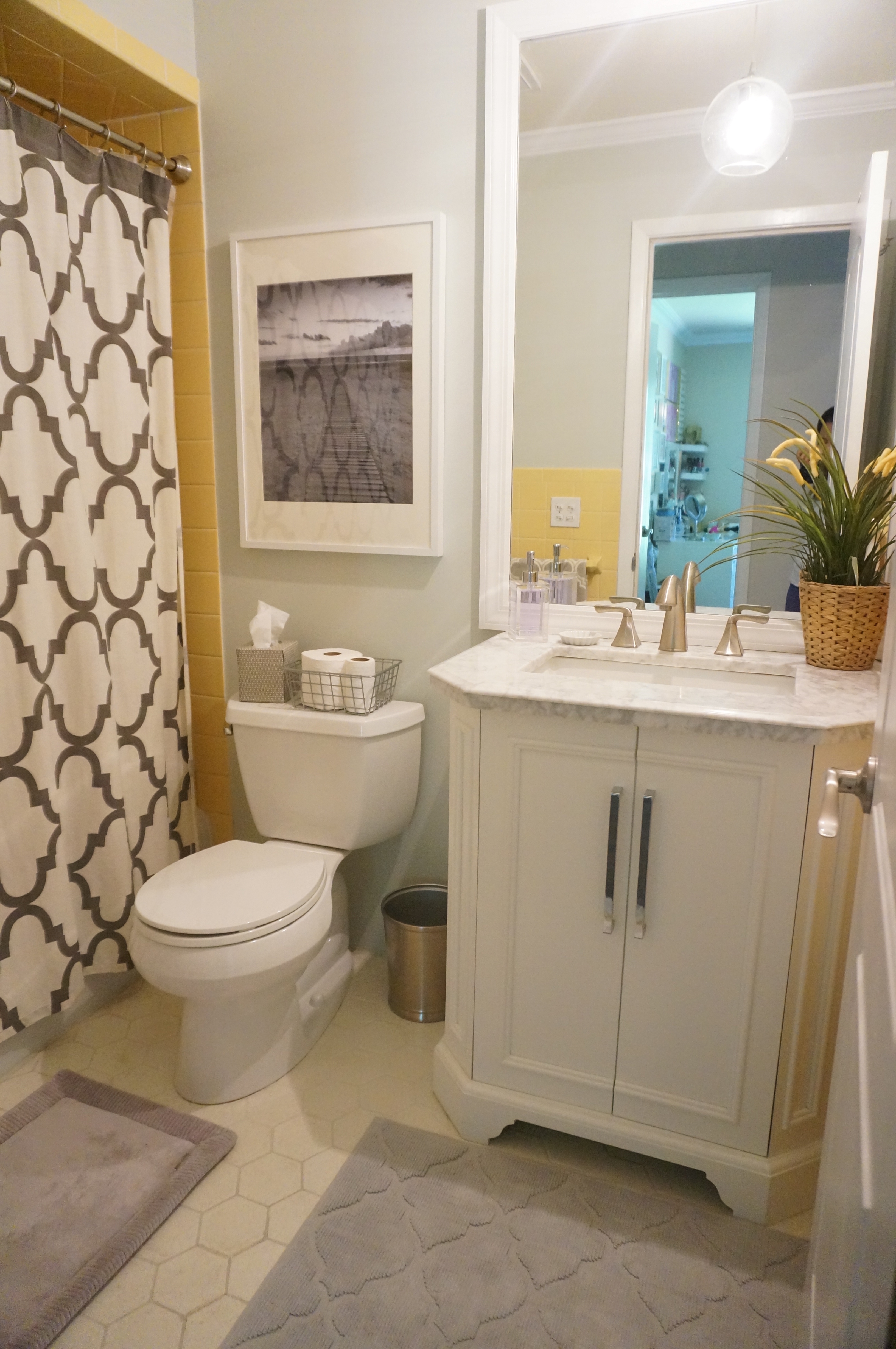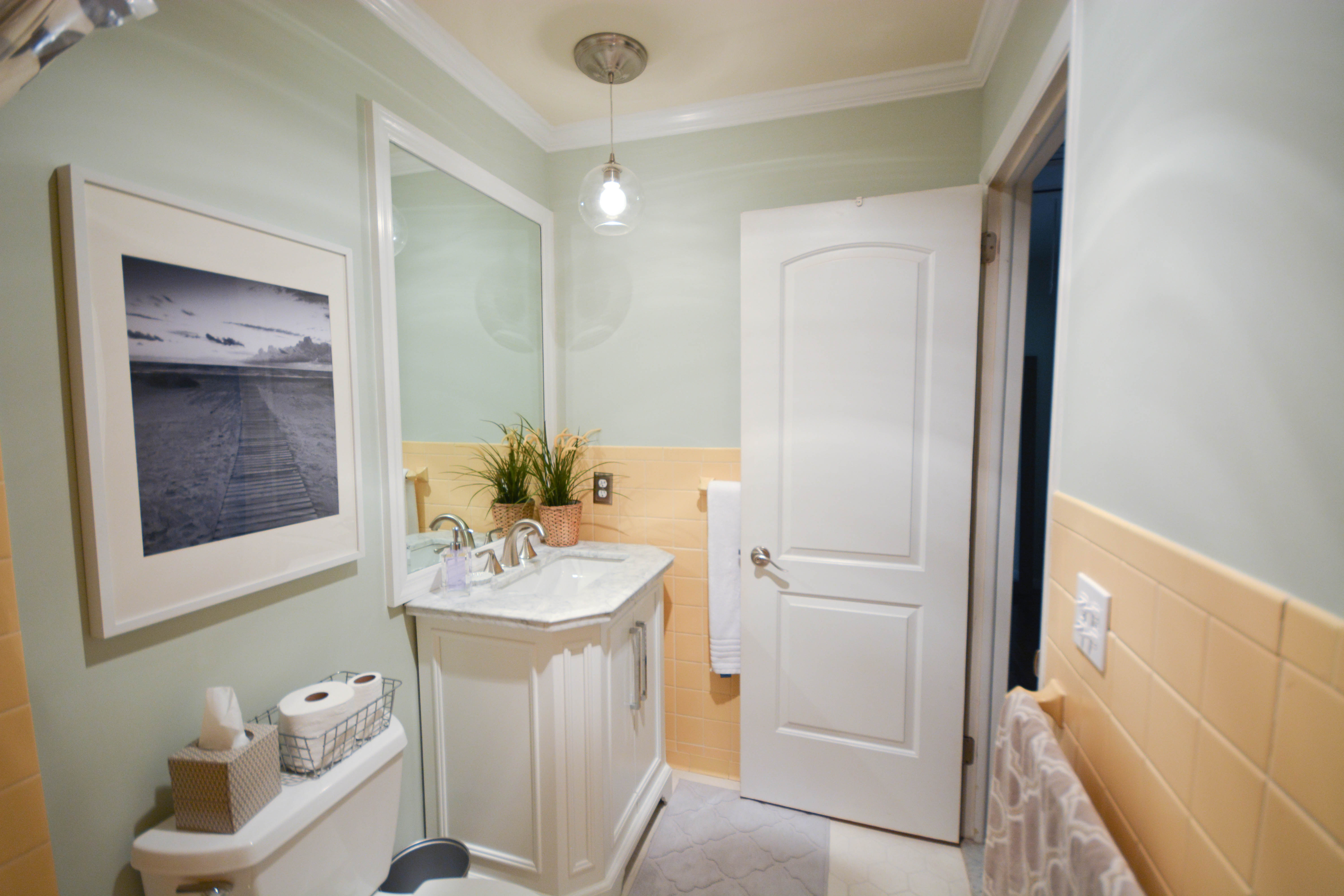 I love the way the colors and molding came out. Although the gray is not what I thought it would be, once all the yellow is gone the color will look that much better.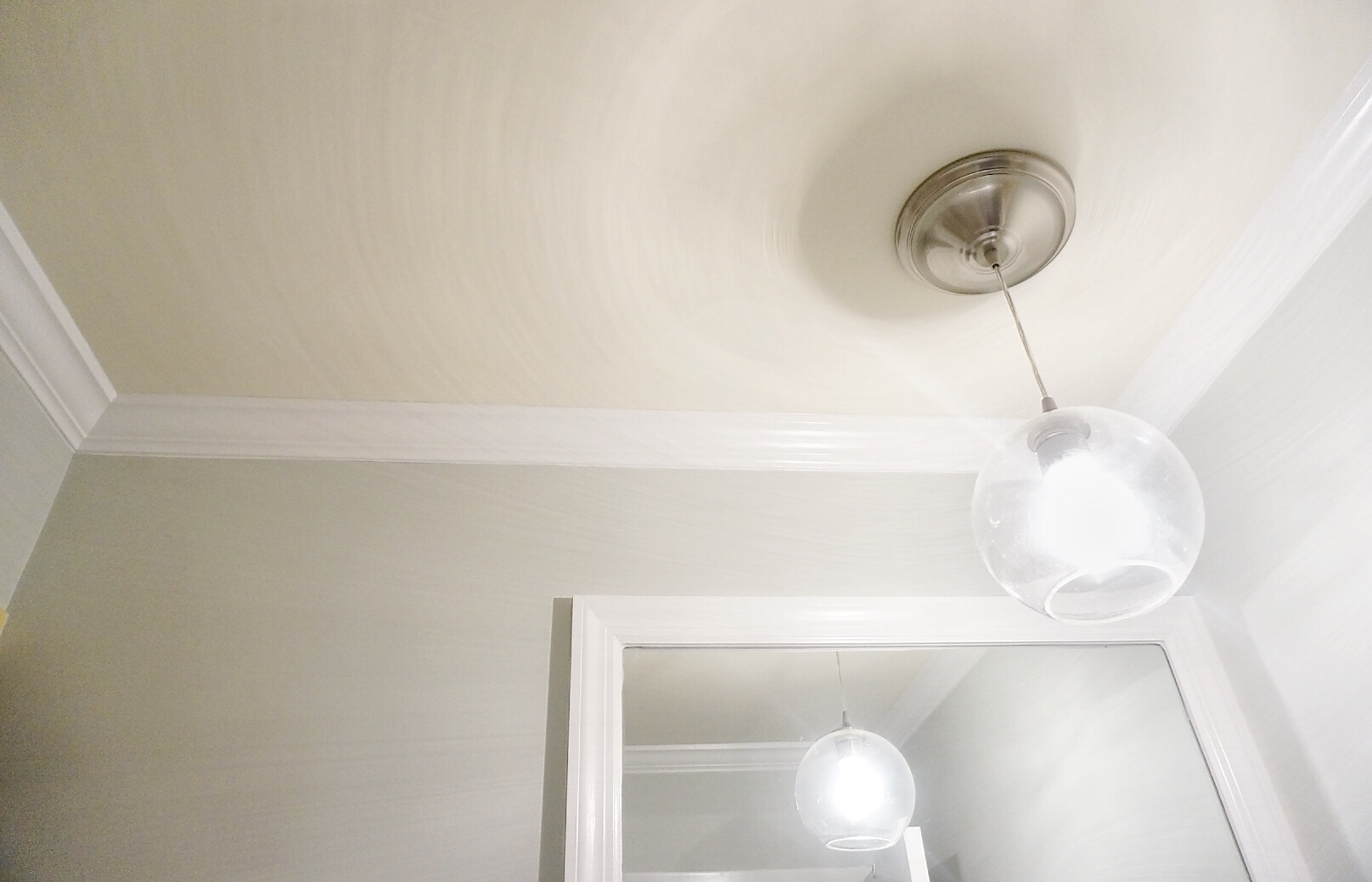 And this vanity, ugh! I love this vanity!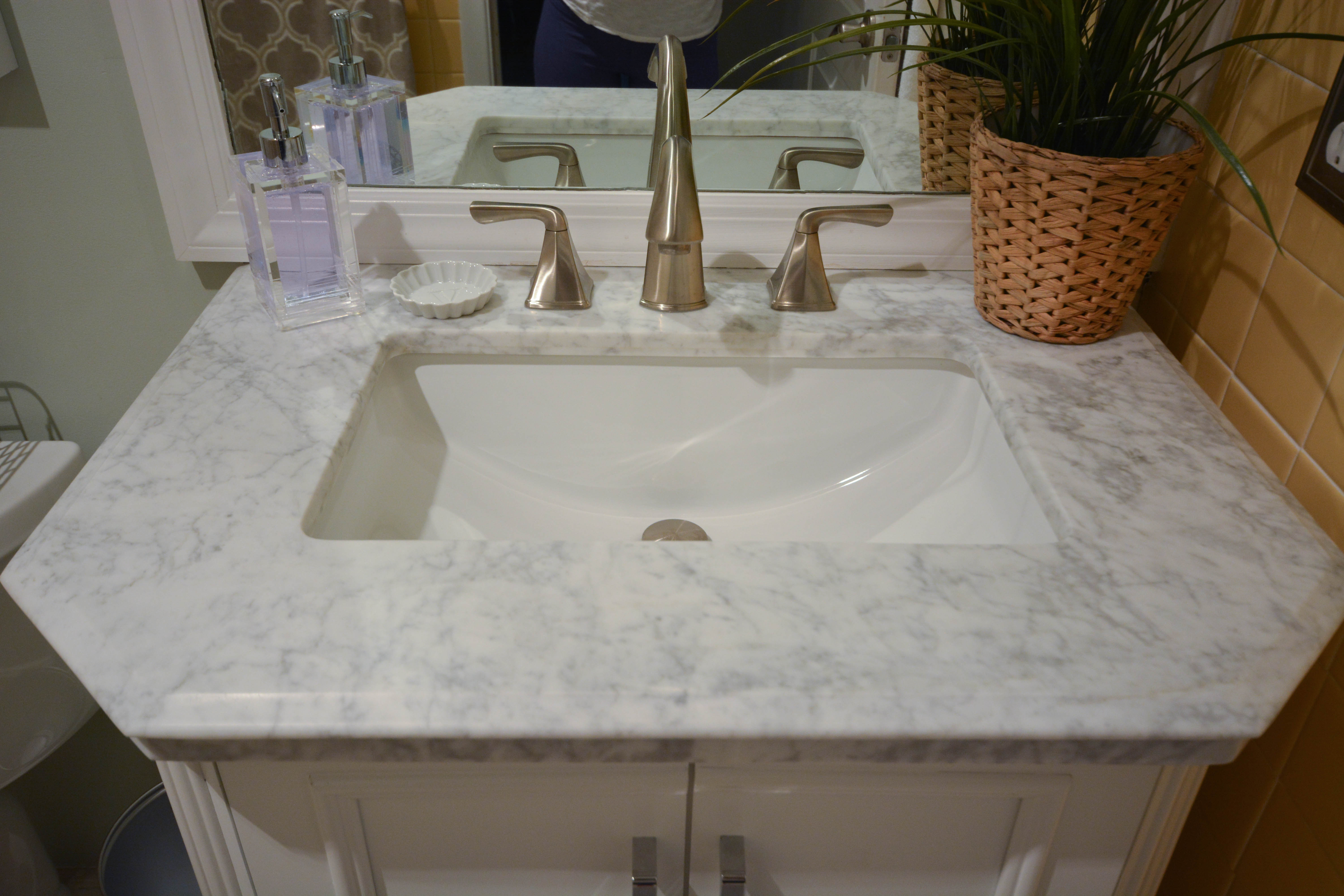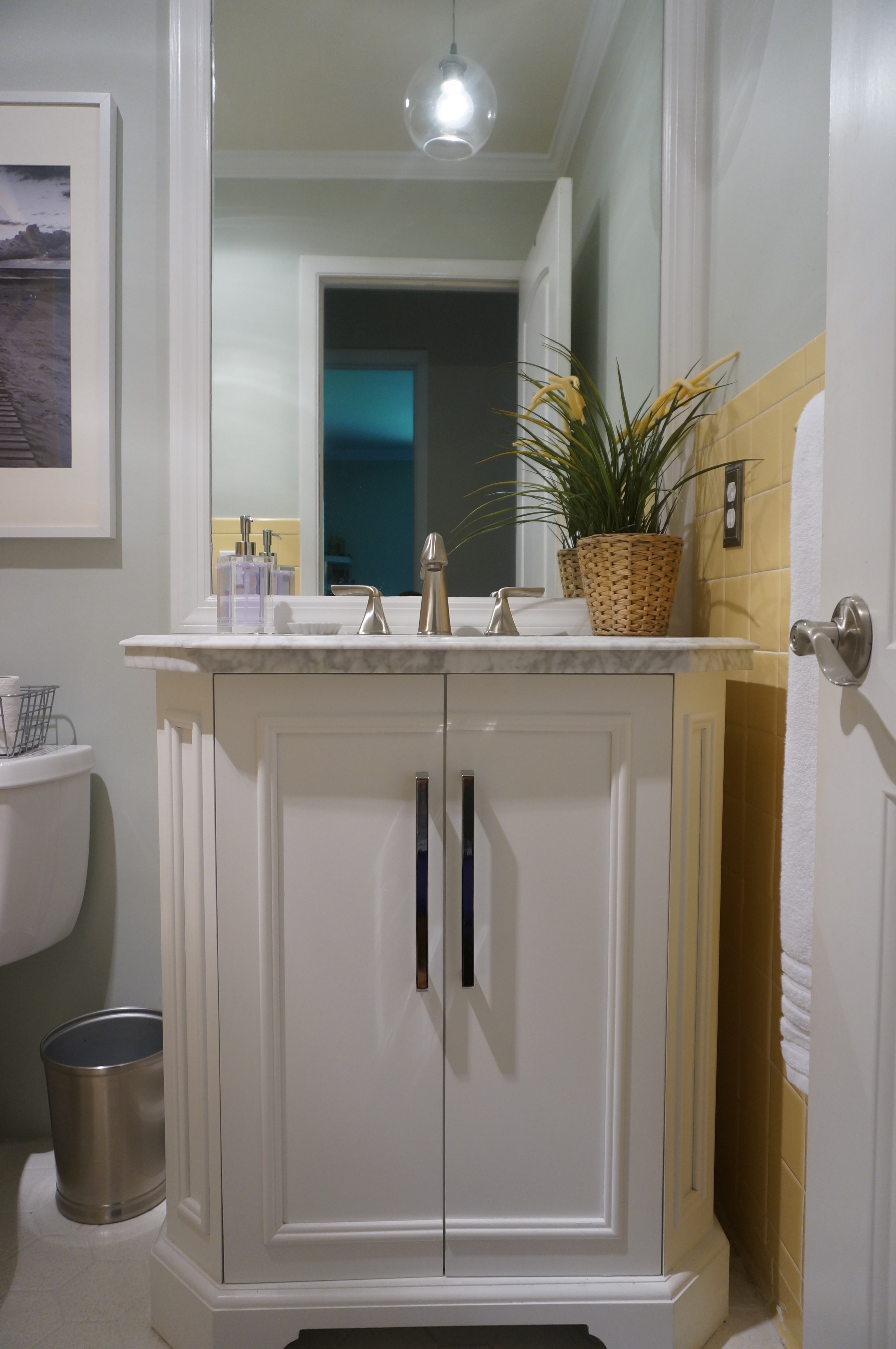 The idea we have for part 2 is to get rid of all the yellow tile in the shower and replace it with white subway tile. Outside of the tub we want to put up some board and batten. Hopefully when we get it done it won't take me 2 years to post about it!